The much-awaited conference call between Infosys Founder N.R. Narayana Murthy and the company's investors was deferred to August 29, as he was not well well….reports Asian Lite News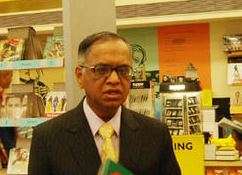 "The conference call with investors has been postponed to August 29 due to Murthy's ill-health," said a spokesman of London-based global asset management group Investec, which was to host the con-call from Mumbai.
Murthy, 70, was to address and interact with the investors from across the world on Wednesday at 6.30 p.m. through the con-call.
Investors from Britain, Hong Kong, India, Singapore and the US were to join the con-call by pre-registering with the host and dialling the given numbers.
Though Murthy declined to respond to the Board charge that his continuous attacks led to the company's first non-founder CEO Vishal Sikka exiting on August 18, he decided to explain his stand on the tussle to restore investors' confidence in the IT major.
"I have read the statement issued by the Infosys Board of Directors. I am anguished by the allegations, tone and tenor of its statements," said Murthy in an e-mail to the media on Friday, hours after the statement following Sikka's exit, adding it was below his dignity to respond to such insinuations.
The promoters group, led by Murthy, holds 12.92 per cent of the equity shares, Foreign Institutional Investors and Foreign Portfolio Investors 37.33 per cent, Indian retail, corporate and other investors 23.08 per cent, Indian FIs, Banks and Mutual Funds 9.63 per cent, American Depository Receipts 16.69 per cent and NRIs 0.52 per cent.