The All Party Parliamentary Group for Indian Traditional Sciences marked the International Yoga Day and NHS @ 70 at the Nehru Centre recently… reports Asian Lite News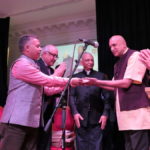 The event was celebrated in association with the High Commission of India and has had eminent scholars and academics speaking on the importance of Indian Traditional Sciences working alongside modern medicine and their implication in the NHS. They have all underscored the significance of these therapies in mitigating the financial burden on the NHS as well as help to target the root cause of disease without side effects.
Amarjeet Singh Bhamra, acting as the Secretariat to APPG-ITS gave a brief overview of the Group in promoting and facilitating informed discussions on Yoga, Ayurveda, Sangeetam, Unani, Vastu and Jyotish since its inception in 2014. He highlighted how the APPG provides a forum for cross-party parliamentarians, policy makers, academics, practitioners, community and thought leaders, and other stakeholders. He has highlighted the events taking place back to back, besides the current event at the Nehru Centre, including one at Victoria Tower Gardens outside the parliamentary building and another in the House of Commons.
Director of The Nehru Centre Srinivas Gotru has welcomed the speakers and delegates and commended the efforts of the APPG Indian Traditional Sciences for bringing the health values of Yoga other Indian Health Sciences to the wider community.
Prof. Darshan Shankar, Vice Chancellor of the Trans-disciplinary University (TDU), Bangalore and a managing Trustee of the Foundation for the Revitalization of Local Health Traditions (FRLHT) has delivered his keynote speech 'Listening to Voices from the ground – A pathway to transform healthcare in 21st Century'. He was later conferred the prestigious Ayurveda Ratan Award by the APPG-ITS, for the first time to a Vice Chancellor of an Indian University, for his contributions to the Indian Health Sciences through the conceptualization and development of strategic research and outreach programs demonstrating contemporary relevance of the Indian medical heritage. Prof. Shankar's research career has involved working with the United Nations University, UNICEF and international universities and received many prestigious awards including Padma Shri in 2011.