Paco Peña Flamenco Dance Company presented Flamencura at the world's leading dance house-London's Sadler's Wells…Richa Grover reviews the show for Asian Lite News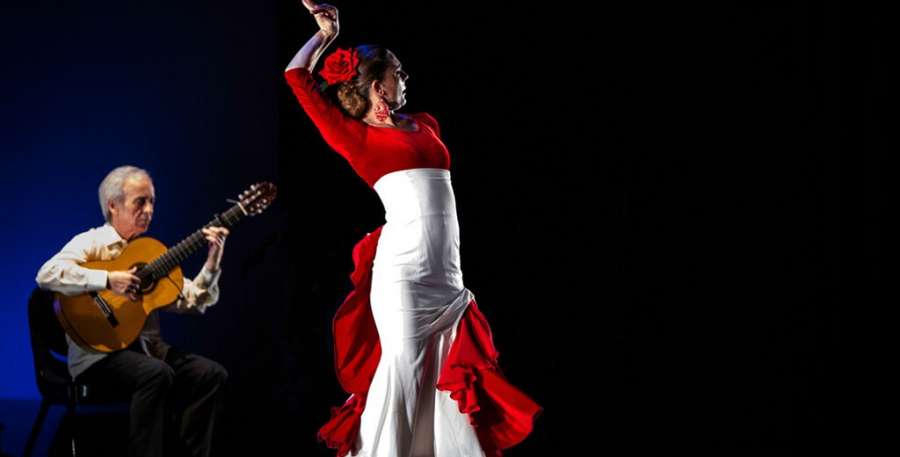 Acclaimed flamenco guitarist, composer, dramatist and producer Paco Peña returned to Sadler's Wells in London with his company to present Flamencura.
Flamencura received its UK premiere at Sadler's Wells in June 2015, garnering five star reviews. The production reconnected with flamenco's roots, stripping away theatricality and narrative, and providing a raw platform for the company's artists to present and express their most quintessential emotions. The show featured choreography by the award-winning Fernando Romero.
After the experimental cross-cultural influences Peña has explored in recent years, with Flamenco sin Fronteras and Quimeras, Flamencura demonstrated how the vehement feelings that moved singers, dancers and guitarists of days gone by will remain the life-blood of flamenco and continue to nourish the art today as well as connect it with other art forms.
Flamencura presented ten dance pieces, a combination of solos, duets, ensembles and musical numbers, ranging from choreographies inspired by the Spanish folk traditions that give origin to the art of flamenco, to cutting-edge contemporary takes on flamenco.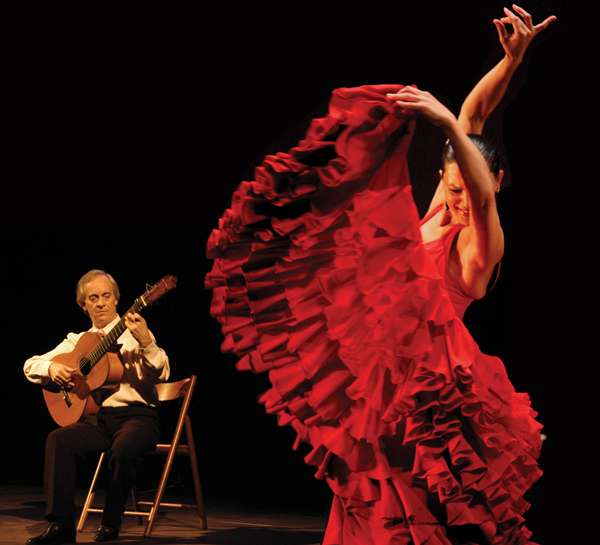 The show featured acclaimed principal dancer Ángel Múñoz whose work From White to Black thrilled audiences at the London Flamenco Festival in 2014 and completing the diverse trio of dancers were Charo Espino and Yolanda Osuna. The musical ensemble joining the dancers on stage included guitarists Rafael Montilla and Paco Arriaga and vocalists José Ángel Carmona and Inmaculada Rivero.
Paco Peña said: "From the start of its cultural journey, in the Andalusian home some 250 years ago, flamenco has undergone a remarkable development; from a folk-based form of singing, dancing and guitar playing, full of character, although hard to define, into a highly complex, sophisticated art form well established in mainstream musical activity and regularly performed in the best theatres of the world today. In preparing Flamencura, I wanted to return to the essential core that, not only made flamenco the vehicle through which Andalusian people expressed their history, their feelings and the essential emotions that their lives contain, but that has also underpinned the development of this form of music and dance into a truly universal art that touches audiences."
Over a career spanning more than four decades, Paco Peña has expanded the possibilities of flamenco and changed perceptions of the art form, bringing originality and energy to flamenco performance by mining the richness of its traditions while being inspired by contemporary culture. Since 1970 the guitar maestro has taken the Paco Peña Flamenco Dance Company to international venues including The Royal Albert Hall, New York's Carnegie Hall and Sydney Opera House. Peña is regarded as one of the world's leading flamenco performers, his skill, innovation and passion acclaimed by audiences worldwide.
He was last seen at Sadler's Wells in summer 2016 with rave reviews like "gave way to an expression of energy and ecstasy that is only seen in the best of flamenco dancers" (The Telegraph).
Flamencura was a show par excellence. An exquisite showcase of contemporary, traditional n experimental solos to ensembles dance performances laced with soulful music and energetic instrumental excellence displayed ever so artistically ..it was a feet-tapping and pulsating evening of Flamenco, it truly was! #PacoPeña