London-Based Philanthropist Dr Ajit Singhvi Giving Back to India…reports Asian Lite News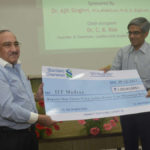 Recently, Dr Ajit Singhvi made a donation of Rupees 320Lakhs (£300k) to the Indian Institute of Technology (IIT) Madras and IIT Roorkee in the form of endowments for two professorial chairs. Dr Singhvi's aim is to promote competencies in engineering and equip students with skills in Good National and Corporate Governance.
In order to reward the superior performances of Female students in the final exams of the Institute of Cost and Management Accountants (ICMA), Dr Singhvi has also set up 5 gold medals.
At MLS University, Rajasthan in India, Dr Singhvi offers scholarships and prizes to students from the weaker sections.
Dr Singhvi calls for the implementation of Individual Social Responsibility (ISR), mirroring Corporate Social Responsibility (CSR) whereby citizens aged between 50 and 60 contribute 2% or more of their earnings towards society and are suitably recognised and rewarded by the concerned County/Burrough/District as the case may be.  The role of Individuals will compliment the efforts of both the Corporate and the Nation.
Dr Singhvi practices what he preaches and has donated 85% of his lifelong savings from employment for the cause of education and women empowerment in India.
An alumnus of Harvard Business School, Manchester Business School, School of Engineering-Middlesex University, Japan Institute of Plant Management, Ashridge Management College, Institute of Chartered Accountants, and Chartered Institute of Management Accountants. Dr Singhvi was the recipient of St Lawrence Gill Prize for 1st position in the final exams for the Institute of Cost and Management Accountant (CIMA, London).
A resident of north-west London, Dr Singhvi is an avid collector of vintage art and collectibles.
Committed to philanthropy, Dr Singhvi is determined to give back to India, his country of birth despite having settled down in the United Kingdom several decades ago.
Dr Singhvi is available for FREE consultation in education, training, improving businesses and individual performances.