Advertisement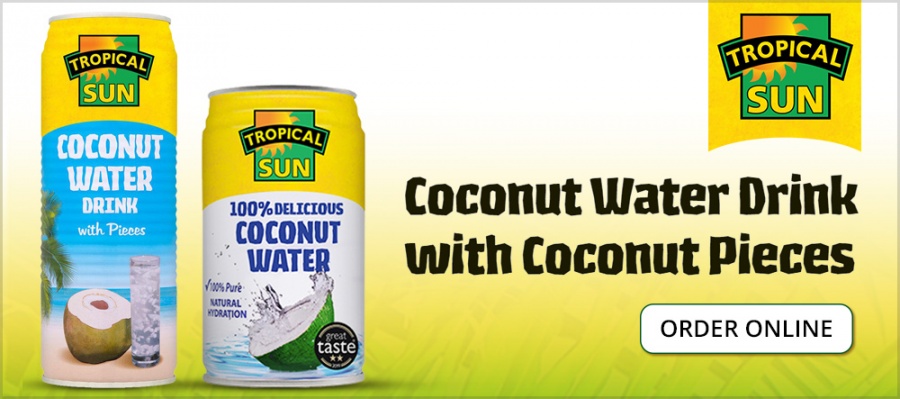 Pink Sari Revolution is the world première of the true story of Sampat Pal and her fight for freedom in India. Based on the book by journalist Amana Fontanella-Khan, Curve Associate Director Suba Das is bringing Sampat's story to the stage following an extensive period of research and development both in the UK and India….reports Asian Lite News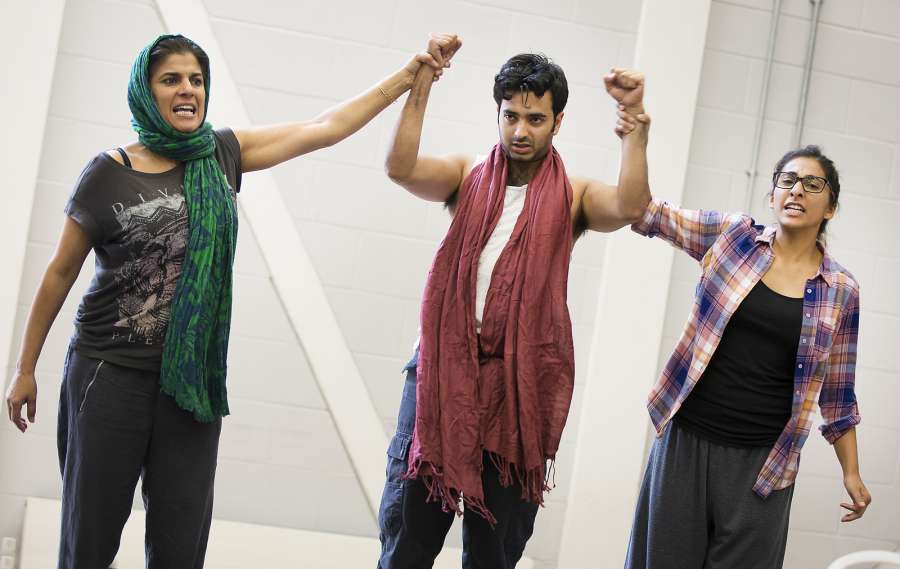 Tell us about your production of Pink Sari Revolution.
Pink Sari Revolution is a drama about an incredible woman, Sampat Pal, who has created one of the world's greatest feminist movements. She leads an army of 400,000 women in rural India who wear neon pink saris and say 'enough is enough'. The play is based on a documentary account of her 'Gulabi Gang'written by journalist Amana Fontanella-Khan. The story is about these women who have real strength and are standing up for their rights but also about the cost of saying no to the system.
The book focuses on the Gulabi Gang's 2010 campaign to free falsely imprisoned teenager Sheelu Nishad after she was raped by a prominent local politician. How are you tackling the difficult issues brought up by this?
As a director, there's something very interesting about the idea of how you present violence, and certainly sexual violence, on the stage. I don't believe that theatre is there to be gratuitous; I think theatre is there to plant images and ideas. The greatest thing you can do when making theatre is encourage the audience to use their imagination. That's where something affects you totally and touches you the most.
In terms of what we're presenting, we are not shying away from the reality that the piece is motored by the very specific case that Sampat Pal became obsessed with. However, it's not going to be a production in which an audience will see sexual violence enacted on stage. I'm not interested in confronting audiences with that or asking actors to delve into that in a rehearsal room –I don't think we need toshow the issue. It's a very serious, real experience.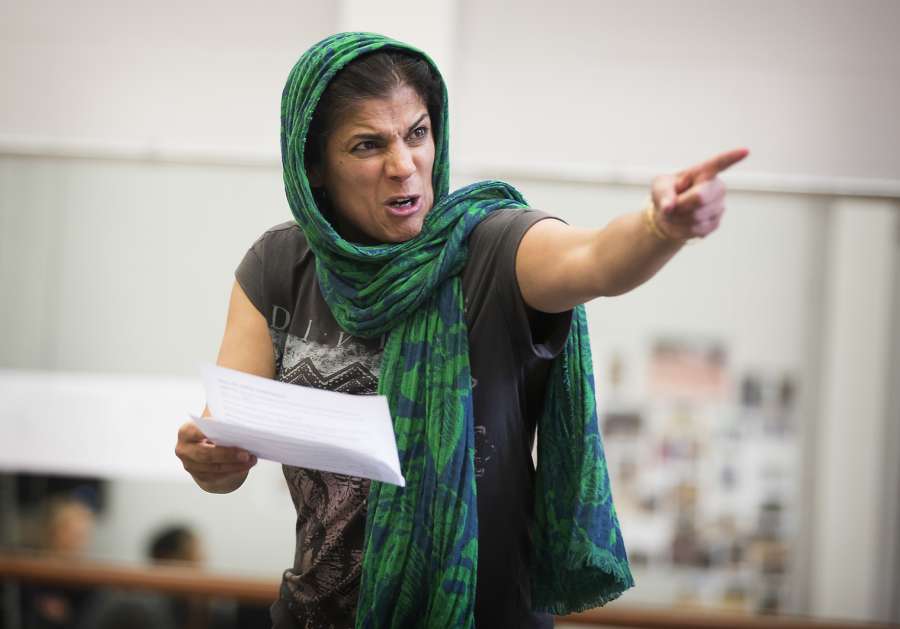 Why is this story so important to you?
Sampat Pal is an incredibly inspirational woman; an iconic woman who has created one of the world's greatest and most vibrant feminist movements. She was married off at the age of 12, taught herself how to read, write and sew so that she could be economically independent. From those impoverished origins in one of the most lawless parts of India, she has achieved extraordinary things and even became one of The Guardian's '100 most important women in the world'.
I read Fontanella-Khan's book several years ago and when I heard about the Arts Council's Reimagine India funding to encourage cultural work between British and Indian organisations, I immediately felt like there was an opportunity to take this story that I've been so excited about and find a way to make a show. We've also received support for this production from the British Council's UK/IN 2017 programme and English Touring Theatre. This funding enabled us to go out and spend time with Sampat Pal both in her home and out on the campaign trail. I'm slightly in love with her! She's a force of nature; the most charismatic, extraordinary, fire-cracker of a human being you could ever imagine.
It's a real responsibility, when you meet somebody, you're telling a story about a real human being. The complexity as a theatre maker is then digging into that and knowing that we will create a show that does raise questions about whether she has always done the right thing.
Pink Sari Revolution is more than just a show about terrible things that happen far away; we know that these things take place all around the world and that's why this story is so important and urgent to tell.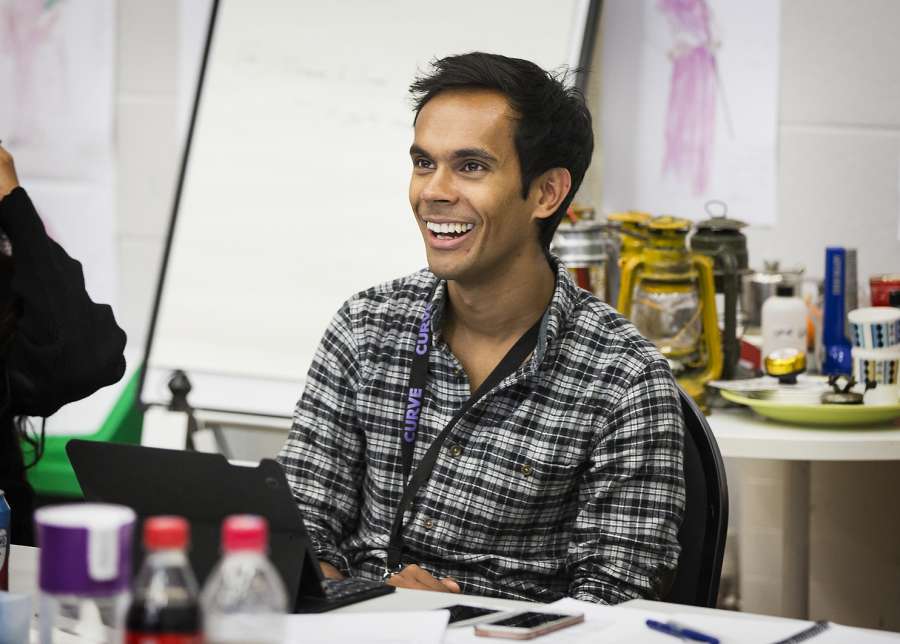 With two years in development, what has the process been to create the production so far?
One of the starting points for this play was our research and development process in India way back in December 2015. It felt like the only way to conceive of making this show would be to travel to India. Living with Sampat Pal and meeting with extraordinary Indian artists gave us a real sense of what this story means to the people in India.
All we had were ideas; we didn't know what the take up would be for the show. Artistically, reaching out to communities here in the UK felt so important because it is a daunting thing to be a young man wanting to tell this story about South Asian women. I met with book clubs and local Indian women community groups to discuss the story and what it means from their perspectives.
Part of our process is turning all the facts and all the information we have into a story about a world that probably feels very alien and remote to so many of us, and turning that into a really human, exciting, theatrical drama.
Who have you met so far and who are you bringing along on this production?
A really important element of developing the show has been working with the Indian playwright Purva Naresh, an extraordinary feminist political voice from India. It felt so important for this piece to be written by a woman who is living through these realities and who is so passionate and angry and with so much social work in her own day-to-day life.  Her family are from the biggest city near to Sampat Pal, she grew up hearing about her and the 'Gulabi Gang'.
We are also working with Tim Lutkin who is an Olivier award-winning lighting designer, Designer Isla Shaw, and AakashOdedra (who recently won the Amnesty International Freedom of Expression award)as our Movement Director.It's a world-class, international team telling a global story.
This is a very powerful story, what do you hope audiences in the UK will take from it?
Pink Sari Revolution is a very specific story about this place and this moment in time in India, but it's also universal. The issues that sit at the heart of this are 'what does it mean to be a woman?', 'what does it mean to be a protestor?', 'what does it mean to say "no"?', and 'what does it mean to say 'this is enough'?'. Female rights, protests, resistance – they're themes that obsess everyone right now. We are all living in the shadow of not quite knowing whether our society works for us – that's not just in India, that's right here too. It's everywhere. What I hope is that this story of an amazing woman in India will unlock a wider conversation here in the UK.
Sampat was leading thousands of women and men marching in pink a decade before the Women's Marches in Washington and across the world this year. Our hope is this tale of truth and resistance might in some way empower audiences in the UK and beyond.
Pink Sari Revolution runs at the Belgrade Theatre Coventry from Weds 11 – Sat 21 Oct. Tickets are available now priced at £13 & £15.50 by calling the Belgrade Box Office on 024 7655 3055 or book online at www.belgrade.co.uk.