A Greater Manchester Police officer is spending 24 hours in a police cell to raise funds for a local charity….reports Asian Lite News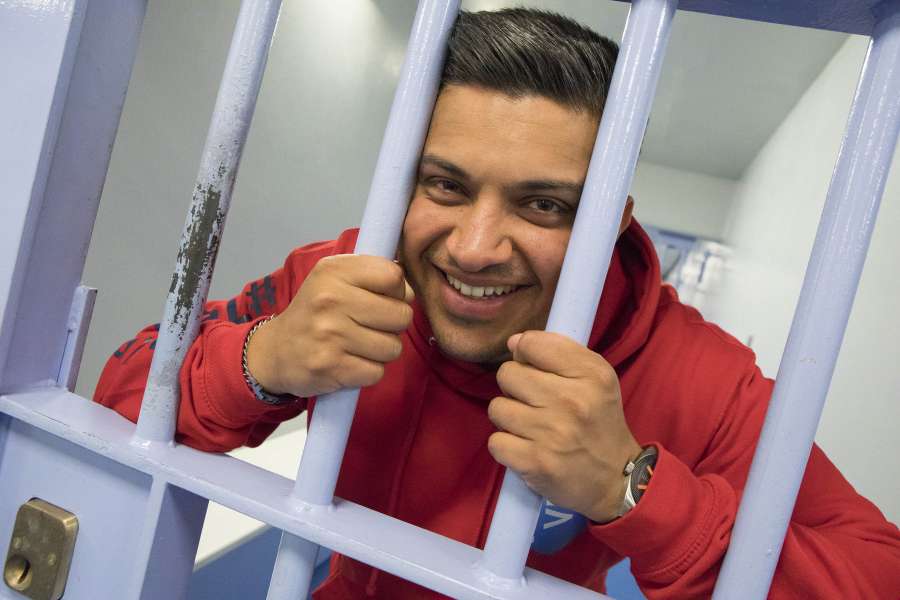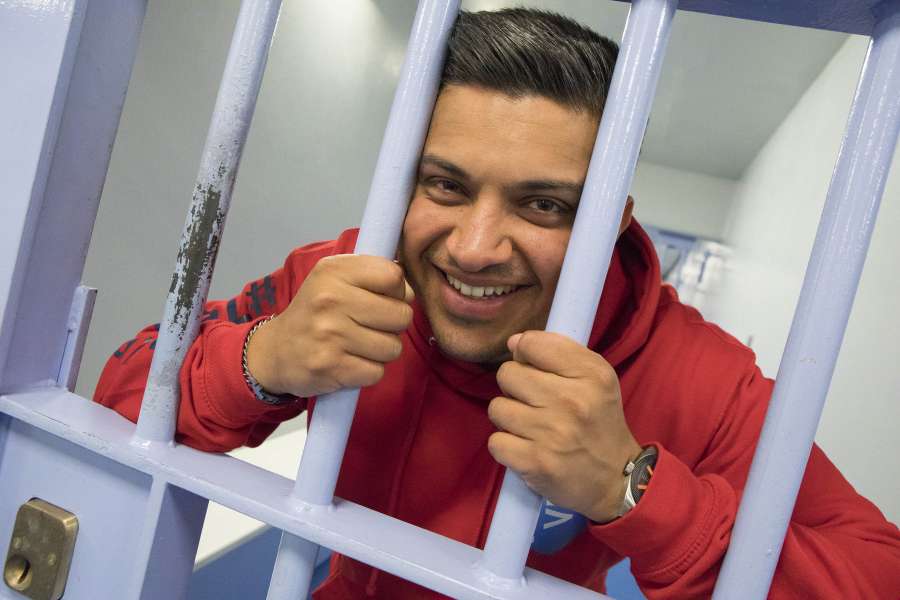 Police constable Adnan Ali, has begun his 24 hour stay in a police cell in a bid to raise funds for Manchester based mental health charity Moodswings.
PC Ali, based at Trafford Division, is carrying out the task after suffering from post-traumatic stress disorder (PTSD) as a result of an attack at the hands of an offender.
In April 2013, PC Ali and PC Peter Goulding attend a dispute between neighbours over a noise complaint. Having attended the victims address, the two officers visited the perpetrator at his home. It was then the male offender produced a knife and stabbed PC Ali three times in the head and slashed his face and neck.  PC Goulding received stab wounds to his shoulders.
Remarkably both officers made a full recover from their physical injuries. However the attack did result in PC Ali developing PTSD.
"The occupational health and welfare unit at GMP were a great support, especially in providing access to a psychologist. After my treatment finished I knew that I needed extra help, so I started looking at what local services were available", said PC Adnan Ali.
"It was then that a friend recommended Moodswings and I already knew the charity's chairman and founder, Tom McAlpine OBE.
"I can't praise the charity, staff and Tom for all the support they provided. If it wasn't for them I don't think I would have had the strength to return back to work, to a job I love doing", he said.
"Sadly, Tom died earlier this year, I'm so thankful for the help that he and Moodswings provided. This seemed like the right time to give something back.
"Rather than do the usual charity fundraiser of a sponsored walk, I wanted to do something different. Being a police officer I thought it would be quite ironic to be the one in the cell", PC Ali added.
Regarding the current progress of the fundraising so far, PC Ali said: "Colleagues, friends and members of the public have shown a fantastic level of support and amazingly I've already broken my original fundraising target of £500. But every additional pound that we can raise is going to a great cause that helps local people with a range of mental health needs.
"Thankfully mental health is being talked about a lot more these days, especially among men. Hopefully this small gesture, along with people's goodwill, will help the Moodswings charity continue with its great work."
"Moodswings is very grateful to PC Adnan Ali for his ongoing support. He is not only raising money, but also awareness of the charity and the issue of mental health", said Linda Wilson, CEO of Moodswings.
"We would also like to thank the Police Cadets for being involved in the challenge, as well as those who have already donated to PC Ali's fundraising target.
"We're all looking forward to seeing PC Ali on his 'release'!"
PC Ali is completing the fundraising challenge in his own free time at Pendleton Police Station using a decommissioned cell. Local police cadets will be on hand to check on PC Ali during the 24 hours.
Anyone who wishes to support him with his fundraising, can donate at the following Just Giving page https://www.justgiving.com/crowdfunding/AdzAli1?utm_id=60&utm_term=myjZkpPr2