The Lib Dems are gathering momentum. A recent poll by ComRes says that about 20% of British voters would back Jo Swinson's resurgent pro-remain Liberal Democrats at the next election. The surge will help them to bag over 83 seats in the Parliament including Montgomeryshire in Wales where Kishan Devani is contesting …. Reports Asian Lite News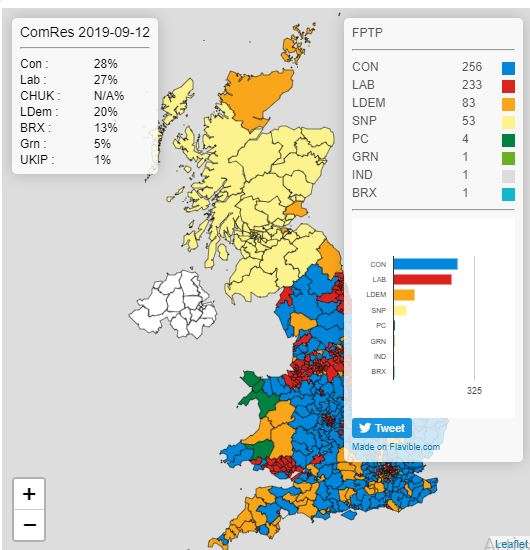 A new poll says that the Liberal Democrats are poised to win back Montgomeryshire in the event of a snap General Election. The poll by ComRes says that 20% of people across the UK would back Jo Swinson's Liberal Democrats at the next election. With that result projected onto seats, Lib Dem candidate Kishan Devani would win Montgomeryshire with almost 36% of the vote, beating the Conservatives on 34%.
With such a close result predicted, the party said that Labour and Plaid Cymru supporters should lend their votes to the Liberal Democrats next time to help defeat the Conservatives.
"People in their thousands are turning to Jo Swinson and the Liberal Democrats because they demand better than the old, divisive politics peddled by Boris Johnson and Jeremy Corbyn," said Mr Devani.
"This poll shows exactly what I'm seeing in our communities: that the momentum is behind the Liberal Democrats here in Montgomeryshire and we absolutely can win here.
"The Lib Dems are ready for a General Election, to stand up against the Conservatives' disastrous no deal Brexit plans that will devastate our local farming industry and threaten our communities."
Swinson's Speech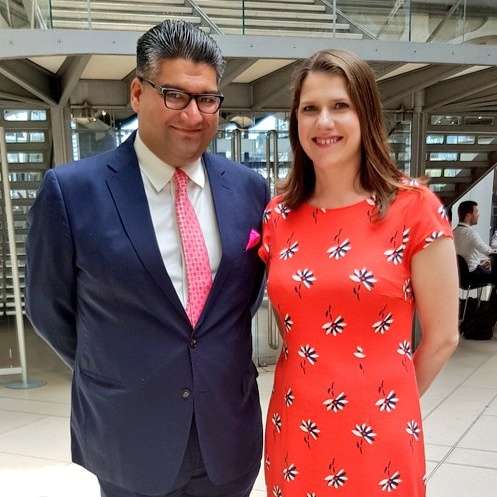 During her conference speech, Lib Dem leader Jo Swinson said she is ready to challenge the big boys in the fray to reach No 10.
"The tired old parties have failed," said Swinson. "Looking inward at a time of national crisis. Our country needs us, at this precarious time. We do not have ten, or fifteen years. We need to seize the opportunity now. Let me be clear. There is no limit to my ambition for our party. And today I am standing here as your candidate for Prime Minister.
"Because people across Britain deserve a better choice than an entitled Etonian or a 1970s socialist. Because it is only by having the Liberal Democrats in power that we can build a better future. Because we owe it to the next generation."
The Lib Dem leader said she will revoke Article 50 on Day One at No 10.
"Ahead of us we have the fight of our lives for the heart and soul of Britain," she told the conference. "Because, Conference, the next few weeks are about deciding the kind of country we are and who we want to be. Whether we tackle our biggest challenges with our closest allies or on our own. Whether we welcome those who want to build a better life in our country or shut the door on them. Whether we ensure every single child can go on to fulfil their dreams.
"The first task is clear. We must stop Brexit.And we are crystal clear: a Liberal Democrat majority government will revoke Article 50 on day one. Because there is no Brexit that will be good for our country. Europe makes our United Kingdom stronger. But Brexit hurts our family of nations."
The Scottish origin leader also said the 2016 referendum divided the country.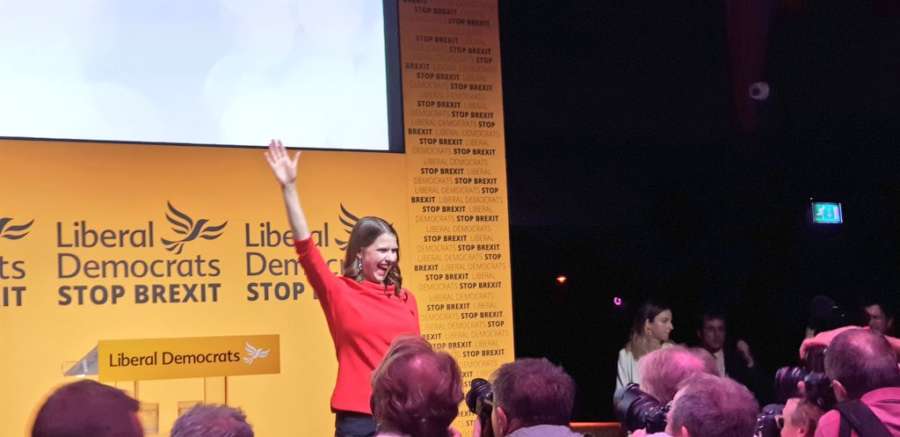 "For so many, the 2016 referendum ushered in a new kind of politics," said Jo Swinson. "Driven by hate, fear and division. But for those of us who had lived through the 2014 independence referendum in Scotland, it all felt too familiar. I am Scottish. I am British. I am European.
"Scottish nationalism and English nationalism would both have me choose. But there is no contradiction. I am a proud Scot. I love our United Kingdom, and I feel stronger as part of the European family. And I want to speak directly to people in Scotland. We together voted overwhelmingly to remain in the European Union and together we can stop Brexit. We are building a movement across the United Kingdom that is on the verge of stopping it. You have a part to play in a growing, strengthening, winning campaign across the UK. Join us. Come with me and be part of the bigger movement for change. A big vote for the Liberal Democrats in Scotland at the general election will give us the final push that we need. The energy is with us. So, come with us to stop Brexit."
I am Scottish, British and European. I love our United Kingdom and five years on from #indyref I'm more determined than ever to keep Scotland in the UK and the UK in the EU. https://t.co/EKjNjtaKDO

— Jo Swinson (@joswinson) September 18, 2019
"Our family of nations: Scotland, England, Wales, Northern Ireland. We are at our best together, looking out to the world, not shutting it out. It is the Liberal Democrats who will fight to keep our United Kingdom together," she added.
Jon Swinson condemns the Tory plot for a no-deal Brexit. She accused the PM and team of wasting time to put the talks in jeopardy.
"Brexit will put lives at risk," Swinson said. "In the event of a no deal Brexit, doctors are worried about the impact that delays at borders will have on the supply of time-sensitive radiopharmaceuticals. That's cancer patients waiting longer for scans and treatments as a direct consequence of government policy.
"Brexit will hurt our economy. Thousands of car manufacturing jobs already lost: Honda in Swindon; Jaguar Land Rover in Birmingham; Ford in Bridgend; Nissan in Sunderland. And more, if we leave. This Brexiteer Government wants to pay for their ideology with other people's jobs.
"The truth is they won't be affected, and they won't be there to help, when the redundancy notices are handed out. They won't be there when the homes are re-possessed, or when the marriages break-down under financial stress. Which makes what Boris Johnson is doing quite so sickening. He knows all of this. We know he knows all of this, because Operation Yellowhammer, the Government's no-deal planning, tells us how bad it's going to be. But the truth is, you can't plan for no-deal. Planning for no-deal is like planning to burn your house down. You might have insurance, but you're still going to lose all your stuff.
A choice between a No Deal Brexit and a Corbyn Brexit isn't good enough. At the next election, the @LibDems will give people the option to vote for a party that will stop Brexit altogether. https://t.co/3TzO2cJOW4

— Jo Swinson (@joswinson) September 16, 2019
"But Boris has set himself on this course. He claims he can negotiate a Brexit deal in a month. I wouldn't hold out much hope, yesterday he failed to negotiate where to have a press conference. We all know that commitment has never been Boris Johnson's strong suit, but it's clear he's determined when it comes to crashing us out without a deal.
"Just look at what he's done over the last few weeks. He prorogued Parliament to try to prevent MPs stopping a no-deal Brexit. He's kicked 21 MPs out of the Conservative party, including the Father of the House Ken Clarke, and Churchill's grandson Nicholas Soames. Just because they dared to stand up to him. There is even now the suggestion that he would break the law and refuse to ask for an extension to Article 50. Silencing critics. Purging opponents. Ignoring the law. For someone who proclaims to hate socialist dictators, he's doing a pretty good impression of one."