Portrait of one of Britain's first black MPs unveiled in Parliament….reports Asian Lite News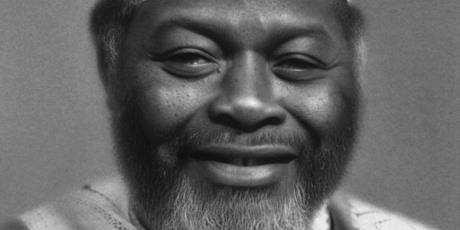 A new portrait of one of Britain's first black MPs, Bernie Grant (1944-2000), has been unveiled in Parliament this evening. Drawn in 180 hours using pencil and charcoal by hyper-realist artist Kelvin Okafor, the portrait of the former Labour MP for Tottenham will now join the Parliamentary Art Collection.
This year marks the 30th anniversary of the election of Bernie Grant, Diane Abbott and Paul Boateng as the first ever black MPs, and Keith Vaz as the first MP of Asian descent since the 1920s. Guyana-born Bernie Grant is well remembered for his passionate work campaigning for racial equality and against oppression, as well as making his mark in the House of Commons by wearing a traditional Ghanaian cotton robe at the State Opening of Parliament.
In Parliament, Bernie Grant was forthright in his criticism of discriminatory policing methods, immigration rules and institutionalised racism in health. He was a strong advocate for housing and education, and for greater resources for inner city areas. Internationally, he took a leading role in establishing contacts with black communities and politicians throughout the world, demanding recognition of Britain's colonial past. He was Chair of the All Party Group on Race and Community and the British Caribbean Group, and served on the Select Committee on International Development. A champion of social and racial justice, and a pioneer for diversity, after his death in 2000, the then Prime Minister Tony Blair described him as "an inspiration to black British communities everywhere."
David Lammy, MP for Tottenham and member of the Speaker's Advisory Committee on Works of Art, said: "Bernie Grant's significant contribution to Parliament, notably his pioneering efforts towards equality and eradicating forms of discrimination, made him an obvious choice for representation in the Parliamentary Art Collection. We are delighted that the portrait will be on permanent public display in Portcullis House, alongside representations of other notable parliamentarians who knew him, including Diane Abbott and Paul Boateng."
Kelvin Okafor, Portrait Artist said: "When drawing a person, it has always been important for me to meet them in the flesh and spend time absorbing their essence. As I wasn't able to do so in this case, I intensely studied video footage and countless photographs of Bernie Grant online and at the Bernie Grant Archive in Bishopsgate Institute. It was one of the most technically challenging drawings I've ever created, but also the most rewarding as I truly felt a deep connection with the subject. It was almost as though he were alive communicating with me whilst I drew him."
"The image that I ended up predominantly using as reference was of Bernie Grant wearing an African Dashiki at his first day of the State Opening at Parliament. It was a powerful statement which I felt represented pride, dignity and the inclusion of ethnic minorities in such institutions. I was born in London, 1985 and was brought up in Tottenham – two years before Bernie Grant became MP for Tottenham. I feel privileged to know that he served as my borough's MP during my childhood," he added.
Bernie Grant's widow, Sharon Grant OBE said: "In his day Bernie was often seen as controversial in demanding equality and justice, locally, across the UK, and globally. By the end of his life however, he was held in great respect, not only by his Tottenham constituents, and the wider black community, but nationally and internationally. The family is very proud that his contribution is increasingly recognised, and honoured that this superb portrait will now be included in the Parliamentary Art Collection."
The Parliamentary Art Collection is a unique and valuable educational resource which documents and illustrates the history of Parliament over the centuries, as well as explaining the current function and activities of Parliament. The Speaker's Advisory Committee on Works of Art is committed to continuing to reflect the diversity of the House today, and to recognising those who have influenced Parliament and contributed to its development in a notable way.