In a UK level competition recently held, Corydon based mother of two Priyanka Kanvinde grabbed the prestigious Mrs India UK Universe crown….reports Rahul Laud for Asian Lite News
At a glittering ceremony recently held in London's poshest hotel organised by BrandWok and The Orange Horizon where the pageant was held, Priyanka Truptesh Kanvinde – a Homeopath by vocation won the Mrs India UK Universe title. Priyanka Truptesh Kanvinde. To add more gems to her crown, she was adjudged as a winner in the Mrs Photogenic and Mrs Congeniality categories.
It took time for ''to sink in her victory,'' she told Asian Lite on winning the crown. Priyanka bubbling with energy and talent, brimming with joy and enthusiasm has won accolades for women in UK of Indian origin.
As a former General Practitioner (D.H.M.S, C.M.E), Priyanka said ''the crown has added more responsibilities.'' She has always strived towards the betterment of the society, conducting health awareness camps, reaching out to the underprivileged but with the current victory expectation has now increased.
A ZIN certified, Zumba instructor, a health and fitness expert, dancer par excellence, choreographer and encouraging women of all shapes and sizes to walk on the ramp, Priyanka has always encouraged women to stay young, fit and healthy. She reiterated her mantra with the newfound confidence and victory, and said ''I can, from I can't," is what motivates her to succeed.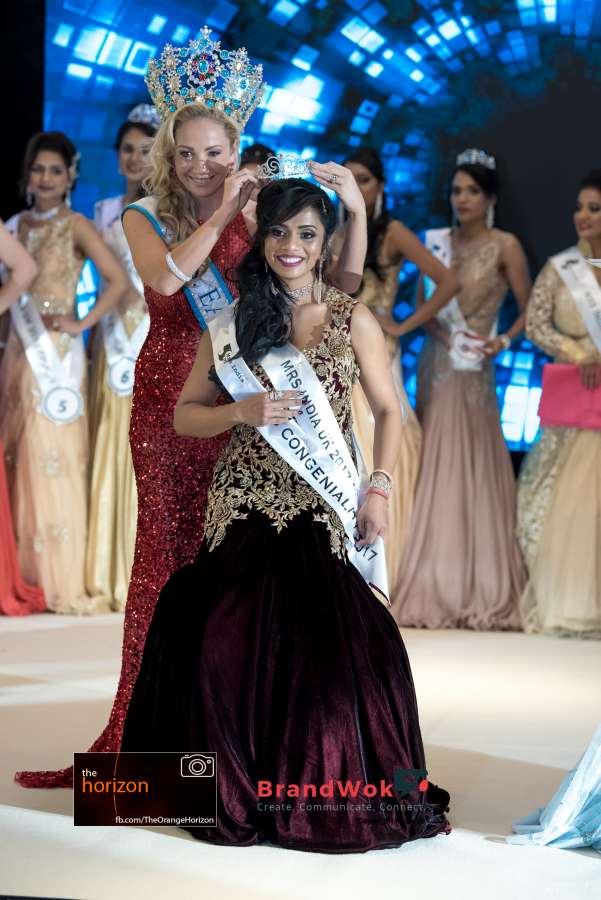 Post her victory, she said her aim and objective ''is to contribute to the physical, emotional, social and intellectual development of women and children.''
BrandWok launched the first ever Mrs India UK pageant in London on September 23rd 2017. Aditi Gupta. Founder – BrandWok limited, Director & Organiser – Mrs India UK, International Director – UK, Mrs India Universe and Pageant Mentor said, ''the beauty pageant journey was to inspire British Asians & Indian women to embrace themselves, their beauty, their values and principles. Through Mrs India UK, this beauty pageant aims to celebrate talent, share knowledge and motivate married women to embrace their strengths. ''
Aditi is internationally known as a fashion icon. She is a former Winner – Mrs Global Expat India – Singapore 2015 and finalist Mrs Singapore 2013. Aditi also works as a Brand Ambassador – Singapore Fashion Runway, Anje Fitness, Urban Desi, and Arko Jewellery among other top brands.
She added, ''Passion brings together all the required elements and then the Magic happens , that is what happened when me and Gunjan started this journey jointly and she became co-organiser taking the crucial role hand-in-hand.
While I was working on curating this platform, Gunjan was about to move from Singapore to London. I had already initiated the work towards this platform but along the way there was something in Gunjan that struck me and i knew she would be the right person to go ahead.''
Gunjan Bohra is the Founder at The Orange Horizon. She was also the Co-organiser & Mentor – Mrs India UK and the Official Photographer & Designer – Mrs India UK who took over responsibilities such as Official Event photographer and Co-organiser of the pageant.
Both Aditi and Gunjan shared that,''Through Mrs India UK, our Vision is to come forward, to create a beautiful community that co-exists and to acknowledge the true essence of beauty with a beautiful heart and unimaginable boundaries of inspiration and talent.''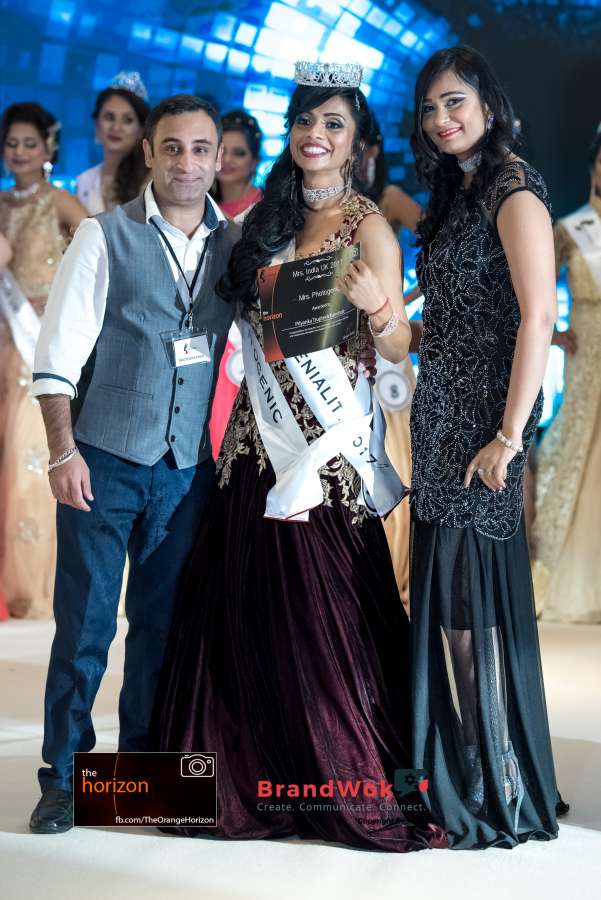 Both believe in the mission to create more opportunities, build confidence amongst British Asians & Indian women, achieve excellence in specialised fields, community projects and inspire more women to come forward to support the Indian community in various ways.
For the official launch of the pageant, Mrs India UK was partnered by Zee TV, official Travel Partners being Air India, in collaboration with Mrs India Universe.
Deputy High Commissioner Dinesh Patnaik was the chief guest at the event and Guest of Honours were Padma Shri Shahnaz Hussain and Bob Blackman, MP – Harrow East,
Air India's Tara Naidu who heads regional team of UK & Europe was a special guest on the occasion. With the presence of around 175 guests and sponsors
Additionally there was support from Mrs India Universe founders Archana Tomer & Tusshar Dhaliwal to take the pageant to another level and provide an exposure to international title for winners.
The jury included Asian Runway Director Aasha Sagoo, Mrs UK World Director – Hannah Batten, Mrs Earth 2017 winner – Robyn Morrison- Charlesworth, Official Stylist – Mrs Sandhya Oza Aiyer among others.
The event began with an opening dance as a warm welcome by the 19 Finalists. These finalists went through an Introduction Round and Finale Question & Answer Round which led to Victorious wins by the winners as under;
MRS INDIA UK™ 2017 CLASSIC – UNIVERSE Winner: Priyanka Kanvinde
MRS INDIA UK™ 2017 CLASSIC – Winner: Nisha Chadha Mallya
MRS INDIA UK™ 2017 – Winner: Pradnya Punekar
Equally talented sub-title winners were Vandana Negi Singh as Mrs Goodwill, Nitika Gupta as Mrs Charismatic, Rupam as Mrs Humble, Mano Manohoaran as Mrs Personality, Seema Agarwal – Commendation Award winners and few more for 2017, who took that first step in believing in this platform and succeeding who would take this journey ahead.