Atul Kulkarni, the National Award-winning actor from India, was recently in the UK on a holiday. He found time for a Talk Show with Dr Prof Rajinder Dudhra. The event was organised by Friends of Quest in the UK with the help of Dr Prof Anandita Gosh from Manchester University. Rahul Laud attended this show at the Manchester University and had a free-flowing conversation about his script Lal Singh Chaddha  – a new film he is writing for Amir Khan productions and much more about his craft and experiences.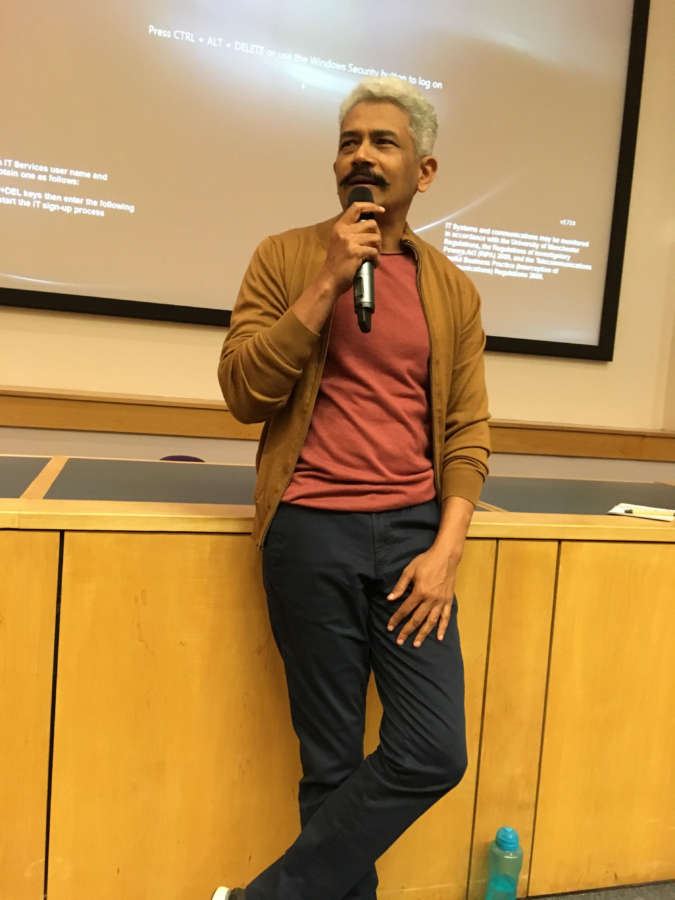 Undoubtedly Atul Kulkarni comes across as an actor with a difference. He is internationally known for his acting skills and with two National awards and having acted in over films in eight different languages, he has carved a niche for himself. Actor par excellence he has enthralled his fans and audience.
His socially conscious tweets have displayed his prowess in understanding society. His comments on the powers that be are diplomatic safe and politically well-guarded, so he is never caught on the wrong foot. You cannot dub him as pro or anti- establishment as he chose to define between voter and a good citizen who should follow the Constitution of India to its core.
Influenced heavily by Mahatma Gandhi, he choses to live life with austerity with minimum essential gadgets and appliances at home. He doesn't believe to live in a house typical of a film star. He and his wife Geetanjali who is also a renowned actor have chosen not to bear a biological child, but both are keenly involved in developing education models for children. He is also the president of Quest, a research-action organisation concentrating on enhancing quality of education. His Trust Quest works in the education sector and his talk in Manchester was also devoted to raise awareness for his Trust. Environmentally conscious, he believes that everyone is responsible to contribute towards ecological balance and towards work in that direction he has purchased lands to build trees.
The Indian market to consume entertainment is huge at 1.2 billion people. It's an obvious business proposition. Technology has brought a paradigm shift in consuming entertainment and with mobile gadget making huge inroads in peoples' lives dynamics of making films has reflected this change. Atul ponders over this change and states it is evident that this growing change will determine characters, stories and life of actors. He believes every actor should have the ability to respond to these changes. To shoot a film has become extremely easy.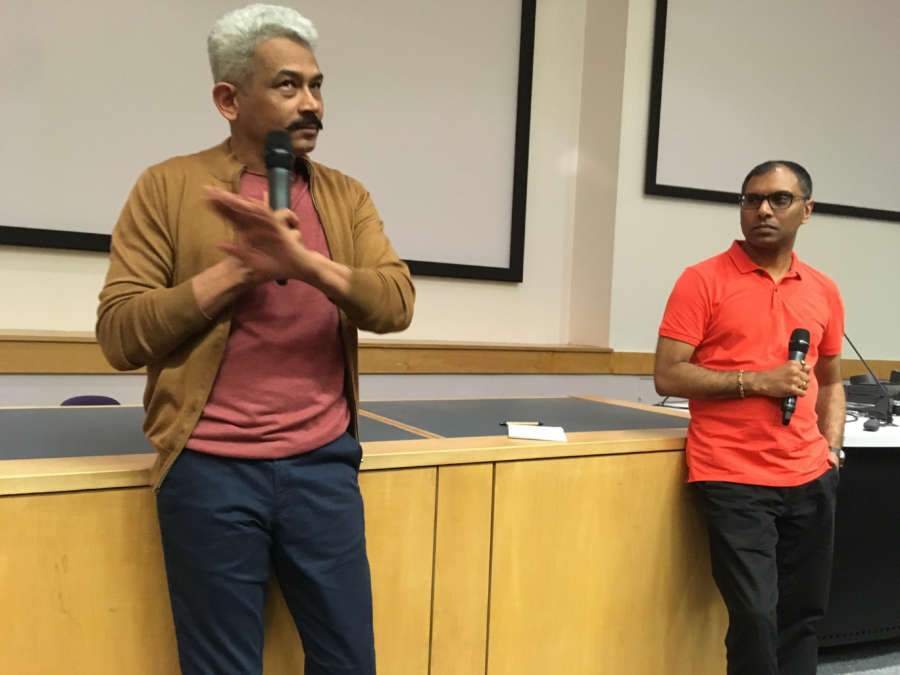 Films can be shot anywhere and a total ''democratization'' of the medium had given birth to huge talent and further rise to various platforms like Netflix, Amazon, Hotstar as a viewer has access to cinema with the help of a mobile. This dynamism has given birth to new content and actors have a variety of roles to play.
''Actors are thus required to prepare accordingly to the need of the dynamic medium and work. Chances of getting stereotype roles and getting typecast are less in the process thus makes the life of an actor challenging and keeps him busy, '' he pondered. ''I love changes and respond accordingly,'' he smilingly averred.
From NSD as a professional theatre actor to film acting his journey has been a smooth transition. With his philosophy to constantly explore and with the belief that an actor is also an entrepreneur he has now explored to write scripts for films. His first venture is writing for the film Lal Singh Chaddha for Amir Khan. And in the same breath he says, '' you never know tomorrow I may even direct a film'' with a twinkle in his eye. ''Change is a trend,'' and ''I follow it,'' says Atul. ''Acting is a small portion of my life,'' he philosophises. Atul loves to travel and meet different people. He loves understanding different art forms, cultures and interaction with people. Reading has been his love since childhood. Forrest Gump a 1986 novel by Winston Groom inspired him and Amir Khan and the film would be ready next year 2020 Xmas, he informed.
No art can change society. It can only instigate and provoke
Atul and Gandhi are intricately linked as he won National award for his stellar role-playing the right wing activist Sanjeev Abhyankar in the film Hey Ram and the other he won for acting as Potya Sawant in Chandani Bar. He can passionately discuss Mohandas Karamchand Gandhi and he summarises saying Gandhi needs to be understood better than what he is today. Mostly it's the case of ''six blind men and the elephant with each having his own perception of the Mahatma.''
Atul has been a regular commentator on social affairs. His belief that every person needs to think '' as a citizen of the country and not as a voter'' that would strengthen the process of democracy and strengthen the Constitution of the Indian land. To expose ones thought social media helps today as one can reach a wider audience.
As an artist he concludes, '' No art can change society. It can only instigate and provoke."
---