Asian Lite Columnist Riccha Grrover in an exclusive interview with Michelin-star fame celebrity Chef Rohit Ghai on all about his brand new venture- the hottest new Indian restaurant in London called KUTIR. In a townhouse nestled away in the fancy neighbourhood of Chelsea in London, Kutir pays homage to India's rich heritage and wildlife – with a modern menu inspired by the history and splendour of this magnificent part of the world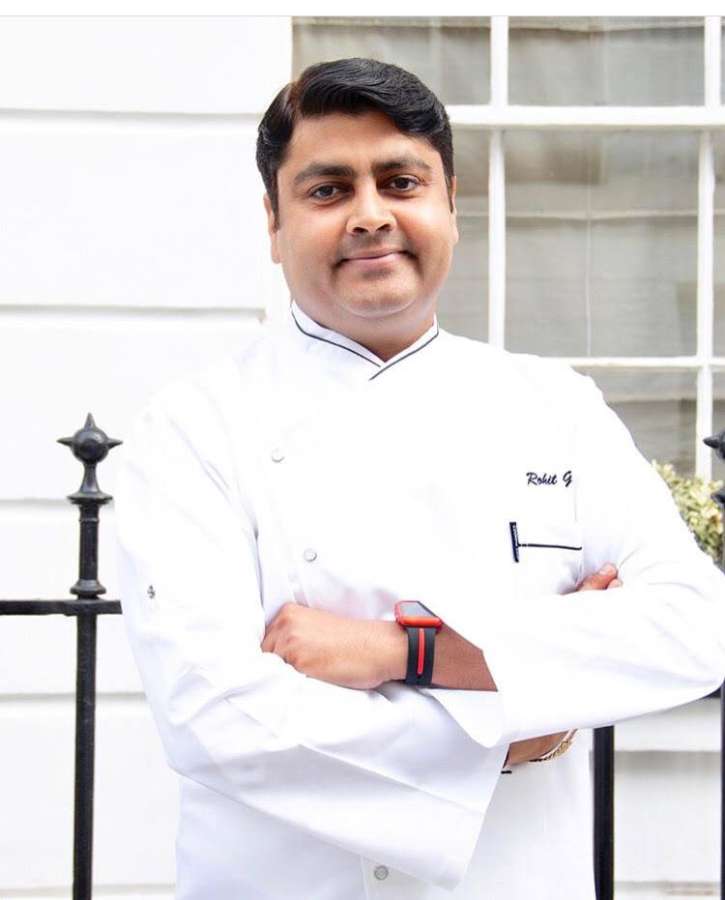 RG- Tell us about your journey as a chef, getting Michelin star fame and the lead up to your new venture Kutir and how it all came about ? What does the name Kutir stand for and what inspired it? 
ChefRG- I started my career working for a range of luxury hotels in India. In 2008, at the dawn of the Indian fine dining era in London I planned a timely move to London and began working at the high-end restaurant brand Benares. From then there's been no looking back for me. I then transitioned to the likes of Trishna and Gymkhana to name a few bigwigs. I was incredibly humbled, fortunate and proud to be recognised for my culinary talents and then came the winning of Michelin star along with the fantastic team at the luxurious restaurant brand-Jamavar's London outpost.
This was more special  as I won that coveted Michelin star faster than any other Indian Chef (we had only been open for 10 months!) and it was a matter of professional pride for me and I wear that as a badge of honour with gratitude. It's been a great professional journey where I've gone strength to strength if I may humbly say! Talking of my new brand Kutir in Chelsea, Kutir means "cottage" in Sanskrit and we have drawn inspiration from the royal traditions of hunting expeditions in the luscious forests and jungles of the Indian countryside. My business partner for this venture Abhishake Sangwan (who runs everything front-of-house at Kutir) and I met when working our way through the ranks in luxury hotels in the wilds of India and we wanted to reflect this this shared career history in our first joint-venture. So here we are showcasing our vision, expertise and passion to the evolved palates of discerning Londoners.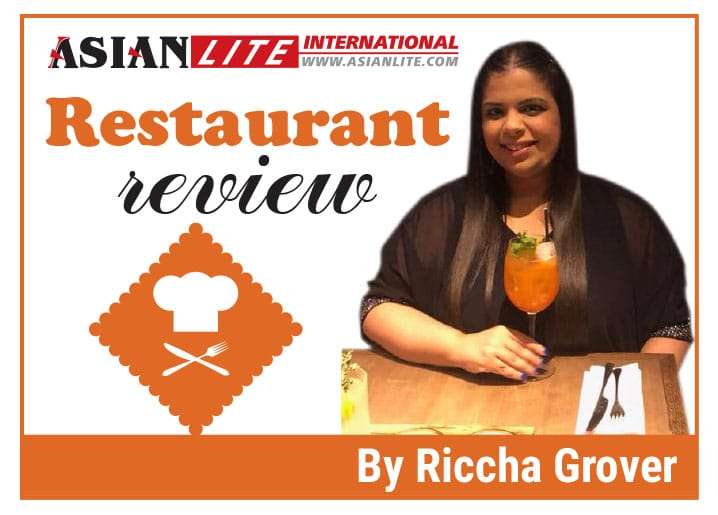 RG- How is Kutir different from all the other high end indian restaurants in central London and also the other kitchens that you have headed in terms of what sort of a unique food experience does Kutir offers?
ChefRG- I have been dreaming about opening this restaurant and serving this menu for a very long time time now. I have been refining these dishes, these flavours and textures, the concept for the restaurant and it's exciting to bring a different style and an added dimension of Indian cuisine to the London market, going  that step beyond the usual restaurant offerings. It offers an experience that's one of a kind! One has to try it to experience it first hand and I feel confident about our menu range, ambience and top-notch hospitality that will do rest of the talking!
RG- What are the top five dishes you would recommend a first time diner to try ? How would you describe the food at Kutir in 3 words? 
ChefRG– 24 Hour Slow Cooked Rogan Josh, Scallops and Aubergine, Aloo Tikki, Nargisi Kofta and Quail Naan I feel are the top 5 must try's! The food at Kutir is highly refined, sophisticated yet fancy, authentic yet experimental.
RG- What is your vision for Kutir and any other expansion projects in the pipeline in other parts of UK or abroad yet ?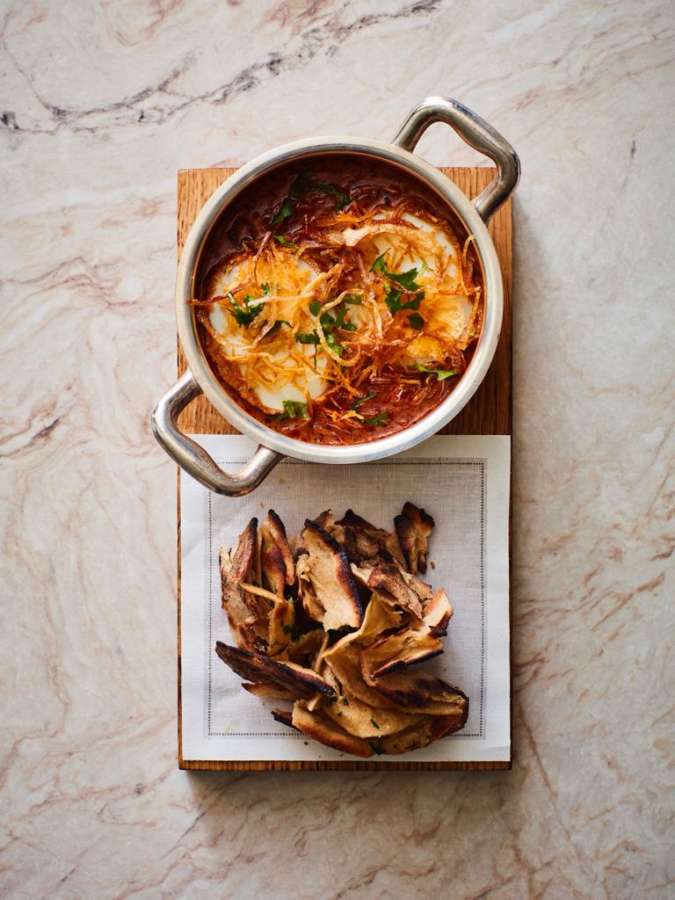 ChefRG- We are aiming for the very best with Kutir, serving both locals in the Chelsea area of London, Londoners and visitors alike. We want to retain our place as one of the finest Indian restaurants in London. The vision is to give each and every valued guest an experience which they will treasure as a memorable meal experience. Talking of future plans, we are soon to open our latest venture, street-food concepts Koolcha and Longboys, at the new Boxpark in Wembley, London. This is a very exciting challenge and I'm thrilled to be able to share my cooking with a wider range of customers beyond the fine- dining high end zone and that has its own highs and journey which I'm ready to embark on! Other than that, we are at Taste of London again this summer of 2019- a must-attend event for food lovers! I am also working on some guest spots for showcasing across in the Middle East and India, details of which will be revealed soon so watch this space!
RG- Do you have a seasonal menu too at Kutir or is it always a fixed ala carte menu? Where does your menu take its inspiration from? 
ChefRG– We do have a few 'expedition' menus, which are our version of a tasting menu. These include the Signature menu comprising of our favourite dishes; a Vegetarian Signature menu highlighting our refined vegetarian dishes; and finally the Hunter's menu, one which is reflective of the meats and seafood in line with varying seasons. All these menu genres can have an accompanying wine pairing that would compliment the courses. Then we also offer a la carte and a set lunch menu as well. The food at Kutir is representative of the Indian feasting-style, convivial and celebratory dining that occurs in the hunting retreats in India and menus feature highly seasonal ingredients with an emphasis on game and seafood.
RG- Tell us about the decor, interiors, drinks selection, music and the overall vibe you have created- how does it compliment the meal experience at Kutir?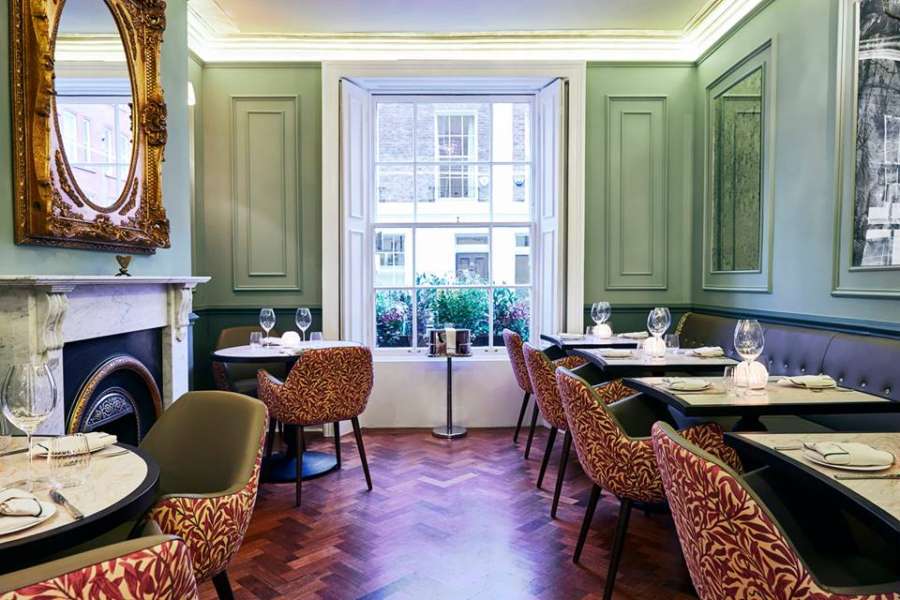 ChefRG– At Kutir, the focus is very much on the food but also the dining experience as a whole. We want our diners to enjoy the culinary adventure which is made complete with vibe, decor and music along with attention we have to every other detail to create the feel of dining in a 'Kutir'. The Kutir inspiration is reflected in all its elements, from the the food to the drinks offerings especially our cocktails which feature concoctions with many shrubs and infusions found in the wilderness of india and of course the themed decor. The walls are covered in prints and inspiration is drawn from Indian wildlife such as tigers and elephants – we have taken great care to ensure that every element of Kutir elevates the look and feel of the complete meal experience in the carefully curated ambience of the restaurant.
RG- Tell us about some of your highs and lows in the  journey as a chef. What keeps you motivated and what's been your mantra of success? What advice would you give budding chefs? 
ChefRG– Highs and Lows are a part of every profession but being a Chef my highs have been and are definitely the positive feedback I have received over the years from my happy guests- its kept me going strong, motivated and driver to raise my own bar in creating even better food options. On the other hand it's not all easy breezy- being a Chef means long working hours, working weekends, holidays and being even more busy while others are off work and in enjoyment more and this means very less family time- this is my biggest Low actually when I can't give the time I would like to for my little angels, my daughters. But if ones passionate about all things food like I am the highs of being a chef carries one through the lows to the extent they keep me motivated wanting to do my very best in my career as a chef and work with gusto knowing I'm contributing to my field of work and doing my bit to raise the bar for Indian food in London.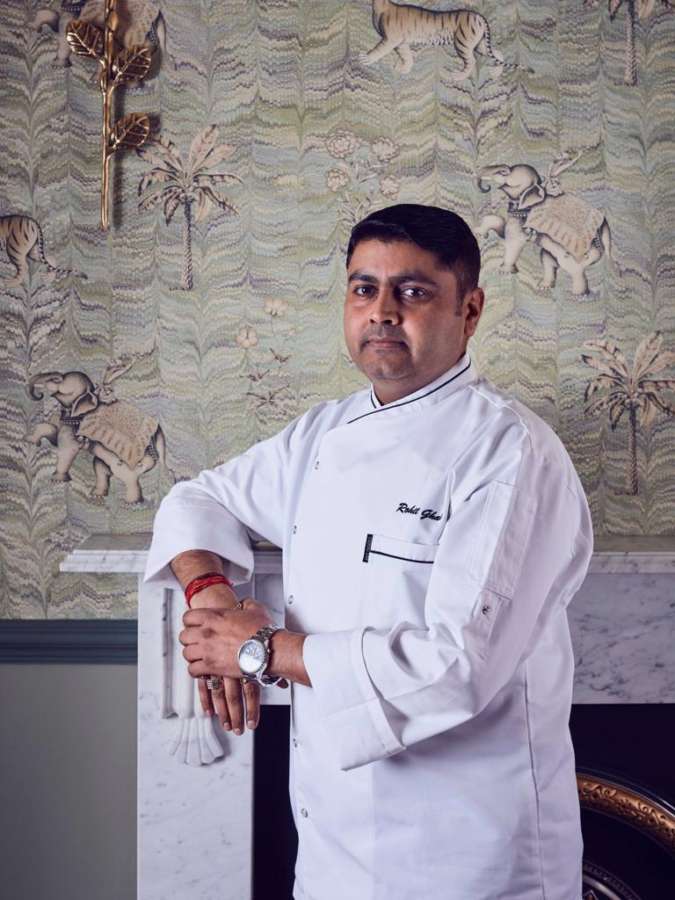 For me the mantra for success is very simple- nothing but to give your best in whatever you do. Cooking is an art so so need to put your heart and soul and everything in along with the techniques of this craft. My advice to young and budding chefs would be 'put in your best efforts and cook with love, zeal and passion, success will follow for sure.' I believe the best meals come from cooking with both the heart and soul. Curiosity, creativity and confidence are the ingredients of success in the kitchen, and when combined with a passion to cook, it's a winning recipe. My advice to young Indian chefs would be to stick to traditional recipes and cooking methods but always add your own influence and distinct mark on it to add value to it and carve your own niche.
RG- What is your personal favourite from the Kutir menu? What's your favourite cuisine and restaurant when you go out to eat ? If you weren't a chef what would you have been doing? Where do you see yourself in your career in ten years? 
ChefRG– I love all of my creations, but at Kutir I always try and make something a bit differently: my signature dishes being Scallops and Aubergine, Aloo Tikki, Nargisi Kofta and Quail Naan.
London has such an incredible dining scene, with a myriad of cuisines and dining styles at every corner. My favourite restaurant for special occasions is Jinjuu but I also go to Hotel Connaught Mayfair regularly. I always wanted to be a chef, but if I weren't then I would have been an engineer. By the time the entrance exams for Engineering came around back in the day, my passion for cooking had already been ignited and I decided to study Indian Cuisine instead and the rest as the say is history! In ten years, I hope to have opened more restaurants and executed some exciting chef collaborations. The rest is a secret waiting to unfold – you will have to wait and see how this pans out!
They say that you eat with your eyes first, well Kutir definitely swears by this concept turning every offering into a delightful surprise to the eyes and a treat to the taste buds. With its impeccable service, commitment to hospitality, attention to detail and exceptional food offerings both in terms of presentation, unique preparations and gorgeous taste- Kutir sure is all set to take the Indian fine dining scene in London to a whole new and elevated level. It's a must visit restaurant for all those seeking a true and complete culinary adventure for the tastebuds!