Asian Lite Columnist Riccha Grrover in an exclusive interview with Jomon Kuriakose,  Chef de cuisine, Baluchi Restaurant at the LaLit Hotel, London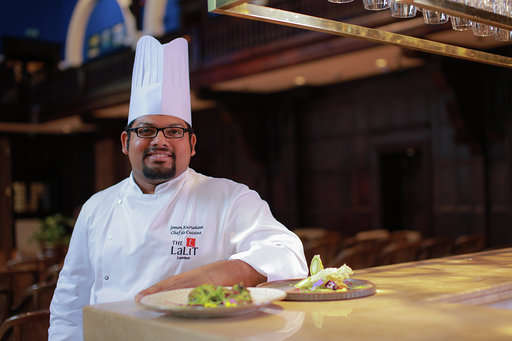 Set in the historic Grade II listed former St. Olave's Grammar School's Assembly Hall; Baluchi strives to serve a contemporary take on impeccably executed Indian dishes. Their vibrant menu takes inspiration from the major food regions of India to carefully craft an elegant cuisine, which is made from the finest organic ingredients.
Chef de Cuisine at Baluchi, the pan-Indian dining destination within The LaLiT London, Chef Jomon is responsible for creating new and exciting dishes to continually enhance the menu, as well as leading the kitchen team on a day-to-day basis. With over a decade of experience in the kitchen, Jomon Kuriakose is passionate about creative flavours and creating innovative dining experience for discerning diners.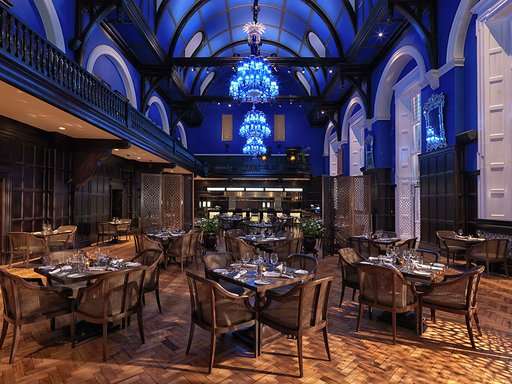 Born and raised in Kerala, India, Jomon completed a bachelor's degree in Hotel Management from Sarosh Institute of Hotel Administration at Mangalore University. Jomon moved to London in 2008 and has worked in several big name kitchens. He joined Baluchi as Chef de Cuisine in 2017 and a highlight was his appearance in Celebrity MasterChef in 2018.
Columnist Riccha Grrover caught up with the driven, passionate about his job, humble and hospitable Chef de Cuisine at Baluchi London in an exclusive interview for Asian Lite International.
RG- Tell us about your journey as a chef- why did you choose to be one, becoming chef de cuisine at the famed The LaLiT London restaurant, your Celebrity MasterChef appearance and fame? How does it all define your career trajectory? 
JK- Born and raised in Kerala, India, I was always passionate about cooking and eating delicious food. To develop my cooking skills as well as my experience within the hospitality industry, I completed a bachelor's degree in Hotel Management from the Sarosh Institute of Hotel Administration at Mangalore University. I was offered my first role at Speciality Restaurant Pvt Ltd, one of India's leading restaurant groups, as Chef de Partie, where I got the chance to work closely with Chef Anthony Huang and Chef Sandeep Pandey, two great personalities in the Indian hospitality industry. I moved to London in 2008 and took up the role of Chef de Partie at Bombay Palace, strengthening my expertise in an authentic Indian cuisine. In 2012, I became Senior Chef de Partie at Cinnamon Kitchen before joining Baluchi at The LaLiT London as Chef de Cuisine in 2017.
Appearing on BBC Celebrity MasterChef 2018 was a really exciting opportunity and a real highlight of my career. Since then, many people have come to Baluchi and recognised me, which is amazing.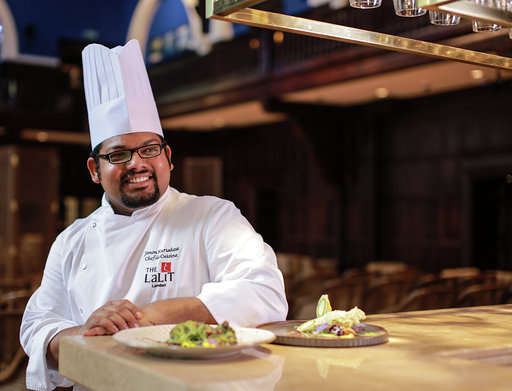 RG- How is Baluchi different from all the other high-end Indian restaurants in central London and also the other kitchens that you have worked at in terms of what sort of a unique food experience does Baluchi offer?
JK-Baluchi is a really striking space and always impresses guests when they first walk through the doors. Occupying the grand former assembly hall of what was once St Olave's Grammar School, the large statement blue chandeliers add a wow factor alongside the room's old-world charm delicate jaali woodwork and original parquet flooring. The surroundings really set the scene, but of course the food takes centre stage. We serve pan-Indian cuisine, utilising traditional Indian ingredients and flavours but with a modern and innovative twist.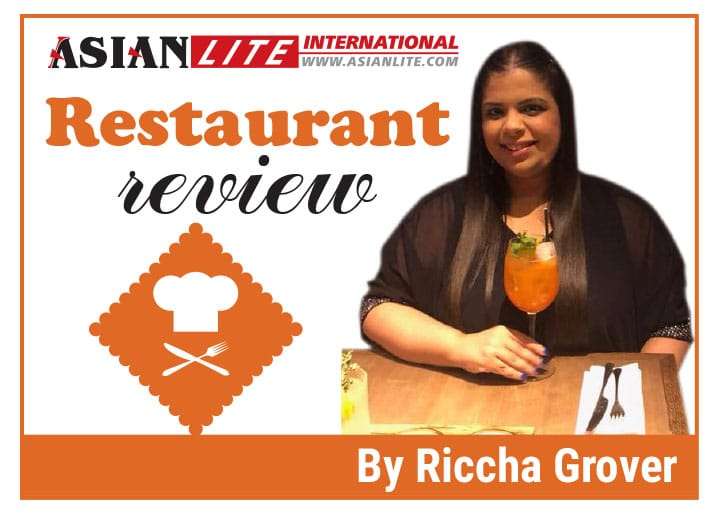 RG- What are the top five dishes you would recommend a first-time diner to try? How would you describe the food at Baluchi in 3 words? Tell us about the iconic Naanery- the bread bar and how many naans are made each day, and which is the best seller there?
JK- Baluchi offers a range of dishes, including a number of vegetarian and vegan choices. I would personally recommend trying any of the authentic kadai curries. Some of my personal favourites include lamb chops, Tandoori octopus, and Butter chicken, as well as the signature Dal Baluchi of course!
Unique, vibrant, delicious would be the three words that I use to describe the food at Baluchi.
The Naan'ery offers a selection of artisanal breads made in the traditional Indian way using an iron Tandoor. The naans are of course made freshly each day with choices including Tandoori roti, phulka, paratha, and kulcha. The porcini truffle naan is one of my favourites.
RG- What is a chef de cuisine and what is your role in the kitchen, menu creation, presentation decisions? Who's been your regular celebrity diner at your table?
JK- As Chef de Cuisine at Baluchi, I am responsible for assisting Executive Chef Santosh Shah in creating new and exciting dishes to continually enhance the menu, as well as leading the kitchen team on a day-to-day basis. Being at The LaLiT London, I have had the chance to meet many iconic personalities including former Indian cricketers Rahul Dravid, Sunil Gavaskar, and Prithvi Shaw, as well as Seventh Deputy Prime Minister of India, Mr L K Advani, and a number of actors from Kerala. Other celebrities who have visited include Spencer Matthews, Frankie Bridge and Ella Eyre.
RG- Do you have a seasonal menu at Baluchi or is it always a fixed ala carte menu? Where does your menu take its inspiration from?
JK- Baluchi offers à la carte and seven-course tasting menus, including vegetarian, all year-round, with the option of paired wines to accompany each course. I work alongside Chef Santosh Shah to develop seasonal menus, such as a six-course game tasting menu we created for game season. We are soon to launch our new spring menus which are set to be really exciting.
RG- Tell us about the decor, interiors, drinks selection, music and the overall vibe at the restaurant – how does it compliment the meal experience at Baluchi?
JK- Baluchi is absolutely stunning. It's set in the historic Grade II-listed hotel's Great Hall, under restored vaulted ceilings and Hyderbadi hand-crafted glass chandeliers, with a striking cobalt blue ceiling. The food at Baluchi complements the grandeur of the restaurant: it is elevated whilst still embracing the heritage of Indian ingredients. We play soft authentic Indian music to add to the overall experience, and to really transport guests to India. Our drinks selection is extensive, with the option of paired wines with the tasting menu, as well as a wide range of choices in the Teacher's Bar, including cocktails, premium spirits and craft beer.
RG- Do you have a tasting menu or a set multi course menu at the restaurant and what signature dishes you think define it that diners choose it or come back for it?
JK- We have a seven-course tasting menu (including a vegetarian option) available at Baluchi. The kaffir lime chicken tikka with cashew crumble, and the tandoori celeriac with mint chutney, burnt apple gel, masala seeds, gun powder and coconut foam are some of the most popular dishes.
RG- Tell us about some of your highs and lows in the journey as a chef. What keeps you motivated and what's been your mantra of success? What advice would you give budding chefs?
JK- I feel so proud doing my job. I have always felt that the ability to cook is a blessing. During my last visit to India I got the chance to cook for nearly 450 people in a retirement home. I was so moved so see them enjoying my food – there is no other job that provides the happiness of feeding a soul. My strength lies in my family and my mantra is, be good to others and always be willing to learn. My advice to young chefs would be make sure you are focused on what are you doing and always pay attention to detail.
RG- What is your personal favourite from the menu? If you weren't a chef what would you have been doing? Where do you see yourself in your career in ten years?
JK- It's so difficult to choose from a menu filled with so many great dishes. Some of my favourites include the Kaffir lime chicken tikka, Tandoori octopus, Dal Baluchi, tandoori prawn, Lamb shank Gushtaba and obviously pan kulfi for dessert. I've wanted to be a chef since I was a child and I go into work every day loving what I do. I can't imagine being anything else. In 10 years, I hope to still be creating delicious food and experimenting with new flavours and ingredients.
Baluchi is an outstanding Pan-Asian destination which is a complete gastronomic delight. Impeccable service, beautiful setting, lovely food presentation, attention to detail, lavish menu choice, delectable dishes are only some of the many reasons why someone looking for a modern Indian, soul-satisfying meal should look no further- it's got all the classics with many contemporary twists, you won't be disappointed in the least! Food offerings cover a diverse selection of flavours and dishes across regions in India from Kashmir to Kerala, Bengal to Goa and more, there is something to pander to everyone's taste buds and cravings.
Though the food at Baluchi is bound to take one on a delightful culinary voyage of flavours from the Indian subcontinent, the plush interiors including vaulted ceiling, rich blues and dark wood do highlight the British elements and the restaurant is on point in showcasing itself as great amalgamation of both cultures.
---