The driving passion for Dr Madhuri Rajwal is combining medicine with arts. Born to architect parents, the love for structure and design was naturally inculcated in Madhuri right from her early years. Her love for history and the sense of how time has affected architecture and lifestyle furthered her creativity and she participated in many drawing and painting competitions at school and interschool level.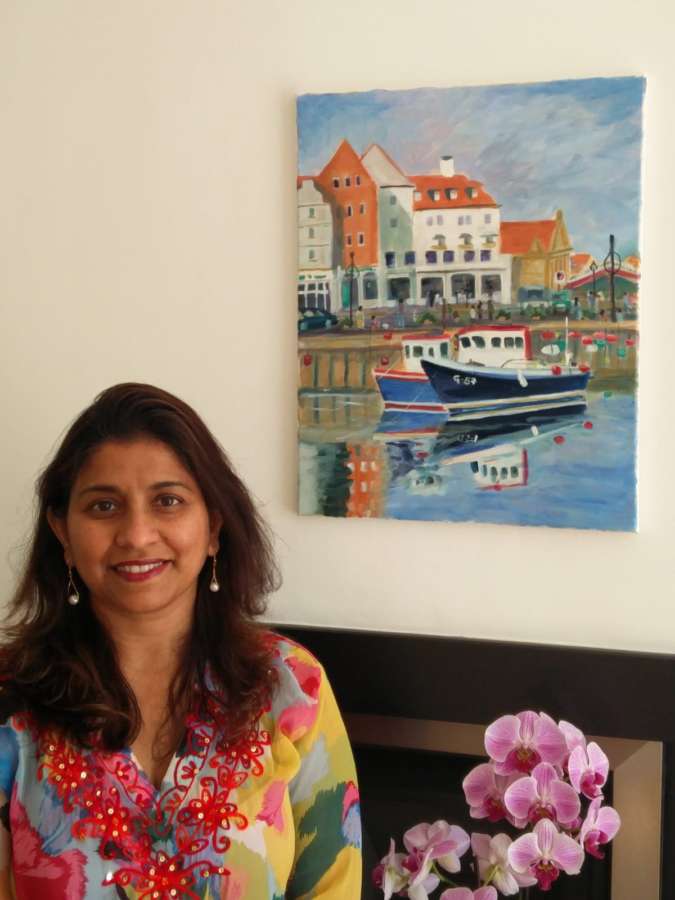 A self-taught painter, Madhuri uses a variety of media – watercolors, acrylic oils, textured or mixed media and recently she has begun to explore glass and ceramic colors. Madhuri learnt to appreciate the play of light, shade and colour combinations that resonate to create harmonious and emotional reactions. From still life to landscapes, seascapes, cityscapes, pets & floral subjects to imaginary abstracts, Madhuri paints everything, which excites and impresses her.
Madhuri also had to focus on her childhood dream of becoming a medical doctor and hence, her passion for arts had to take the back burner. Settling in Yorkshire with a young family, Madhuri works with an NHS practice.
Simultaneously she started painting again as a creative diversion from her demanding day job as a medic.  Madhuri felt this led to a wonderful sense of escapism and also an avenue for personal development beyond her imagination.
Meeting many like-minded people enhanced her skills and techniques and encouraged Madhuri to set up Minu Art which became a family enterprise with her family's total involvement.
In the age of digital media, Madhuri's beautiful, enjoyable pieces of painting with an individual slant brings one back to the essence of feelings, some treasured memories and positive vibrations which are invaluable in one's life. At the same time, she is keen to make her work accessible at the appropriate cost.
"Although art can be a collectible commodity my real satisfaction is when my paintings are loved by the buyer as it brings happiness and is also affordable," says Madhuri.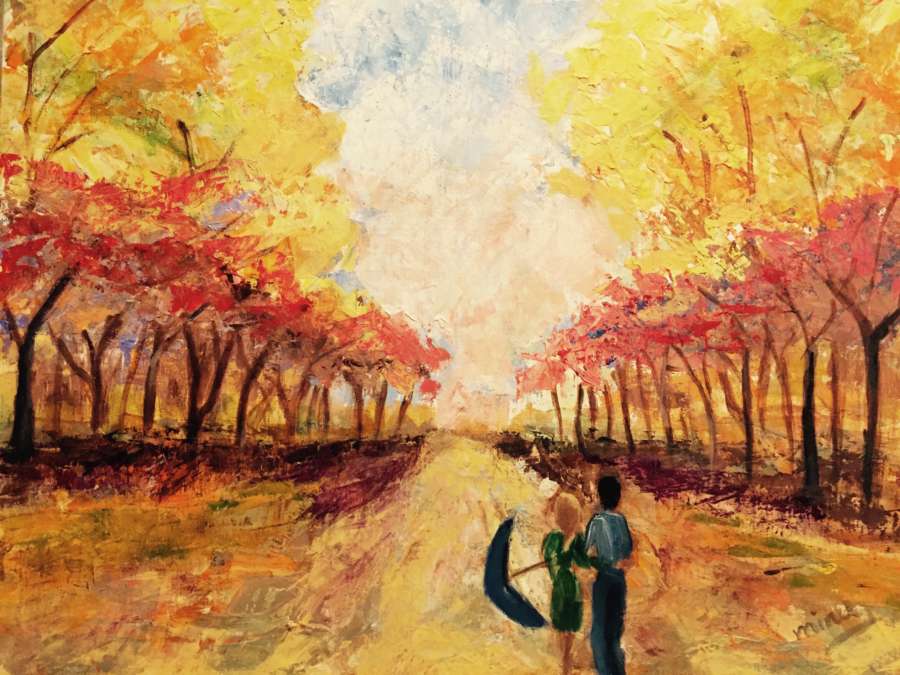 Madhuri is keen to work with disadvantaged and vulnerable people and fund raise for causes through her paintings. At her recent solo exhibition 'Beautiful Living ' at the Heart Enterprise Centre, Headingley, Madhuri sold many of her stirring paintings to raise funds for two charities – Candlelighters, Yorkshire – a charity for children with cancer and their families and the NAAM Foundation, (Nana Patekar and Makarand Anaspure) Maharashtra, India which works to transform the rural communities.  Realizing her ability to convert her skills to fund-raise for good causes, Madhuri has pledged to donate 10% of the sales of all her paintings to different charities.
Madhuri is keen to continue her journey by engaging and exploring different media to make beautiful and poignant paintings while developing herself as an artist and exploring online selling thereby connecting directly with art lovers.
Time is an important challenge for Madhuri as the demands of a job and family life leave her little time to create art and take the Minu Art enterprise further at the speed she would love to. Another challenge is to connect with the right people who may be interested in art and break the perception about paintings being too expensive or inaccessible.
"Asian Arts are increasingly appreciated in UK, but it is usually music, dance and drama which gets a lot of attention and there is very little awareness of the painting work by Asian origin artists. Paintings can combine different sensibilities i.e. Eastern and western, to suit our lifestyles perfectly and bring something new and innovative across.  It will be wonderful if painting was also recognized in the overall plethora of Asian Arts and artists would get more platforms to progress and achieve success" feels Madhuri.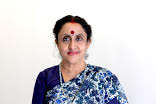 Madhuri's painting has certainly added another dimension to the lives of many who have had the opportunity of enjoying her paintings!
Asian Lite wishes Madhuri the very best in her double career!
Further information on Dr Madhuri and Minu art can be obtained on: Face book:  Minu Art
---