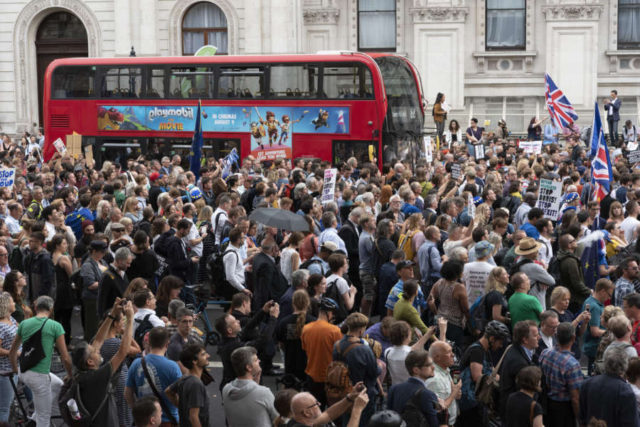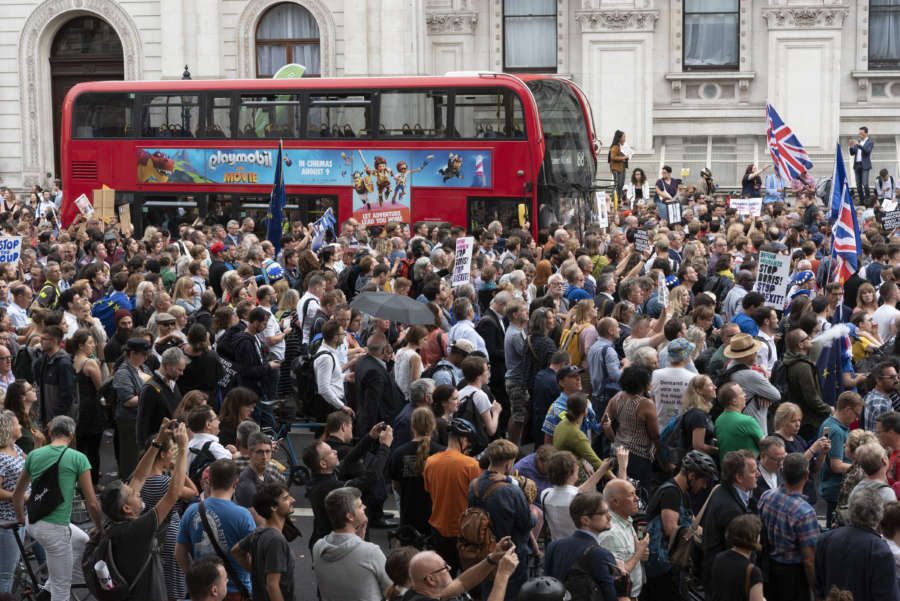 Thousands protest against UK Parliament suspension in London, Manchester and other major cities … reports Asian Lite Newsdesk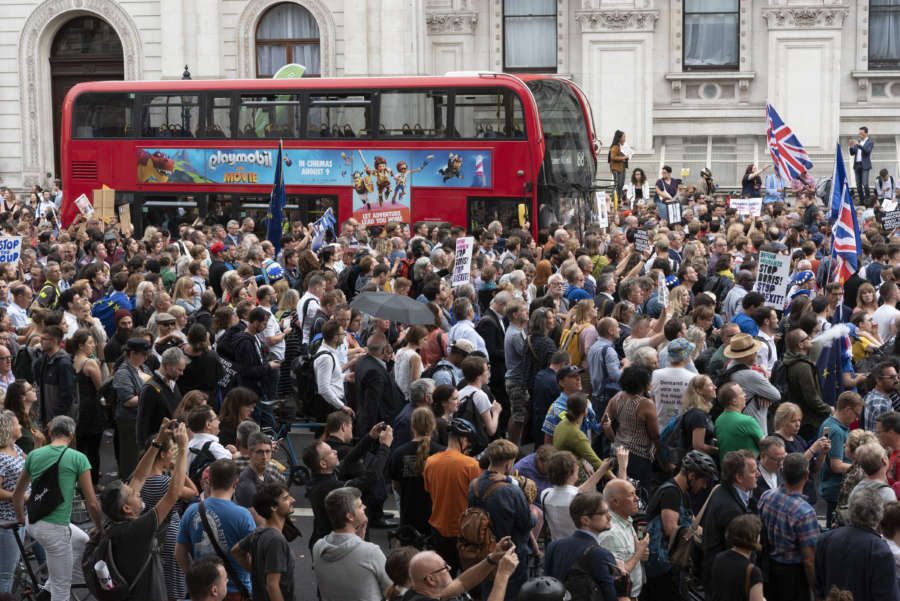 Thousands of protesters took to streets in the UK on Saturday against Prime Minister Boris Johnson's decision to suspend Parliament in the run-up to Brexit.
Protests were ongoing in cities including Manchester, Leeds, York and Belfast. Protests were expected to take place in more than 30 towns and cities, including Edinburgh, Belfast, Cambridge, Exeter, Nottingham, Manchester, Glasgow and Birmingham.
In London, Whitehall was brought to a standstill, with protesters chanting "Boris Johnson, shame on you", the BBC reported.
The decision to prorogue Parliament prompted an angry backlash from MPs and opponents of a no-deal Brexit. Critics say that the motive behind the Prime Minister's decision was to give lawmakers in the House of Commons less time to stop a no-deal Brexit.
However, Johnson has dismissed the claim, saying that it was to allow the government to hold a Queen's Speech and outline its "very exciting agenda" for the future.
When Parliament is suspended, no debates and votes are held. This is different to "dissolving" Parliament – where all MPs give up their seats to campaign in a general election.
If this prorogation happens as expected, it will see Parliament closed for 23 working days.
Chancellor Sajid Javid, speaking on BBC Radio 4's Today programme, defended Johnson's move. "It's quite usual this time of year for Parliament to go in to a recess. It's perfectly correct and appropriate to prorogue Parliament.
Today we sent a clear message from the heart of #Newcastle for #BorisJohnson and his Tory cronies in Westminster. You will not shut down our democracy and seek to block the voices of the many in our country. Inspiring to see Leavers and Remainers united together to #StopTheCoup! pic.twitter.com/ReurMBViiJ

— Ian Lavery MP (@IanLaveryMP) August 31, 2019
"I think it's absolutely right that this prime minister and his government get the chance to set up their agenda," he said.
Speaking before the London protest, journalist and activist Owen Jones, said: "This is about defending democracy. We have an unelected Prime Minister shutting down the elected representatives of the British public who are supposed to be scrutinizing the biggest upheaval since the end of the war.
"I think people who voted Remain or Leave should take to the streets today – no one voted for a no-deal Brexit.
"There will be Remainers (at the protests) but I've had Leavers get in touch with me and tell me they will be marching, too."
I thank everyone who has taken to the streets here in Glasgow and across the whole country to oppose Boris Johnson's smash and grab raid on our democracy.

We'll do everything possible to stop a disastrous No Deal for which this Tory government has no mandate. #DefendOurDemocracy pic.twitter.com/5tgRT4EjHw

— Jeremy Corbyn (@jeremycorbyn) August 31, 2019
In Oxford, crowds holding banners gathered outside Balliol College, where Johnson studied at university. Named "Stop the Coup", the protests were organised by anti-Brexit campaign group — Another Europe is Possible.
The group said that there were protests planned in Amsterdam, Berlin and the Latvian capital Riga.
Meanwhile, a petition against the Prime Minister's plan to suspend Parliament has received more than a million signatures.
And on Friday, former Tory Prime Minister John Major announced he will join forces with anti-Brexit campaigner Gina Miller to oppose the decision to suspend Parliament in the courts.
Foreign Secretary Dominic Raab said: "The idea this is some kind of constitutional outrage is nonsense."
---