Protesters are gathering at Parliament Square as Trump tears rule books to attack Prime Minister Theresa May….reports Asian Lite News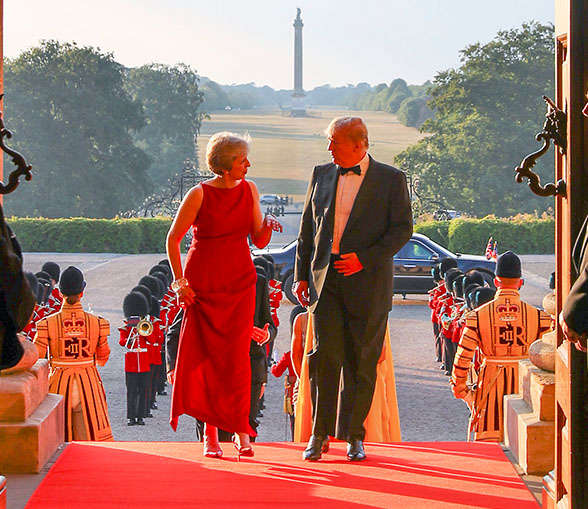 British diplomats are scrambling to avoid a showdown as visiting American President Donald Trump attacks Prime Minister Theresa May and London Mayor Sadiq Khan in an interview with The Sun. He praised former foreign secretary Boris Johnson and disclosed his respect to the Queen
Protesters are gathering at Parliament Square in London to slam the Trump visit.
Trump has said the UK will "probably not" get a trade deal with the US, if Prime Minister May's Brexit plan goes ahead.
He told The Sun newspaper that May's plan would "probably kill the deal" as it would mean the US "would be dealing with the European Union" instead of with the UK.
Downing Street has not yet reacted to Trump's remarks.
May has been making the case for a US free trade deal with Trump, on his first UK visit as president. On Thursday, she said Brexit was an "opportunity" to create growth in the UK and US.
"As we prepare to leave the European Union, we have an unprecedented opportunity to do more. It's an opportunity to reach a free trade agreement that creates jobs and growth here in the UK and right across the US," she said.
Trump told The Sun that conducted the interview while he was in Brussels for the North Atlantic Treaty Organisation (NATO) summit, that UK's blueprint for its post-Brexit relations with the EU was "a much different deal than the people voted on".
He said he had told May how to do a Brexit deal, but: "She didn't agree, she didn't listen to me… She wanted to go a different route." Trump also said he was "cracking down" on the EU as "they have not treated the US fairly on trading".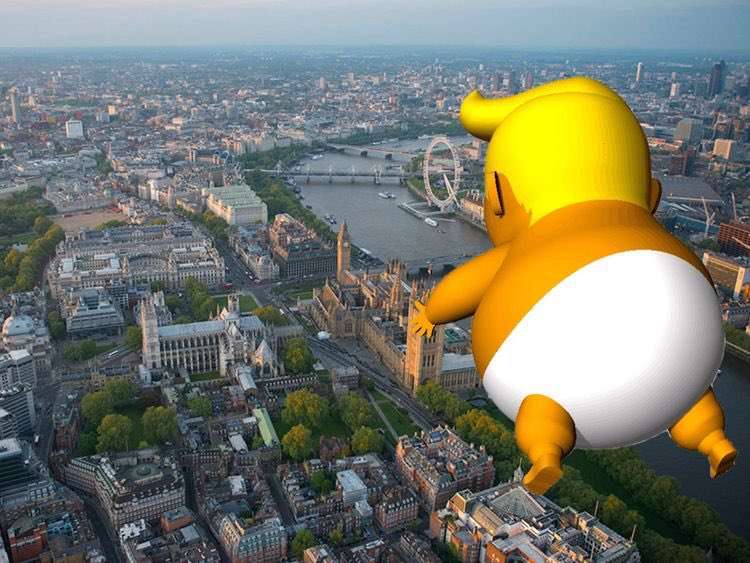 Trump praised former British Foreign Secretary Boris Johnson and said he would make a "great Prime Minister", adding "I think he's got what it takes".
The news of his interview with the newspaper broke while he was at a black-tie dinner with May at Blenheim Palace, Oxfordshire on Thursday evening.
After it was published, Whitehouse spokeswoman Sarah Sanders said the President "likes and respects Prime Minister May very much", adding that he had "never said anything bad about her".
The US President along with First Lady Melania Trump were given a red carpet reception after they were earlier greeted by 1,000 protesters outside the US ambassador's residence in Regent's Park.
On Friday, May and Trump will watch a joint counter-terrorism exercise by British and US special forces at a military base. Later they will hold talks with the foreign secretary at Chequers — the PM's country residence in Buckinghamshire.
The President and his wife will travel to Windsor on Friday afternoon to meet the Queen, before flying to Scotland to spend the weekend at Trump's Turnberry golf resort which will be private.
Mr Trump said that he had great respect for Mr Johnson, who quit the Cabinet last week over May's Brexit plan.
""I have a lot of respect for Boris. He obviously likes me, and says very good things about me," Trump said. "I was very saddened to see he was leaving government and I hope he goes back in at some point. I think he is a great representative for your country. I am not pitting one against the other. I am just saying I think he would be a great prime minister. I think he's got what it takes."
But the US president was sceptical about Mr Khan, the London mayor.  "You have a mayor who has done a terrible job in London," Trump said in the Sun interview. " "I think allowing millions and millions of people to come into Europe is very, very sad. I look at cities in Europe, and I can be specific if you'd like. You have a mayor who has done a terrible job in London. He has done a terrible job.
"Take a look at the terrorism that is taking place. Look at what is going on in London. I think he has done a very bad job on terrorism. I think he has done a bad job on crime, if you look, all of the horrible things going on there, with all of the crime that is being brought in."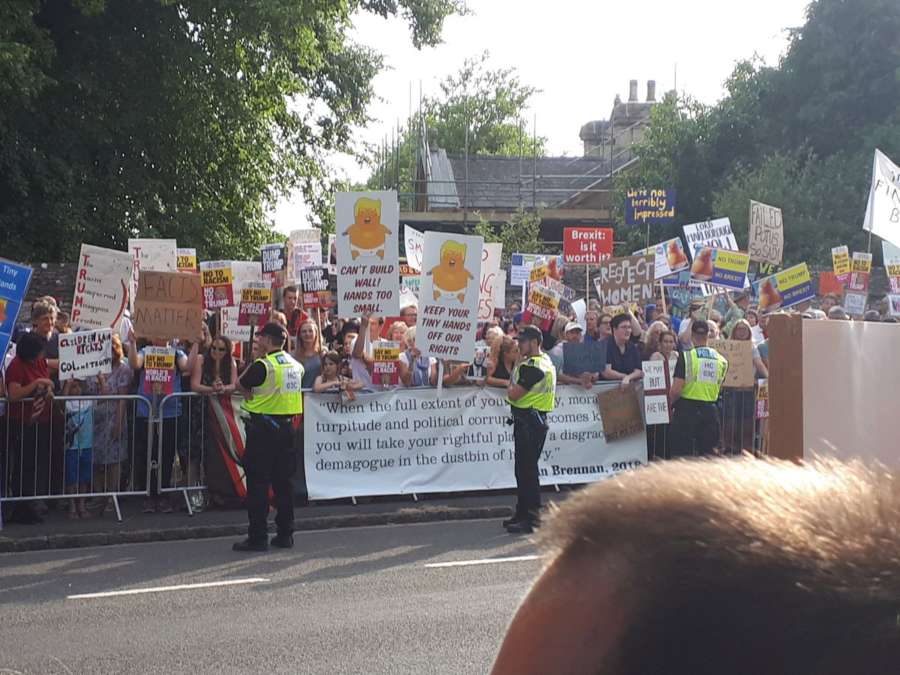 He added that Mr Khan had shown a "lack of respect" for the American government by attacking him.
He continued: "I think he has not been hospitable to a government that is very important. Now he might not like the current president, but I represent the United States.
"I also represent a lot of people in Europe because a lot of people from Europe are in the United States."
Mr Trump said  immigration has "changed the fabric of Europe."
"I think what has happened to Europe is a shame," Mr Trump said. "Allowing the immigration to take place in Europe is a shame. I think it changed the fabric of Europe and, unless you act very quickly, it's never going to be what it was and I don't mean that in a positive way. So I think allowing millions and millions of people to come into Europe is very, very sad. I think you are losing your culture. Look around. You go through certain areas that didn't exist 10 or 15 years ago."
But the President was in supreme form to raise the Queen.
"She is a tremendous woman. I really look forward to meeting her. I think she represents her country so well," said Trump. "If you think of it, for so many years she has represented her country, she has really never made a mistake. You don't see, like, anything embarrassing. She is just an incredible woman. My wife is a tremendous fan of hers. She has got a great and beautiful grace about her. My mother loved the Queen. Any time the Queen was on television, my mother wanted to watch it."
Theresa May has invited President Trump to our country at a time when his dangerous and inhumane policies are putting the lives and wellbeing of millions of people at risk. #TrumpUKVisit pic.twitter.com/69HdBTzkji

— Jeremy Corbyn (@jeremycorbyn) July 13, 2018
We have take off!

Giant #Trumpbaby blimp is being flown over London by protesters #TrumpUKVisit

Follow the latest here: https://t.co/ztoPS1G2Ss pic.twitter.com/hb6exfV9qZ

— Sky News (@SkyNews) July 13, 2018
'Usually, I don't feel sorry for @theresa_may, but I do this morning' – @EmilyThornberry accuses @realDonaldTrump of "insulting the host" after criticising the PM's #Brexit plan during his visit to the UK #TrumpUKVisit

Read more on this story here: https://t.co/tCnwCEPAjU pic.twitter.com/HT3rXPV3Ai

— Sky News (@SkyNews) July 13, 2018