Australian style point-based immigration system; tough on terms to release convicted terrorists; free car park for the needy besides the much awaited Brexit strategy revealed in the Queen's speech 2.0 …. reports Asian Lite News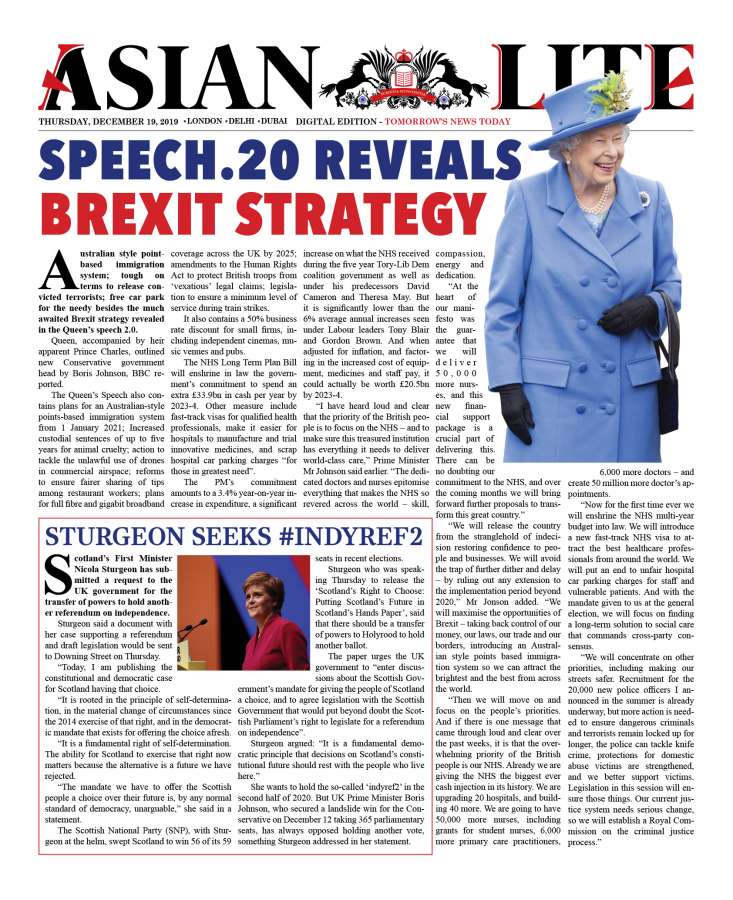 Queen, accompanied by heir apparent Prince Charles, outlined new Conservative government head by Boris Johnson, BBC reported.
The Queen's Speech also contains plans for an Australian-style points-based immigration system from 1 January 2021; Increased custodial sentences of up to five years for animal cruelty; action to tackle the unlawful use of drones in commercial airspace; reforms to ensure fairer sharing of tips among restaurant workers; plans for full fibre and gigabit broadband coverage across the UK by 2025; amendments to the Human Rights Act to protect British troops from 'vexatious' legal claims; legislation to ensure a minimum level of service during train strikes.
It also contains a 50% business rate discount for small firms, including independent cinemas, music venues and pubs.
The NHS Long Term Plan Bill will enshrine in law the government's commitment to spend an extra £33.9bn in cash per year by 2023-4. Other measure include fast-track visas for qualified health professionals, make it easier for hospitals to manufacture and trial innovative medicines, and scrap hospital car parking charges "for those in greatest need".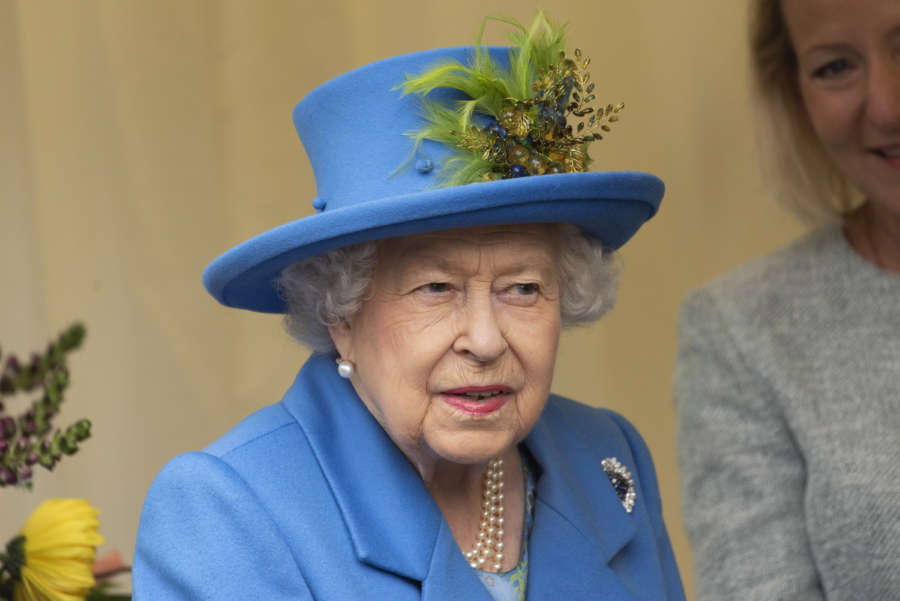 The PM's commitment amounts to a 3.4% year-on-year increase in expenditure, a significant increase on what the NHS received during the five year Tory-Lib Dem coalition government as well as under his predecessors David Cameron and Theresa May. But it is significantly lower than the 6% average annual increases seen under Labour leaders Tony Blair and Gordon Brown. And when adjusted for inflation, and factoring in the increased cost of equipment, medicines and staff pay, it could actually be worth £20.5bn by 2023-4.
"I have heard loud and clear that the priority of the British people is to focus on the NHS – and to make sure this treasured institution has everything it needs to deliver world-class care," Prime Minister Mr Johnson said earlier. "The dedicated doctors and nurses epitomise everything that makes the NHS so revered across the world – skill, compassion, energy and dedication.
"At the heart of our manifesto was the guarantee that we will deliver 50,000 more nurses, and this new financial support package is a crucial part of delivering this. There can be no doubting our commitment to the NHS, and over the coming months we will bring forward further proposals to transform this great country."
"We will release the country from the stranglehold of indecision restoring confidence to people and businesses. We will avoid the trap of further dither and delay – by ruling out any extension to the implementation period beyond 2020," Mr Jonson added. "We will maximise the opportunities of Brexit – taking back control of our money, our laws, our trade and our borders, introducing an Australian style points based immigration system so we can attract the brightest and the best from across the world.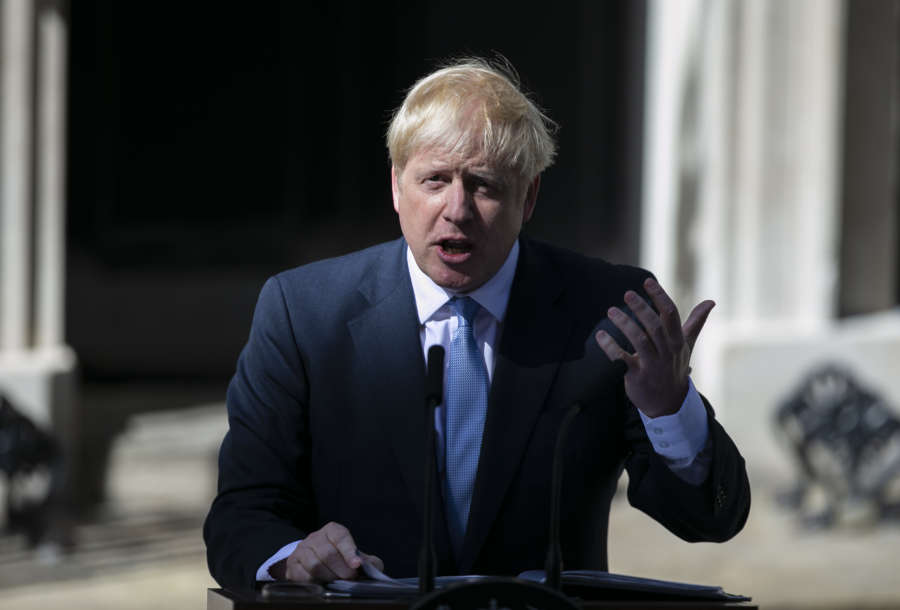 "Then we will move on and focus on the people's priorities. And if there is one message that came through loud and clear over the past weeks, it is that the overwhelming priority of the British people is our NHS. Already we are giving the NHS the biggest ever cash injection in its history. We are upgrading 20 hospitals, and building 40 more. We are going to have 50,000 more nurses, including grants for student nurses, 6,000 more primary care practitioners, 6,000 more doctors – and create 50 million more doctor's appointments.
"Now for the first time ever we will enshrine the NHS multi-year budget into law. We will introduce a new fast-track NHS visa to attract the best healthcare professionals from around the world. We will put an end to unfair hospital car parking charges for staff and vulnerable patients. And with the mandate given to us at the general election, we will focus on finding a long-term solution to social care that commands cross-party consensus.
"We will concentrate on other priorities, including making our streets safer. Recruitment for the 20,000 new police officers I announced in the summer is already underway, but more action is needed to ensure dangerous criminals and terrorists remain locked up for longer, the police can tackle knife crime, protections for domestic abuse victims are strengthened, and we better support victims. Legislation in this session will ensure those things. Our current justice system needs serious change, so we will establish a Royal Commission on the criminal justice process."