The much-anticipated opera Sukanya, created by the legendary late, great Ravi Shankar concluded its four venue UK tour to standing ovations. Launched at Curve Leicester on Friday 12th May, the opera has received rave reviews and standing ovations at all four packed venues over the week-long tour….reports Asian Lite News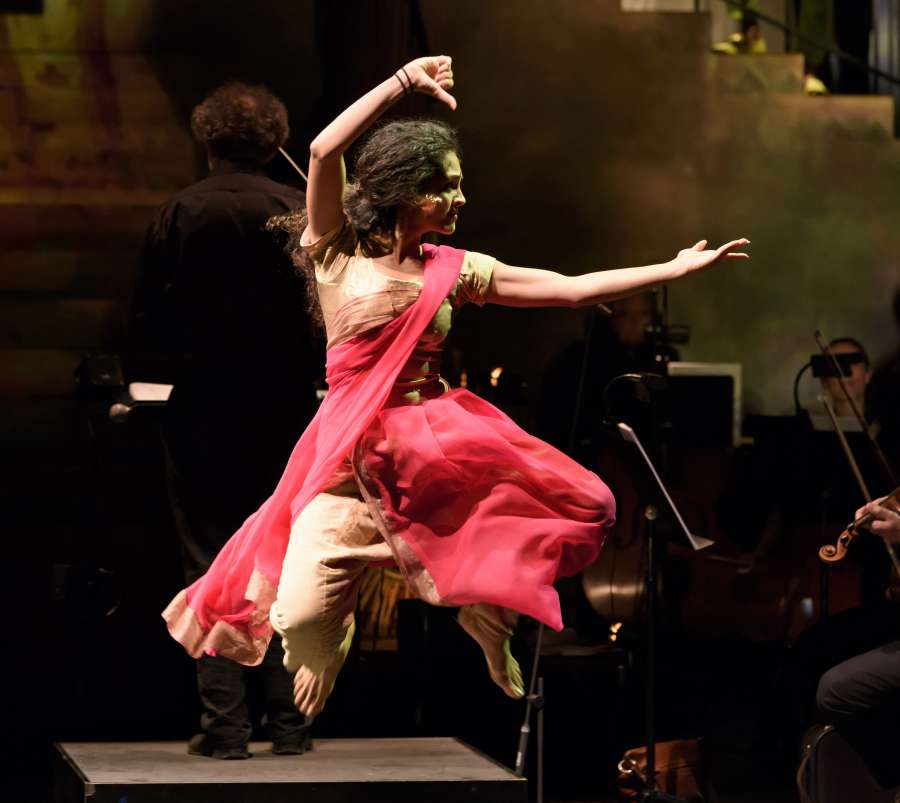 The masterful creation, produced by Royal Opera, London Philharmonic Orchestra and Curve, took audiences on a journey that intertwined traditional western opera with classical Indian music, stunning dance performances and a dramatic storyline.
The legendary Shankar was composing his pioneering opera Sukanya at the time of his passing, and has been completed by long-time friend and collaborator David Murphy and his daughter Anoushka.
Amit Chaudhuri's libretto (written text), based on the legendary Sanskrit texts of the Mahābhārata, also draws on texts as diverse as Tagore, Eliot and Shakespeare.  The story follows the young princess Sukanya who must marry the much older Chyavana, a wise religious man, after a terrible accident. As love unexpectedly grows between the couple, twin demi-gods attempt to woo the beautiful Sukanya, leading to an ultimate test as Chyavana is transformed into a third twin. Faced with a choice of three now identical, handsome young men, will Sukanyabe able to identify her husband's soul?
Sukanya is an opera exploring the common ground between the music, dance and theatrical traditions of India and the West. This exciting and innovative piece of work was undoubtedly a unique collaboration of talent, with singers, dancers and creative production team from across the continents.
Whilst Murphy worked on creating a score that lived up to Shankar's vision, the creative direction, staging and bringing a complex story to life was left to Curve Leicester's young director Suba Das. Creating a stunning visual backdrop upon which the story of Sukanya unfurled was a challenge that Das completed with breath-taking success. Tony Award-winning 59 Productions and Matt Haskins completed the visual experience with their production and lighting design respectively.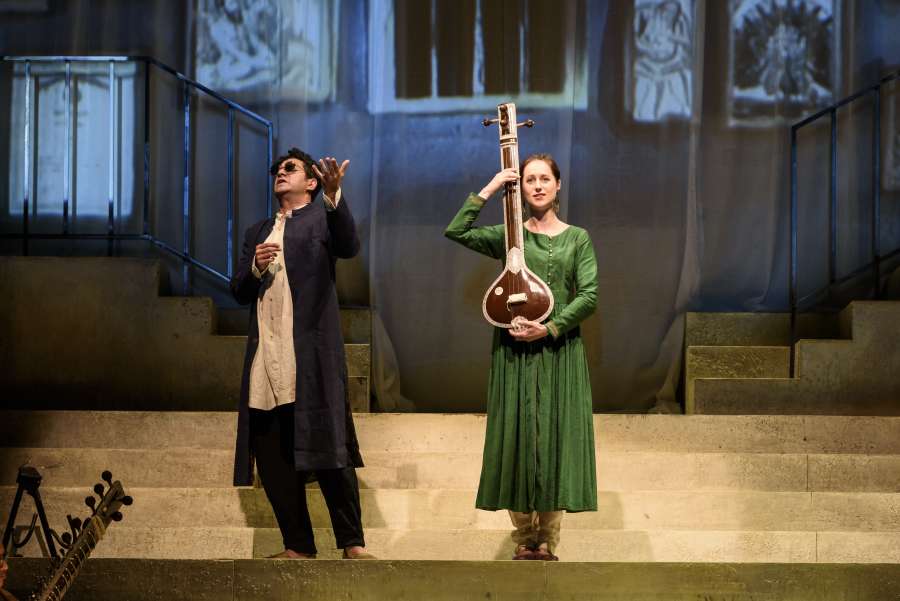 The opera featured British soprano Susanna Hurrell in the title role, Indian-born American tenor Alok Kumar, British bass-baritone Keel Watson, Brazilian baritone Michel de Souza, South African baritone NjabuloMadlala, the BBC Singers and the full force of a 60-strong London Philharmonic Orchestra. The Orchestra was supplemented with Indian classical instruments including the sitar, shennai, tabla, mridangam and ghatam, together creating a beautiful fusion of raag and opera.
The immensely talented dancer and choreographer, AakashOdedra and his company of dancers,providedbreath-taking performances throughout the opera, bringing the storyline together with a stunning mix of classical and contemporary dance.
Shankar was inspired to choose this subject while exploring the story behind the name of his wife, Sukanya Shankar, said:
 "My memory is very vivid and fresh of the day when Raviji was asking my mother about the story behind my name, Sukanya, sometime in the mid-nineties. He was so excited and wanted to do an opera. With his busy schedule of touring, performing and teaching, it was shelved. In the last few years before he left his physical abode, he started to work on it with David Murphy who he was very fond of and loved working with. He was confident that if for some reason he was not able to complete the opera, Anoushka would complete it for him. Luckily, he worked even in hospital before his final surgery with David by his side and completed it. David has done a brilliant job of arranging and bringing to life this Magnum Opus work of Raviji. I am grateful to David and to Anoushka for their inputs", said Sukanya Shankar.
My husband, an enigmatic genius, was a cluster of energy, creativity, love and inspiration who never ceased to surprise me in all our time together and has done it again! This opera is a standing testimony to the ultimate in the amalgamation of East Meeting West as natural as can be", she added.