Three leading UK retail bodies have come together to issue a stark warning to the British government that a no-deal Brexit would hit food prices and consumer wallets…reports Asian Lite News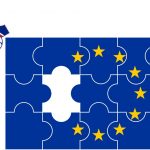 Aodhan Connolly, Director of the Northern Ireland Retail Consortium, Thomas Burke, Director of Retail Ireland and William Bain, head (EU & international) at the British Retail Consortium, said if the UK leaves without a formal deal with the EU, everyday food and drink prices could rise as much as 45 per cent for some products and stores across the country will see fewer product choices.
"A no-deal Brexit brings tariffs, customs processes, checks and costs, which our industry and Northern Ireland families in particular cannot afford to absorb," Connolly said.
With fewer than 40 days left for Brexit, a no-deal Brexit would see trade revert to World Trade Organisation most-favoured-nation tariffs, which set a standard between countries without applying formal trade agreements.
The increased tariffs on products coming into the country would drive prices up, as well as the time and costs associated with customs checks and processes at the borders, they warned.
"A hard Brexit means a hard border and the disintegration of supply chains,built up over 40 years of EU membership," Connolly said.
The trade bodies were united in their call for a solution, calling for an end to the "brinkmanship" that has locked London and Brussels in a political wrestling match.
Prime Minister Theresa May and her government are struggling to negotiate a deal between the UK and the EU as politicians continue to argue over terms and implications of a soft or hard Brexit.
Europe is an important trading partner for the UK, which imported 341 billion pounds ($442.15 billion) worth of goods from EU members in 2017.
"A no-deal outcome would have devastating economic consequences, potentially jeopardising years of positive economic development and integration across the islands of the UK and Ireland," Bain said. "It is imperative that this is avoided."