Top intelligence sources said Pakistan, which blamed Soleimani for Baloch militant attacks against its forces, found an opportunity to "kill two birds with one stone" when the US sought its support after the operation …. Reports Asian Lite Newsdesk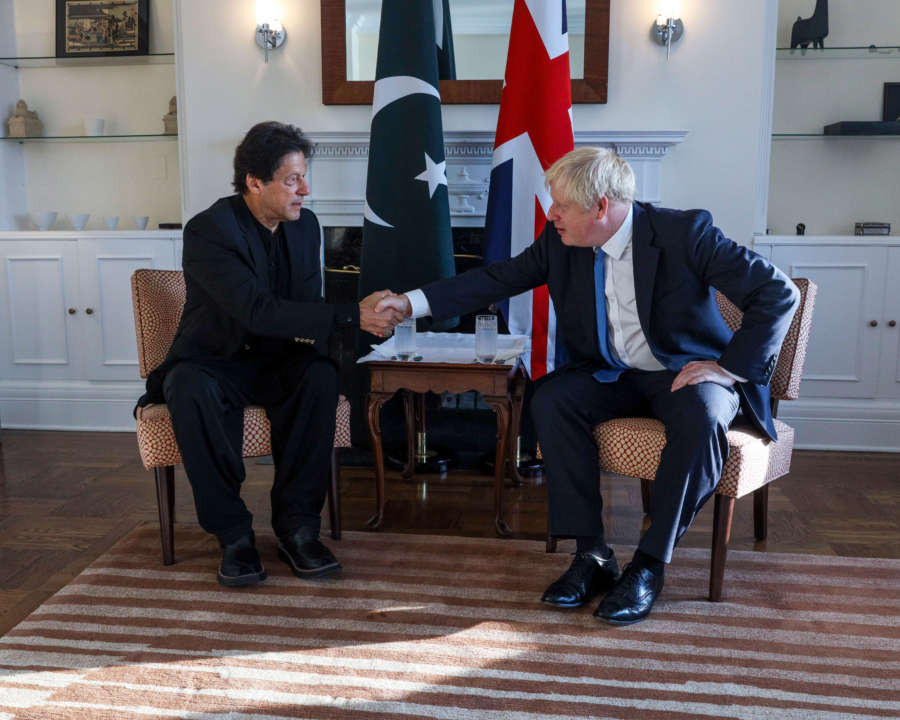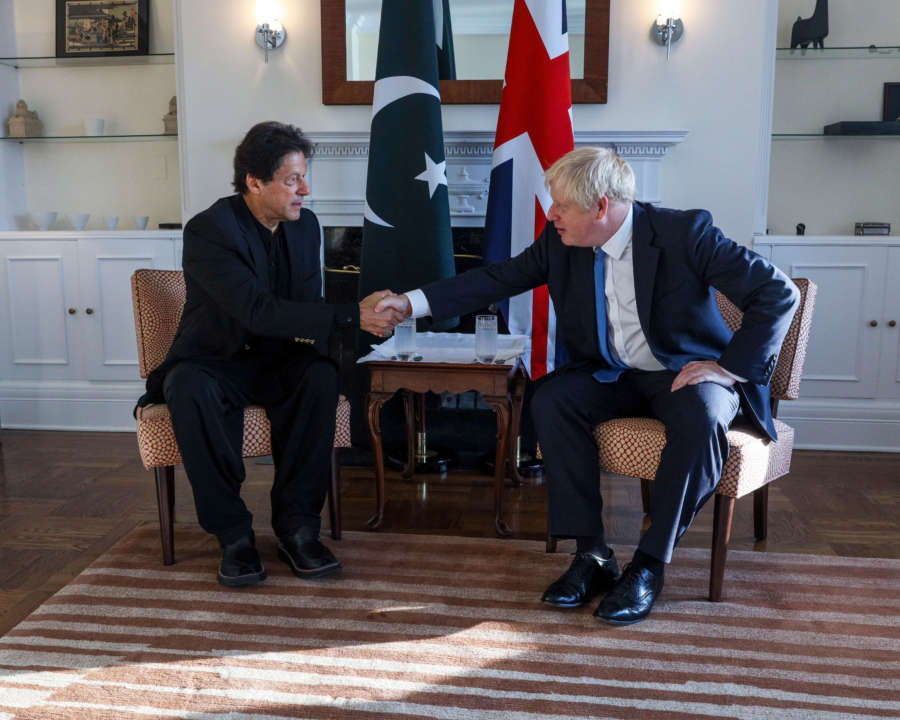 In exchange for resumption of military to military cooperation, Pakistan has extended tacit support to the US over its air strikes that killed Iran's Revolutionary Guard Corps commander Major Gen Qassem Soleimani and other top military officials in Baghdad.
Pakistan has remained conspicuous by its silence over the strikes and escalation of tensions between the US and Iran. Top intelligence sources said Pakistan, which blamed Soleimani for Baloch militant attacks against its forces, found an opportunity to "kill two birds with one stone" when the US sought its support after the operation.
According to a leaked letter of Pakistan's Ministry of Foreign Affairs, 14 personnel of Pakistan Armed Forces were killed recently by Baloch militants based in Iran. It was one of the several attacks sponsored by Iranian intelligence chief Soleimani against Pakistan.
US Secretary of State Mike Pompeo on Friday took Pakistan Army chief Qamar Javed Bajwa into confidence after the air strike against the IRGC. In a tweet, Pompeo revealed that he had spoken to Bajwa about the US "defensive action to kill Qassem Soleimani".
Soon after, the US authorised resumption of Pakistan's participation in the much-coveted International Military Education and Training Programme (IMET).
US President Donald Trump allowed Pakistan to rejoin the programme, which was frozen two years ago due to Islamabad's lack of action against terror groups. However, the overall security assistance suspension for Pakistan remains in effect, the US Secretary of State said.
Reaction in the Gulf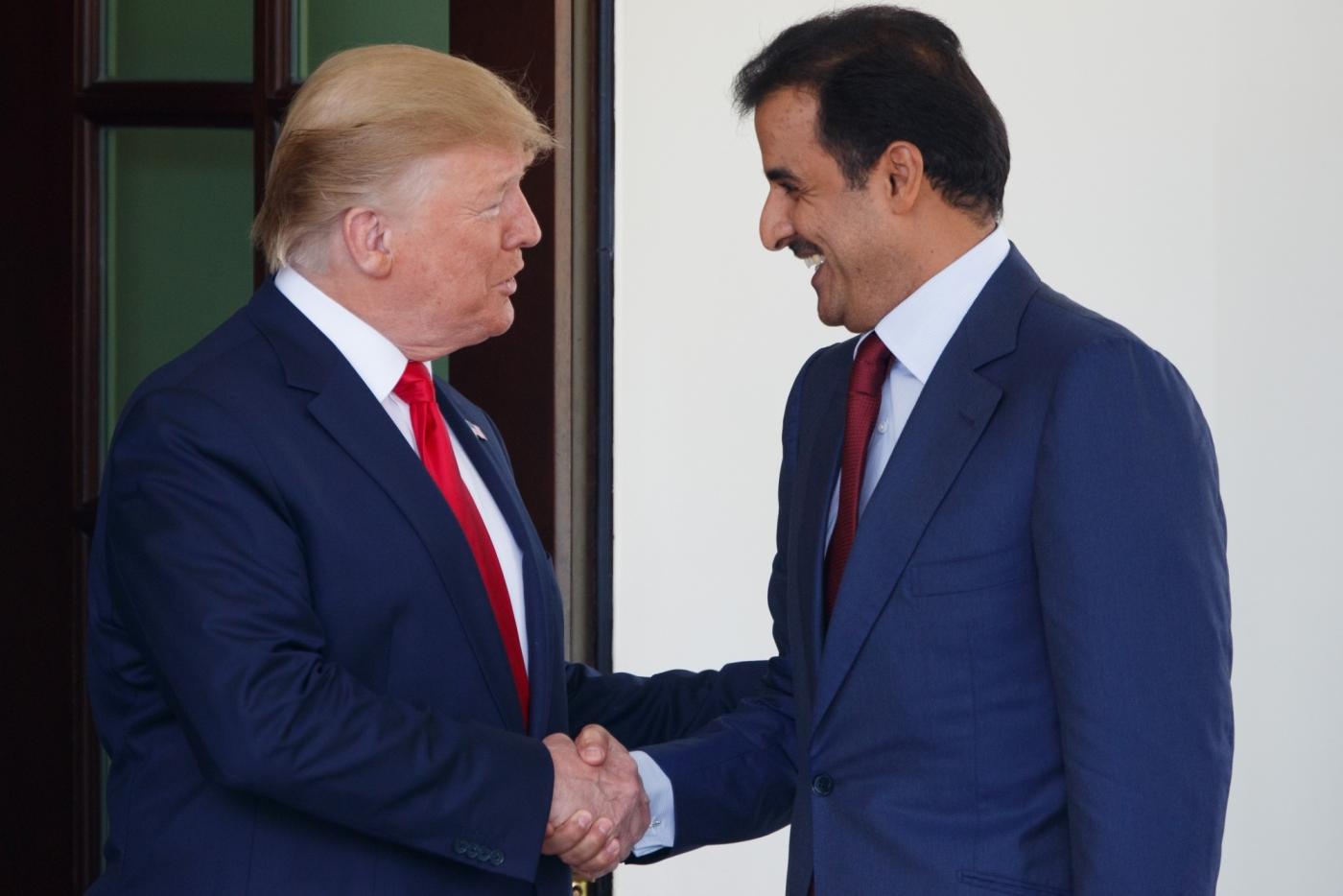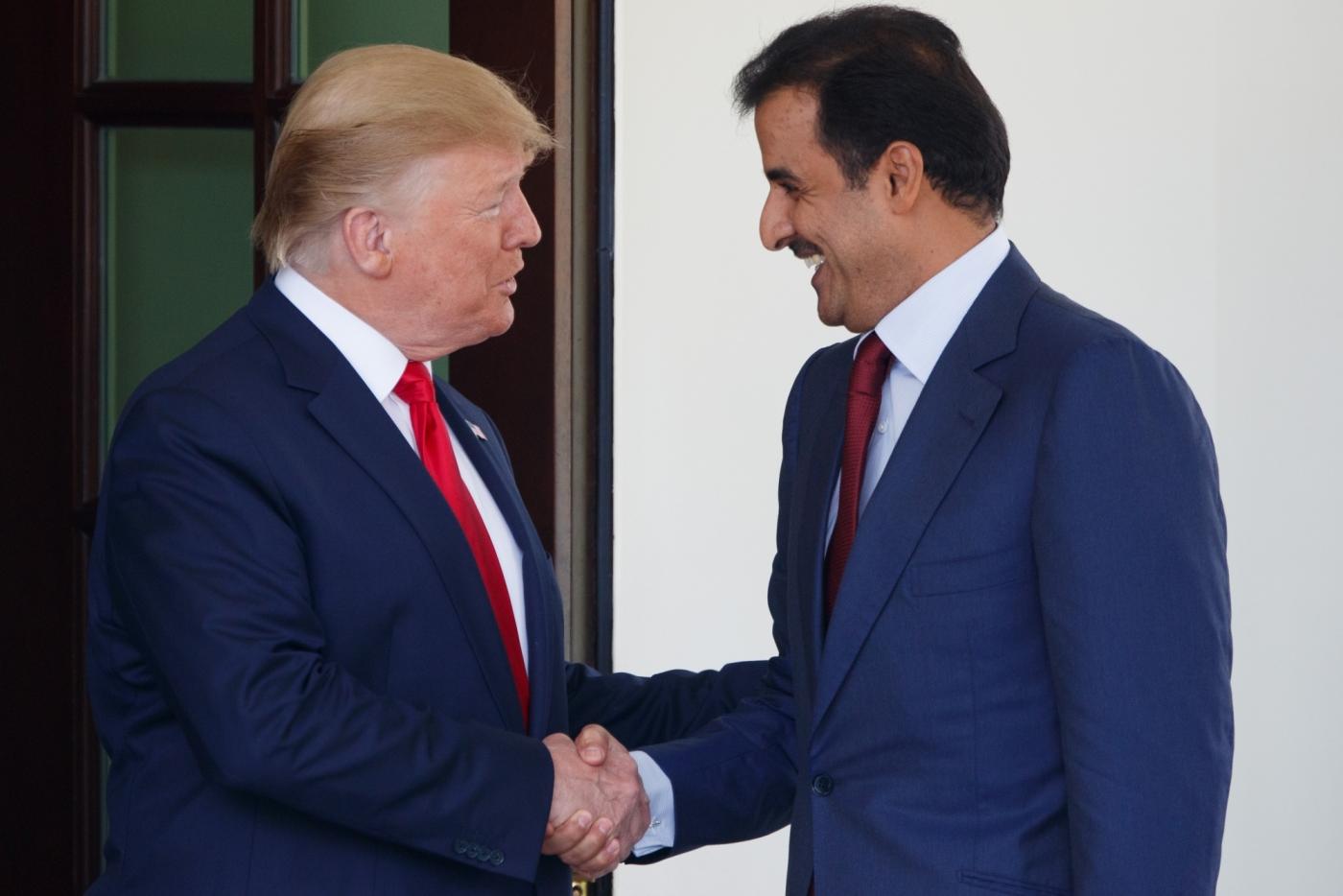 America's allies in the Gulf have welcomed the removal of a main threat to their security. but they call for restrain to give peace a chance. Both Riyadh and Saudi Arabia are accusing Iranians of interfering in their domestic affairs. The Houthi attack on Saudi oil facilities and the attack on oil tankers near Ras Al Khaimah widen the rift between the Gulf states and Iran.
Arab News based in Riyadh carried the story on front page with a headline: He will kill no more. The newspaper compared Soleimani with two other major terror heads – Osama Bin Laden and Abu Bakr Al Baghdadi.
"Like those two killers, Soleimani brought death and destruction to a vast swath of the Middle East and beyond. And like them, the more publicity his vile deeds attracted, the better he liked it," Faisal J Abbas, the editor of Arab news, said in his front page editorial.  "It was not always thus with Soleimani. For at least 15 years, in his role as head of the Quds Force, the foreign operations unit of the Islamic Revolutionary Guard Corps, he did Iran's dirty work in the shadows, spreading the malign influence of the mullahs and their revolution to anyone foolish enough to listen."
The newspaper also accused Soleimani of killing innocents caught up in the war in the region. "Soleimani has the blood of half-a-million Syrians on his hands, not to mention the plight of millions who do not know if they will ever see their homes or families again," the editorial added.
"In Yemen, the Houthi militias would have long since returned to their northern redoubt were it not for Soleimani. Instead, supplied with his weapons, equipment and training, they continue to fight a war they can never win, and target Saudi civilians with missiles built from parts supplied by Iran. So let there be no tears shed for Qassem Soleimani; he must have known that he could not get away with these crimes forever, and that he would not die in his bed. The questions now are, what lessons can be learned, and where do we go from here?"
UAE Minister of State for Foreign Affairs Dr Anwar Gargash said that wisdom and political solutions must prevail over confrontation and escalation, in comments published on Twitter after the assassination of Soleimani.
The UAE has condemned in the strongest terms the attack on the US Embassy in Baghdad, a blatant violation of diplomatic norms and conventions. The Ministry of Foreign Affairs and International Cooperation said in a statement that the attempt to storm the US Embassy represents a serious escalation under international law.
Dubai-based Gulf News says that Soleimani killing sends an important message to Iran: its regional adventurism has consequences. The prominent daily also said the death will have significant ramifications on all regional battlefields.
"The killing of Qasem Soleimani, the head of Iran's Revolutionary Guards, and considered to be the second most powerful man in Iran, after Supreme Leader Ayatollah Khamenei, marks a decisive victory against Iranian terror," the newspaper editorial said.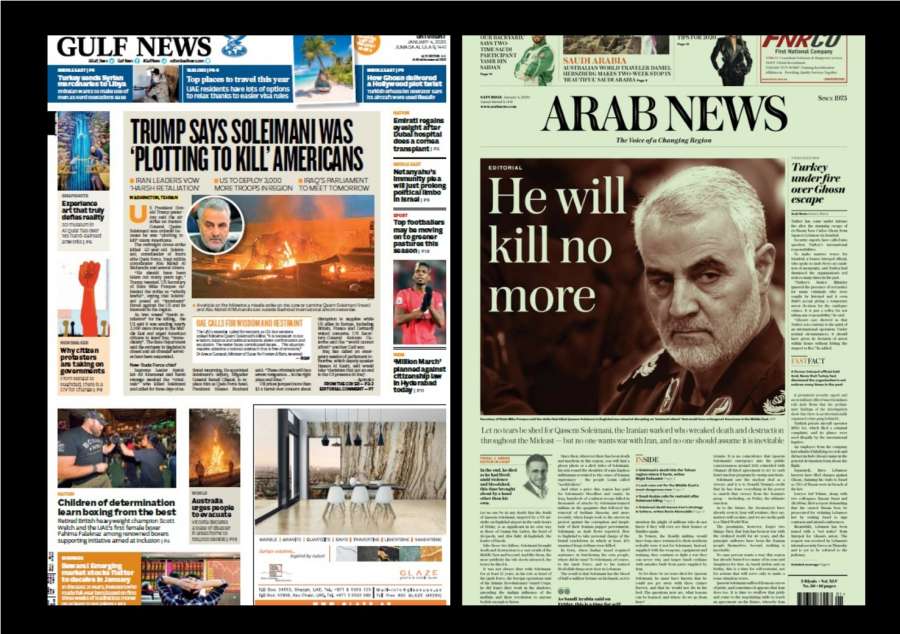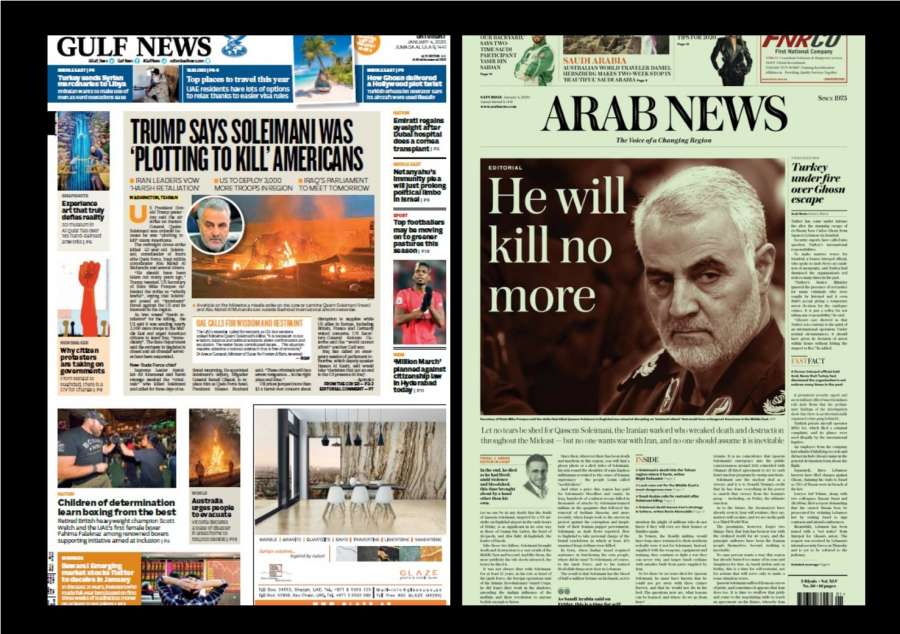 "Arab states have long complained of Iranian interference in their internal affairs. They also warned the international community that this was simply not a regional problem, but an international one. While Iran's foreign meddling has been going on for years, with the creation of militias in Lebanon, Syria, Iraq and Yemen to carry out its agenda, the US recently got a very direct taste of the threat those militias pose.
The newspaper said Tehran will think twice now before ordering its proxies to fight on its behalf.
"The killing of Soleimani proves that Iran's actions have consequences and they should not take American threats lightly. Instead, it needs to focus on its own domestic situation where unemployment is skyrocketing and prices have soared, sparking the most serious anti-government protests, in years. Iran must learn that fomenting strife in the region, backing militias, and openly defying US threats comes with a price. His death will have significant ramifications in all regional battlefields such as Syria, Lebanon and Yemen.
They have lost its chief foreign policy architect and military strategist and will be struggling to pick up the pieces after this decisive defeat.