Southall MP Virendra Sharma MP supports BVRLA Plug-in Pledge… reports Asian Lite News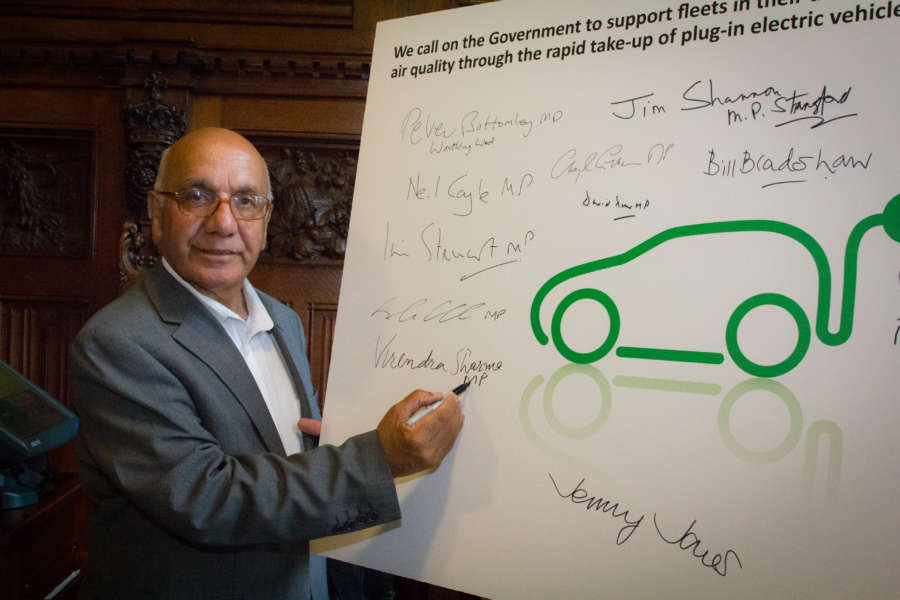 Virendra Sharma MP attended the launch of the British Vehicle Rental and Leasing Association's (BVRLA) ambitious new 'Plug-in Pledge' that will see its members' combined plug-in vehicle fleet size surge from 50,000 to 720,000 by 2025.
By that time, vehicle rental and leasing companies will be buying 300,000 plug-in vehicles per year. This represents an increase in the industry's share of annual new plug-in hybrid and pure electric vehicle registrations from 36% to 60%.
The BVRLA's 'Plug-in Pledge' demonstrates the vehicle rental and leasing industry's commitment to playing a vital role in the campaign to reduce dangerous pollution levels across the UK through the greater up-take of electric and plug-in hybrid vehicles.
At the launch event Virendra Sharma MP added his name to a call for the Government to provide the necessary support to enable BVRLA members achieve this pledge, by:
Bringing forward plug-in company car tax incentives now and not in 2020
Providing a five-year commitment on plug-in vehicle incentives
Offering more infrastructure support for businesses looking to deploy large plug-in fleets
"I was delighted to add my support for the BVRLA's important and timely 'Plug-in Pledge'. It is vital that we all work together to deliver cleaner air for people in Ealing Southall and throughout the UK.Speaking after the launch, Virendra Sharma said.
"The rental and leasing sector has a key role to play in delivering cleaner air and I welcome the commitment made by the rental and leasing industry and I urge the Government to provide the support that the BVRLA and its members need to realise the full potential of the pledge which would allow the benefits to reach our communities. "
"We welcome Virendra Sharma's support for our Plug-in Pledge. Over the last two decades, the fleet industry has embraced the introduction of emissions-based motoring taxes and used the incentives they provide to deliver a sustained and substantial reduction in CO2 emissions.BVRLA Chief Executive Gerry Keaney said.
"Fleets are ready to make a large-scale transition to zero-emission motoring, providing that the Government can match their ambition with a supportive tax regime and more help with charging infrastructure."
---