A disciple of Pujya Gurudevshri Rakeshbhai -the founder of Shrimad Rajchandra Mission Dharampur, Atmaprit Smrutiji conducted an inspiring talk on Building Bridges, on how to construct our way to better relationships… reports  Asian Lite News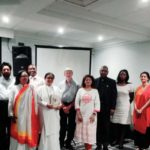 At the large congregation that was held in Manchester recebtly , Rev. Roger Govender, the Dean of Manchester Cathedral,said,  he was humbled to be in her presence. The audience included members of the Faith Network for Manchester (FN4M).
Smritiji said , ''The word relationship itself contains the way to construct our way to better relationships. All that we need is readiness to manifest and strengthen these virtues by living them in our daily life.'' She said ,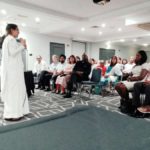 Respect differences; take Responsibility for one's own happiness and behaviour and Resolve to be happy. Furthermore she added , Extend to reach others, Expand to include all, be at Ease, make others feel at Ease, and Enjoy.She stated it's important to Love all, Listen patiently and Learn from all. In her address she also said,  Adore others' littlest virtue, and Adjust with all.Based on her philosophy she pointed out that it was  Tolerance towards all, Trust others and become Trustworthy and Truthfulkey points to remember. The ego 'I' that separates one from the other should be dropped . Others' mistakes and shortcomings should be overlooked she said.No one will change, she explained. Also it was important o be Sensitive to the needs of others, be Supportive, Share and make others feel the Security.She said, one should  never lose Hope, stay physically, emotionally Healthy.Be Intelligent to choose 'right is mine' rather than 'mine is right', and stay Independent, she added.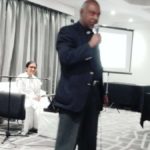 She also shared that Persevere to maintain our relationships and be Pleasant so that people remember us.
Dean. Rev Charles Kwaku-Odoi, Co-Chair of FN4M echoed similar values and wisdom that was shared on the occasion.