Porn star opened a Pandora's box as Sunny Leone was invited to inspire the Indian Diaspora at Harrow in London to mark 70th anniversary of Indian Independence…. reports Asian Lite News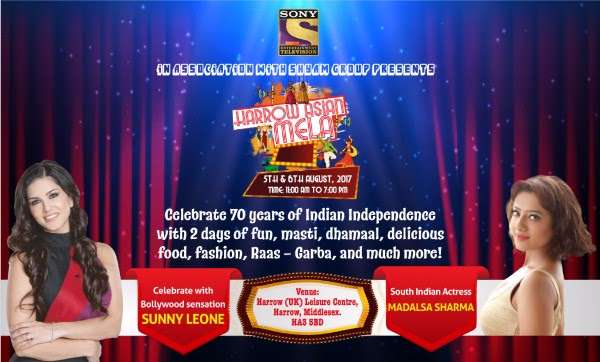 Porn star turned Bollywood actress Sunny Leone and South Indian siren Madalsa Sharma were invited to be the chief guests at a prominent event in London to celebrate 70th anniversary of Indian Independence.
Sony Entertainment Television presents Harrow Asian Mela boasting of a variety of stalls ranging from arts, culture and food, Bollywood dancers and Gujarati folk artists.
"Celebrate 70 years of Indian Inependence with 2 days of fun, masti, dhamaal, delicious food, fashion, Raas – Garba and much more…."The Harrow Asian Mela will also have Bollywood actor Sunny Leone and South Indian star Madalsa Sharma attending the event," a promotion leaflet from the organisors screamed. "So, book your tickets for this South Asian cultural fiesta in the heart of Harrow."
The campaign has already draws flak from several prominent members from the Indian community. They said the organisors and the sponsors like Indian channel Sony ridiculing the sacrifices of Indian freedom fighters and martyrs.
ORGANISORS: "Indians have innovative way to come out of the shackles and through Sunny's journey we can see young India emerging – by rejecting the dogma, which constricts us
"Is this the way to celebrate seventy years of freedom," asked Dr Arun T, a prominent member of the Indian community in Manchester. "The message these porn stars sharing with the new generation will not reflect the spirit of our freedom. It's disgrace that Indian community in London was dragged into an event like this to celebrate Independence of a growing super power."
Some blamed the growing celebrity culture in the media for inviting two sirens to an event to mark Indian Independence Day.
"The TV channels will stoop into any level to gather publicity," said Shyam Sunder. "Is there any dearth of Indians to inspire the young generation to inherit the mantle of freedom."
A publicity press release praised the porn star profusely and asked the community to book the ticket in advance!
"Sunny Leone has been an enigma to Indian society – on one hand she has broken the shackles and showcased a side of India, which is accepting and tolerant on the other hand she has riled up self appointed moralists who stake claim to the country's tradition," the press release said.
"A lot has been said and spoken about Sunny's past – even a documentary has been made on it – but despite all odds today she is a household name in an industry embroiled in controversies around nepotism – where she made her mark and created a brand for herself. From being introduced as a Indo-Canadian porn star to the Indian audience, today she is widely accepted as a popular Bollywood actor and a social changer.
"In an industry that frequently caters to people's sexual desires and monetises it, Sunny Leone stands alone among actors who speak up about safe sex. Given how most actresses rush to appease and pretend sex doesn't exist, Sunny is a breath of fresh air.
"Indians have innovative way to come out of the shackles and through Sunny's journey we can see young India emerging – by rejecting the dogma, which constricts us. However, at the same time, she has brought to the fore the farcical morality brigade, who choose to judge and dictate the rules of how one must live – but through her career graph and her most recent adoption of a girl from Latur – she has shown that passion, intelligence and talent is what really needs to be adhered to."
Some sample videos of the stars works are here: