Parliament Speaker John Bercow said the prime minister's move is an offence against the democratic process …. Writes Kaliph Anaz. Shutting down Parliament would be an offence against the democratic process and the rights of Parliamentarians as the people's elected representatives"
Britain heading for the major constitutional crisis in its history as Parliament Speaker John Bercow opposed Prime Minister Boris Johnson's move to prorogate the Parliament on September 14 to get his no-deal Brexit plan.
"Shutting down Parliament would be an offence against the democratic process and the rights of Parliamentarians as the people's elected representatives," Speaker Bercow said in a statemenmt. "Surely at this early stage in his premiership, the prime minister should be seeking to establish rather than undermine his democratic credentials and indeed his commitment to Parliamentary democracy."
"I have had no contact from the government, but if the reports that it is seeking to prorogue Parliament are confirmed, this move represents a constitutional outrage," added Bercow responding to the letter written by the prime minister on the issue.  "However it is dressed up, it is blindingly obvious that the purpose of prorogation now would be to stop Parliament debating Brexit and performing its duty in shaping a course for the country."
Your Majesty, please refuse to involve yourself in Boris Johnson's anti-democratic Brexit plans.

— Best For Britain #StopBrexit (@BestForBritain) August 28, 2019
📺 | @Anna_Soubry: "This man does not have a mandate to take us out without a deal."

Anna, there wasn't a deal on the ballot paper – Leave was the largest mandate ever in British political history. You've had your fun for three years. Now we're leaving, deal with it! 👊 pic.twitter.com/xcMZjxivcb

— Leave.EU (@LeaveEUOfficial) August 28, 2019
BBC royal correspondent Jonny Dymond said the precedent was for Parliament to be suspended before a Queen's Speech, and it would be "impossible" for the Queen to reject the government's request to do so now.
He said that convention lifted the pressure off the Queen and to some degree, in some people's eyes, depoliticises it.
"The fundamental is the Queen acts on the advice of her ministers – in particular, on the advice of her prime minister," he added.
Boris has confirmed that he has asked the Queen for permission to suspend parliament for five weeks from early September.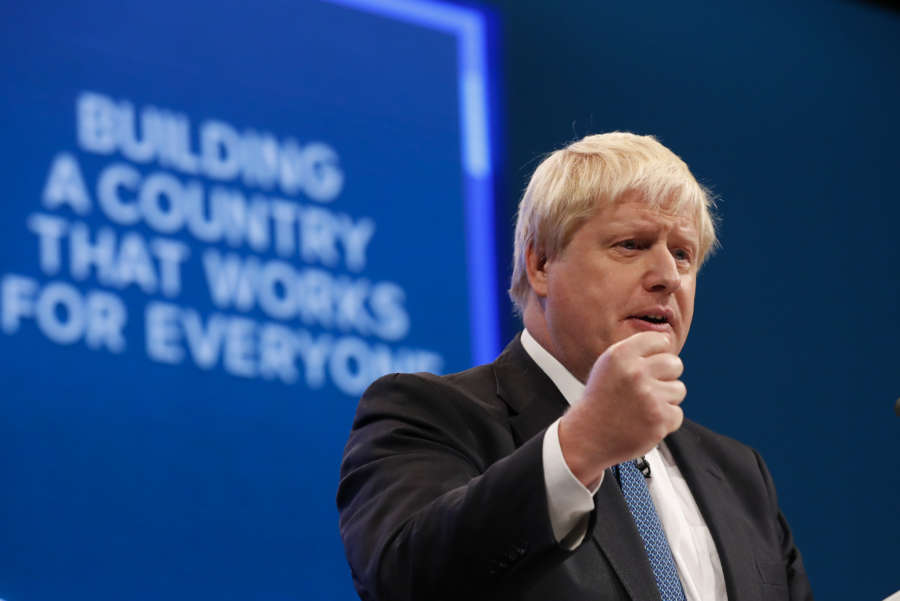 The prime minister claimed MPs would have "ample time" to debate Brexit, as he wrote to MPs on Wednesday, saying he had spoken to the Queen and asked her to suspend parliament from "the second sitting week in September".
MPs will then return to Westminster on 14 October, when he said there would be a new Queen's speech, setting out what he called a "bold and ambitious domestic legislative agenda for the renewal of our country after Brexit".
The effect of the decision will be to curtail dramatically the time MPs have to introduce legislation or other measures aimed at preventing a no-deal Brexit. Parliament is expected to sit for little more than a week from 3 September.
But asked if he was denying opposition MPs the time to stop a no-deal Brexit, the prime minister told Sky News: "No, that is completely untrue. We are bringing forward a new legislative programme on crime, hospitals, making sure we have the education funding we need."
SNP MP Joanna Cherry tells Radio 5 Live that it is "disingenuous" of the PM to claim the prorogation is because he wants to push through his domestic agenda.
"This is about a prime minister who knows that a majority of MPs are opposed to the terrible economic damage that would be caused by a no-deal Brexit," she says. "He's basically trying to find a way to stop Parliament sitting so that those MPs can't take action.
"He saw how well the cross-party talks went yesterday, he is aware that I and others have raised action in the Scottish courts to try and stop him from suspending Parliament and he's trying to rush this through now – but I don't think he'll get away with it."
Boris Johnson is aiming for a coup against parliament. Against you the voters and your political representatives. For a disastrous No Deal where the only one to benefit is Trump https://t.co/4sz76f0FbP pic.twitter.com/DWamMw3Nhn

— Diane Abbott (@HackneyAbbott) August 28, 2019
Tory backbencher Dominic Grieve called the move "an outrageous act".
He warned it could lead to a vote of no confidence in Mr Johnson, adding: "This government will come down."
Scotland's First Minister Nicola Sturgeon said MPs must come together to stop the plan next week, or "today will go down in history as a dark one indeed for UK democracy".
Labour deputy leader Tom Watson tweeted that the move was an "utterly scandalous affront to our democracy".
The leader of the Liberal Democrats, Jo Swinson, said it was a "dangerous and unacceptable course of action".
"Shutting down Parliament would be an act of cowardice from Boris Johnson," she said. "He knows the people would not choose a no deal and that elected representatives wouldn't allow it. He is trying to stifle their voices."
But Conservative Party Chairman James Cleverly defended the plan as what "all new governments do".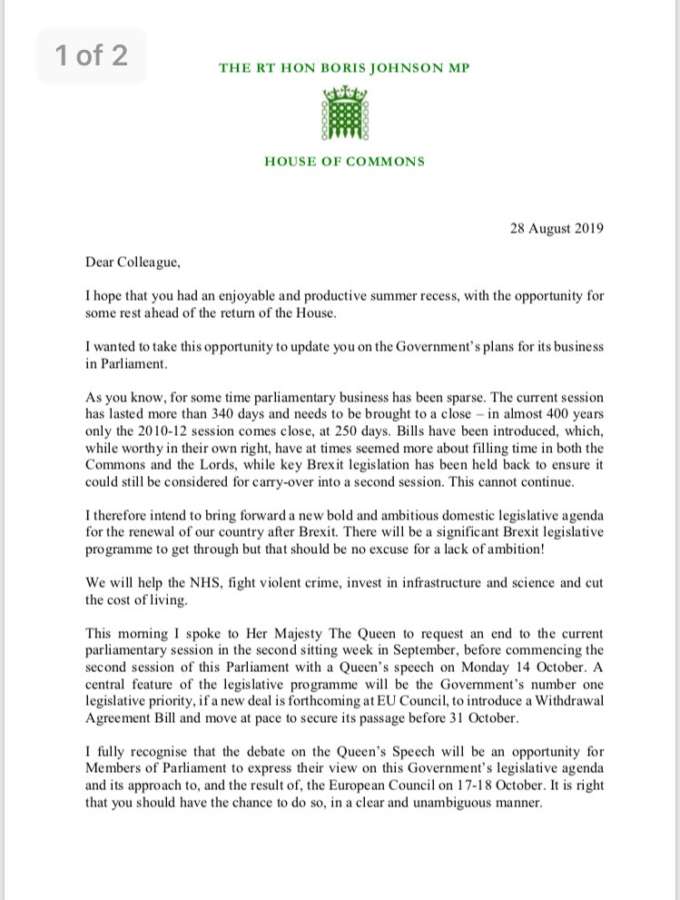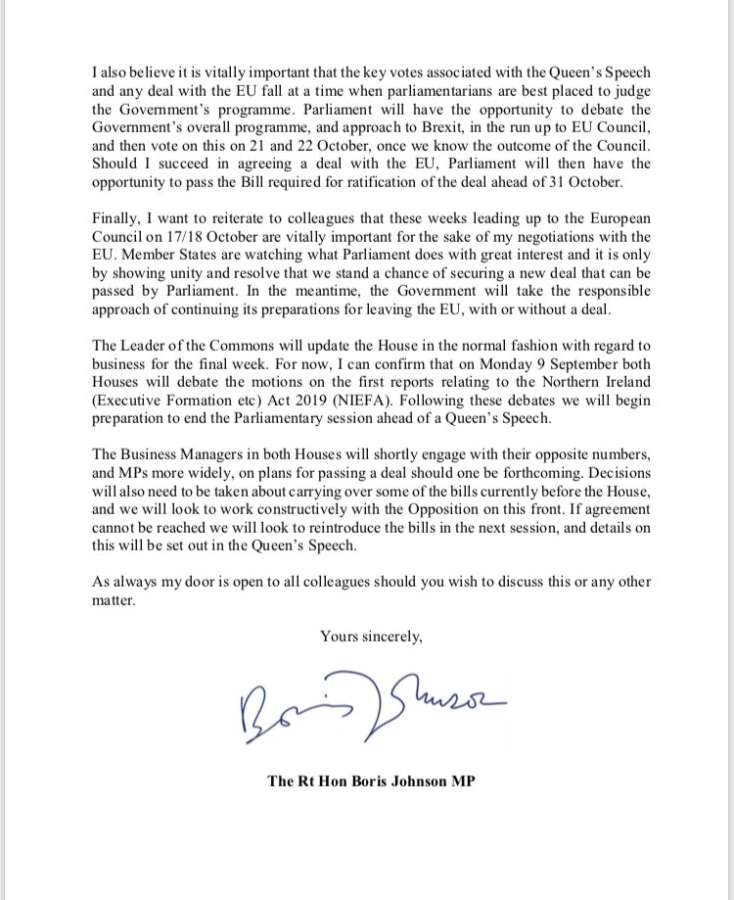 ---