From Bollywood to North East, from Maharashtra to the Kid's Ramayana, from  Dhol players (including female dhol players), and from Lezhim dancers to singing songs leading to the fabulous stalls it was a very mesmerising event….reports Asian Lite News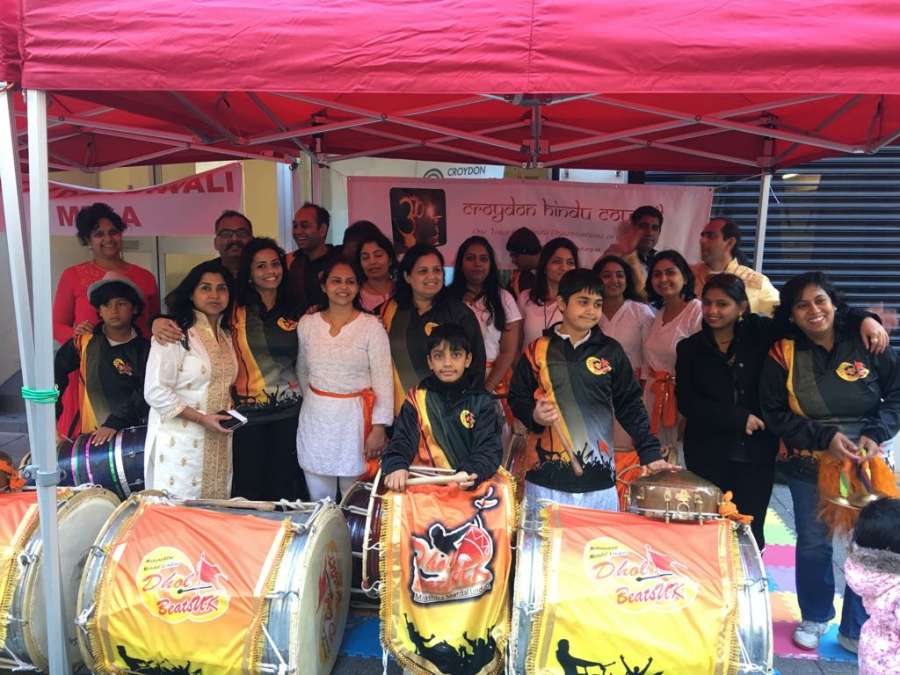 Mayor Toni Letts attended along with Deputy Mayor Cllr Mike De Siva and former Mayors Cllr Wayne Trakas Lawlor and Cllr Manju Shahul  Hameed.
The celebrations began with a  procession from Whitgift Shopping Centre accompanied by DholBeats UK and Leizim dancers and joined by various members of the Hindu Community and Cllr Hameeda Ali.
The programme started with soulful singing by Mother daughter duo Moumita Hazra and Tanisha Hazra.
Vibrant Gujarat was represented by the group Bollyfusion led by dancers and choreographers PujaTrivedi and Shah Anand with Milind Kataudia, Meghaa Mallikal and Neil Raichuria. Special thanks to Puja Trivedi for coordinating the dance performances. Also paying tribute to Madhuri Dixit , Meghaa Mallikal who made the crowd sway to Madhuri numbers.
The elegant Sattriya and Bihu dances were performed by Chinu Kishore, Gita Cox, Kavita Dasand Pritidipa Barua along with a workshop adding a unique flavour to the dance performances.
Karan's Bollywood Masterclass added a zing with their Bollywood dances and audience participation.
The Ramayan Play performed by very young children Swarnima Garg ( Sita), Aarush Pandey ( Ram) and Neil Naik ( Raavan ), and choreographed by Gayatri Shenoy was one of the highlight of the MELA.
Rashmi Mishra and Atul Pande compered the program tirelessly cheering the audience. People of other faith spoke very highly of this event whilst enjoying and interacting with each other. There were various stall holders but Bombay Street Food by Venu and Siraj Sood was not missed by any one.
Vote of thanks was presented by founder Dr Jagdish Sharma and Ms Mayura Patel. Entire audience braved the cold wind and stayed on for the entire day.
The event was supported by Croydon Bid and Croydon Council. It was well attended by local Hindu organisations, Metropolitan Police Hindu Association  and special thanks to Rashmi Mishra and members of Inspiring Indian Women for their contribution.
The event was planned, managed, delegated and co-ordinated by Mayura Patel, Chairperson, Croydon Hindu Council.