First Minister Nicola Sturgeon says Scotland can't be imprisoned in UK …. reports Asian Lite News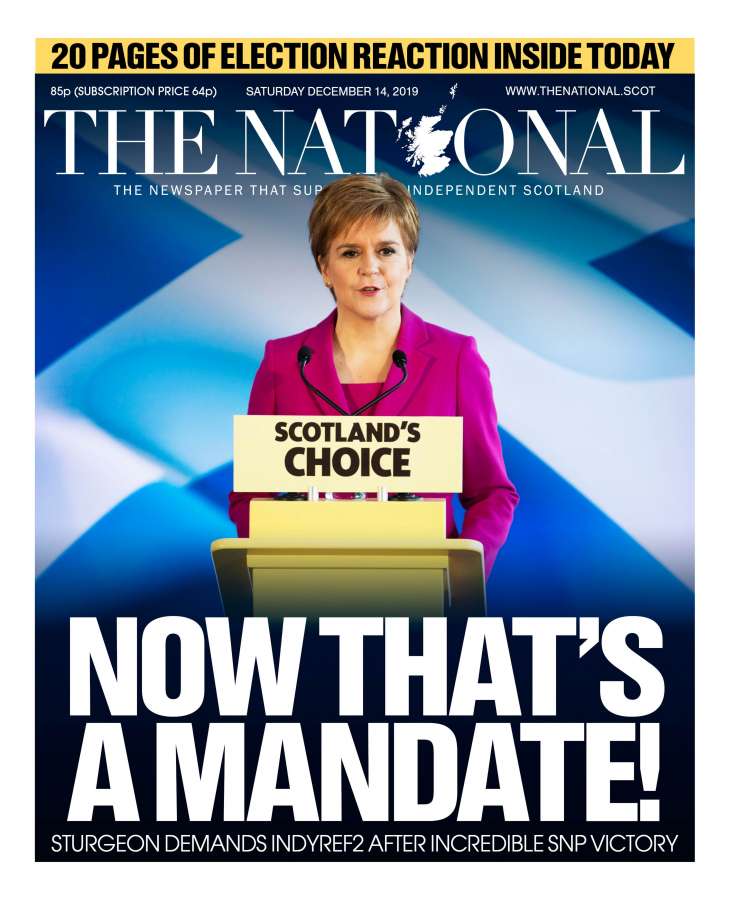 The Scottish National Party (SNP) leader Nicola Sturgeon has said that Scotland "cannot be imprisoned in the union against its will" by the UK government", adding that her party's success in the December 12 general election gave her a mandate to hold a new referendum on independence.
The SNP leader told the BBC on Sunday that if the UK was to continue as a union, "it can only be by consent".
The UK government would be "completely wrong" to think saying no to a referendum would be the end of the matter, she said, adding: "It's a fundamental point of democracy – you can't hold Scotland in the union against its will."
The SNP won a landslide of Scottish seats in the general election, making gains from the Conservatives and Labour and unseating Liberal Democrats leader Jo Swinson.
However, the Conservatives won a comfortable majority UK-wide, returning Boris Johnson to Downing Street and setting up a constitutional stand-off over Scotland's future.
The Scottish government wants a referendum deal with UK ministers similar to that which underpinned the 2014 vote, to ensure that the outcome was legal and legitimate, but were facing opposition from the UK government.
Sturgeon told the BBC that it was "fundamentally not democratic" for Johnson to rule out a referendum when his party had been "defeated comprehensively" in Scotland – losing seven of its 13 seats while standing on a platform of opposition to independence.
"I said this to him on Friday (December 13) night on the telephone – if he thinks saying no is the end of the matter then he's going to find himself completely and utterly wrong.
"If the UK is to continue it can only be by consent… Scotland cannot be imprisoned within the UK against its will. These are just basic statements of democracy," the SNP leader added.