US President Donald Trump canceled the visit to London scheduled for early this year, saying he was disappointed with the "Obama administration having sold the current embassy for peanuts." The embassy website showed that the decision to move the location was taken months before Barack Obama took office in January 2009….reports Asian Lite News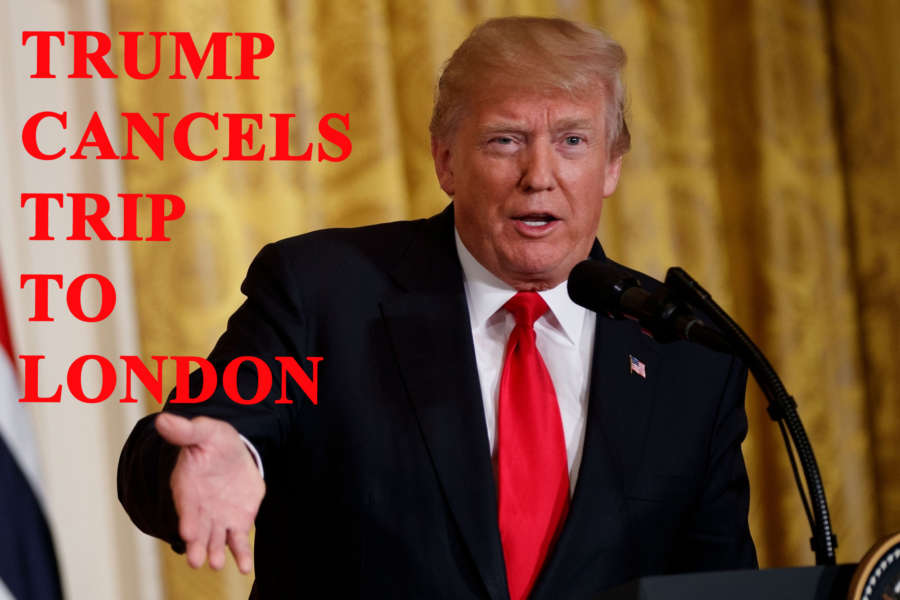 US President Donald Trump has cancelled his trip to Britain due to disappointment over a "bad" US embassy.
He tweeted late on Thursday that he was not a big fan of the Obama administration that sold "perhaps the best located and finest embassy in London for 'peanuts'", only to build a new one in an "off" location for $1.2 billion, Xinhua news agency reported.
"Bad deal," Trump said, adding "wanted me to cut ribbon — NO!"
The trans-Atlantic alliance between the US and Britain has been shaky ever since Trump assumed the presidency in January. His proposal of a strict ban on Muslim immigration has sparked wide controversy in Britain.
Matters got even worse when Trump re-tweeted video posts of a British ultra-rightist group targeting Muslim immigrants in November.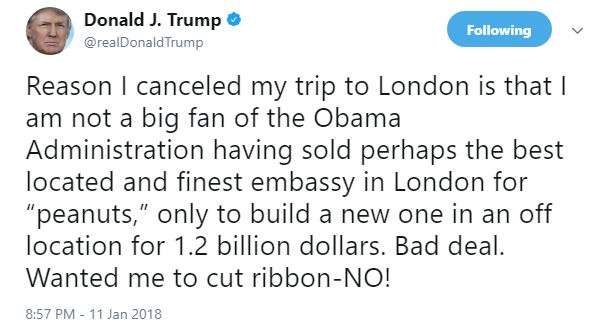 Under domestic pressure, British Prime Minister Theresa May said Trump's re-tweeting was wrong, triggering the latter's retort demanding her not to focus on him, but on anti-terrorism efforts in her own nation.
Trump's statement further irritated London as many people and government officials asked May to withdraw her invitation to Trump to pay a state visit.
The two countries have also seen huge differences on multiple issues like Trump's retreat from the Paris climate accord, his decision regarding Jerusalem at the end of 2017 and his refusal to certify Iran's compliance with the historic Iran nuclear deal in October.
---