First Minister of Wales Carwyn Jones was asked to consider a plan to implement yoga classes for all primary and secondary schools at the International Yoga Day event in Cardiff … reports Asian Lite News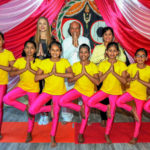 Indian diplomat Raj Aggarwal called for the implementation of weekly yoga classes in primary and secondary schools at this year's International Yoga Day celebrations at Ty Krishna Cymru, Emlyn House, Cardiff, CF10 5AG which was attended by 100s of people, including Miss Wales Bethany Harris, and Miss Universe finalist Sam Hancock.
The hugely successful annual event had been arranged by the Honorary Consul of India for Wales, Raj Aggarwal OBE, and he said: "The introduction of yoga in schools has minimal cost implications but the benefits are incredible in both the long and short-term. Many teachers who have implemented yoga classes in their schools have described how their pupils return to class after their yoga lesson in a better frame of mind for learning and even do better in their exams.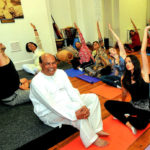 "We asked the First Minister at the event to consider our plan to implement yoga classes across all of the schools in Wales.It was a packed event and there were classes for all abilities, from complete beginners to veteran yogis, and there was a turn-out of several hundred people.
The event has been arranged by the Honorary Consul of India for Wales, Raj Aggarwal OBE, who has been practicing the ancient Indian physical, mental and spiritual discipline for many years.
"I am pleased to take part in this global event to celebrate the 5,000 year-old practice of yoga, which originated in North India. Wales has a strong relationship with India and this event is a great way to continue to develop our valued business and cultural ties.""Yoga is not only a great way for people to keep fit and healthy, it also helps focus the mind and allows people to relax and unwind from the stresses and strains of modern life."Raj Aggarwal said.