A face that lights up the screen, Saumya Tandon, popularly known as 'Gori Mem' in the &TV show 'BhabhijiGhar par hai' is one of the most popular and successful TV actors and anchors on India TV.She has in her kitty many pioneer shows like: Dance India Dance ( anchored for 3 seasons), the first-biggest dance show of Indian Telly that became a platform for many a choreographers of today ;  Co-Quiz Master on the longest running Quiz show of India (as per Limca Book of Records); ZorkaJhatka- Indian reality game show with Shahrukh Khan; part of the cult romantic film, 'Jab We Met' and so on…reports Asian Lite News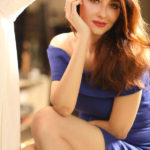 Asian Lite's Adiya Siyad caught up with her as she plans to attend a Woman's Day Event in London on the 8th of March.
ADIYA SIYAD. Take on your first break in TV Industry?
SAUMYA TANDON:  I am honestly an accidental TV actor. I was born in a very academic family. My father was a professor of English literature, my mother is a painter and my sister a journalist, and no one even in my extended family had any connection to the entertainment world. I myself was a serious student pursuing my MBA. Though I loved stage and was always with the mike since a kid, I never thought I would a TV actor.
Did you never want to be an actor..?
ST: I never thought I would be a TV actor, I did deep inside know I loved to perform, I thought I would be a theatre actor or probably doing meaningful cinema, TV just happened to me. I was modelling in my college days in Delhi, I won the title of 'Femina Cover Girl (first runners up) when I got a call from a producer in Mumbai for an audition. I wasn't sure but he insisted and he sent me tickets to Mumbai. I flew to Mumbai gave my audition and got through.In a week's time I was in London for shooting for a daily show on Sony. I was very unsure of doing a daily soap honestly because I did not quiet relate to the "Saasbahu sagas on TV, but I took up the offer as I thought this was the only way to come to the city of dreams Mumbai. I did not know a single soul in Mumbai, I had lost my father, and had no financial support so this offer was, I thought, a sign from above to enter the industry and rest is history.
Does that mean that you did not have to struggle to get your first break as many other actors?
ST: Not at all. Infact I call myself a quintessential struggler. The struggle to be a part of good content is always on. I am obsessed to be a part of good memorable content. There is a lot of work in out industry but there is very little good work. In films the good scripts go to the established stars, on TV there is honestly very little good content. The challenge is to resist mediocre work for money and fame and the struggle is to wait and get good scripts and good projects to work on.
So has this struggle been?
ST: I am a very choosy actor , though I am quiet critical of the content on Indian TV but I have been very lucky to be a part of the one of the best content in the last decade. TV has given me identity, fame and money but I still feel I have a long way to go and I have just started.
Where do you see yourself after 5 years?
ST: I see myself be a part of a pathbreaking script in a film with a role that I will be remembered for. May be get a national award. May be produce or even write a beautiful script for digital world or short film or a feature film. Well dreams should never be small. They should be allowed to fly wherever they desire.
There has been almost a kind of revolution in India especially in the entertainment industry with women coming out narrating their stories of 'Me Too" what is your opinion on that. Have you ever faced it in your journey?
ST: I am so happy and proud of the way the 'Me Too' movement came about and got so much support. So many women fearlessly narrated their stories and so many powerful men were publicly shammed and revealed. Though we still have a long way to go. It is a very powerful tiny start which has surely instilled some fear in the minds of these people who use their power and position to harass men/women. I also think that this problem is not just in our industry, I hope it will inspire women struggling in other industries to come out.
I personally did come across such people and honestly not just in the entertainment industry, infact in the corporate world, politicians, journalists etc, but I am a strong girl, I want to be successful on my conditions so I intelligently saved myself from such people. Having said that I will say I was lucky to not get stuck in a bad situation like many others. Girls have to be smarter, stronger and braver to fight to be successful.
Essence of Woman for you?
ST: I honestly feel women are emotionally more evolved, physically capable of creating a miracle /creating life, they have immense capacity to endure and succeed. Yet they have to prove themselves every single day to the World. I believe every woman, a career woman or a home maker, a mother or a wife or a daughter is an achiever. Every day should be her day, but still devoting a day to celebrate and to make her feel special is a wonderful idea.