Police on Friday killed five suspected terrorists in Spain's Cambrils town during a second terror attack also using a van after an earlier one in Barcelona left 14 Spaniards and foreigners dead and over 100 injured….reports Asian Lite News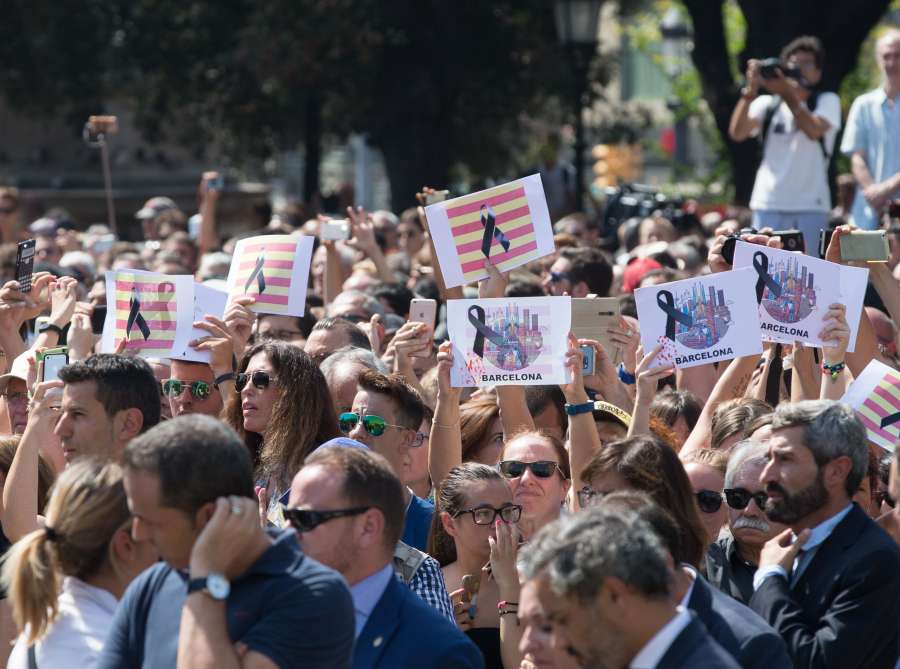 The five terrorists were killed when police opened fire after a van ploughed into a crowd in Cambrils, about 120 km from Barcelona, injuring seven people, including a police officer, news reports said.
One of the injured was in critical condition.
Spanish media reported that the speeding vehicle driven by the terrorists overturned and when the attackers, wearing explosive belts, got out, they were quickly gunned down.
Police said the five men may be linked to the Thursday night attack in Barcelona that was claimed by the Islamic State. That attack too was carried out by terrorists who drove into a crowd of Spaniards and foreigners on a pavement in Barcelona's Las Ramblas boulevard.
A hunt is still on for 18-year-old Moussa Oubakir who drove the van, BBC reported.
Spanish Prime Minister Mariano Rajoy called the Barcelona horror a "jihadist attack". He announced three days of national mourning and a minute's silence was held at noon and also in EU buildings in Brussels. Flags were lowered across Europe.
But even before Spain could come to grips with the Thursday tragedy, terrorists struck again — this time in Cambrils.
Citizens of 24 countries including the US, Britain, China and Pakistan were killed or injured in Barcelona. There were children among victims, authorities said.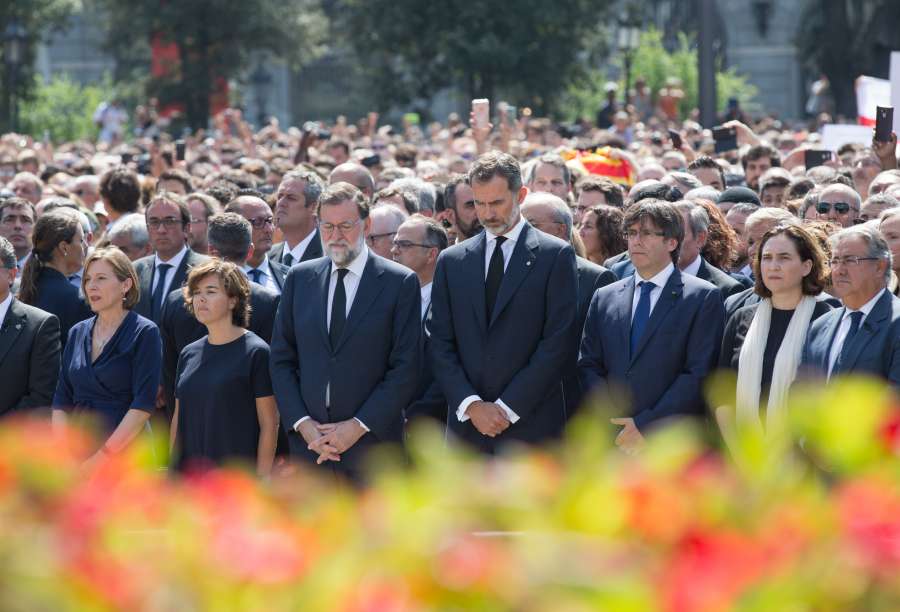 Other countries whose nationals suffered included France, Germany, Argentina, Venezuela, Australia, Belgium, Peru, Romania, Greece, Taiwan, Canada and Kuwait.
The terror attacks drew global condemnation.
President Donald Trump said: "The US condemns the terror attack in Barcelona and will do whatever is necessary to help. Be tough and strong, we love you!"
Indian Vice President M. Venkaiah Naidu said: "I am deeply shocked by the terrorist attack in Barcelona. My thoughts and prayers are with the families of those killed and injured."
Russian President Vladimir Putin said the attack was a "cruel and cynical crime committed against civilians".
The Moussa Oubakir who is on the run is the younger brother of Driss Oukabir, who was earlier arrested on suspicion of hiring the van used in the Barcelona attack, officials said.
But Driss Oukabir, a 20-year-old from Morocco, has denied involvement and said his identity documents had been stolen and used to obtain the van used in the attack.
A second man who was arrested but not named was born in Melilla, the autonomous Spanish city on the northern coast of Africa. The third arrest was made in the Catalan town of Ripoll, the police said.
A second van that was believed to have been used as a getaway vehicle in Barcelona was found abandoned in Spain's Vic city, the media said.
An official said at least eight people may have intended to use gas canisters in Barcelona.
On Friday, hundreds of people paid their respects across Spain to those who lost their lives in Barcelona.
The One World Trade Centre in New York was lit up in the colours of the Spanish flag to show solidarity. In Paris, the Eiffel Tower went dark.