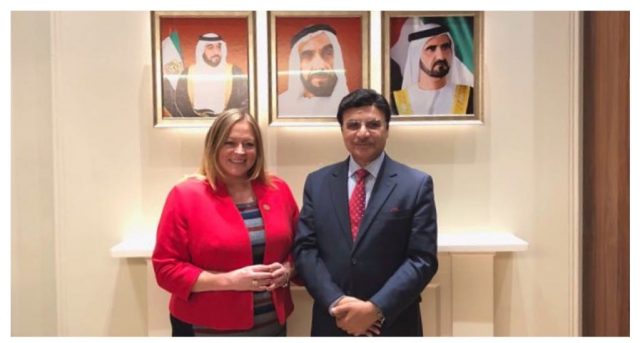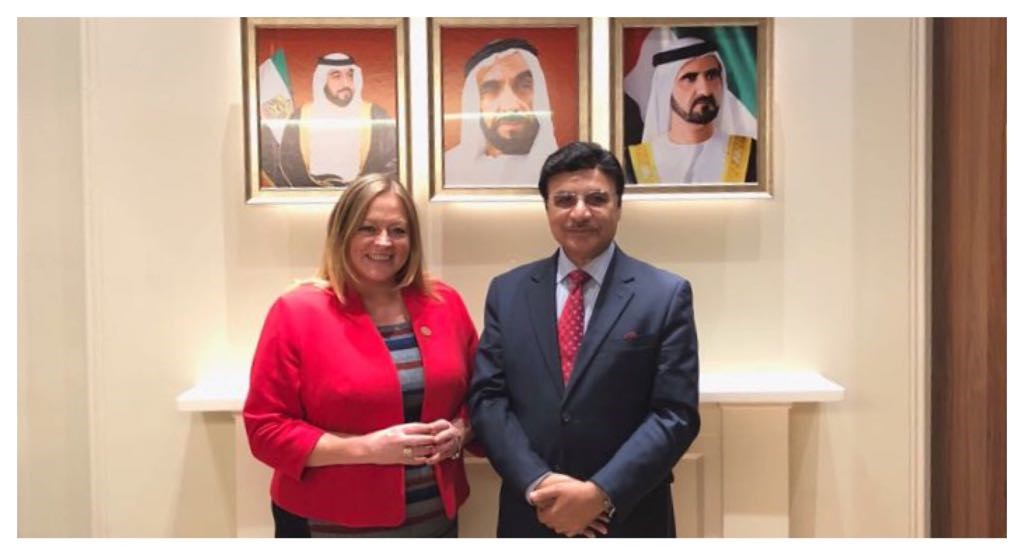 The UK Pavilion at Dubai Expo 2020 will host business and cultural programmes to promote the UK as a world-class destination for business, education and tourism….writes Kaliph Anaz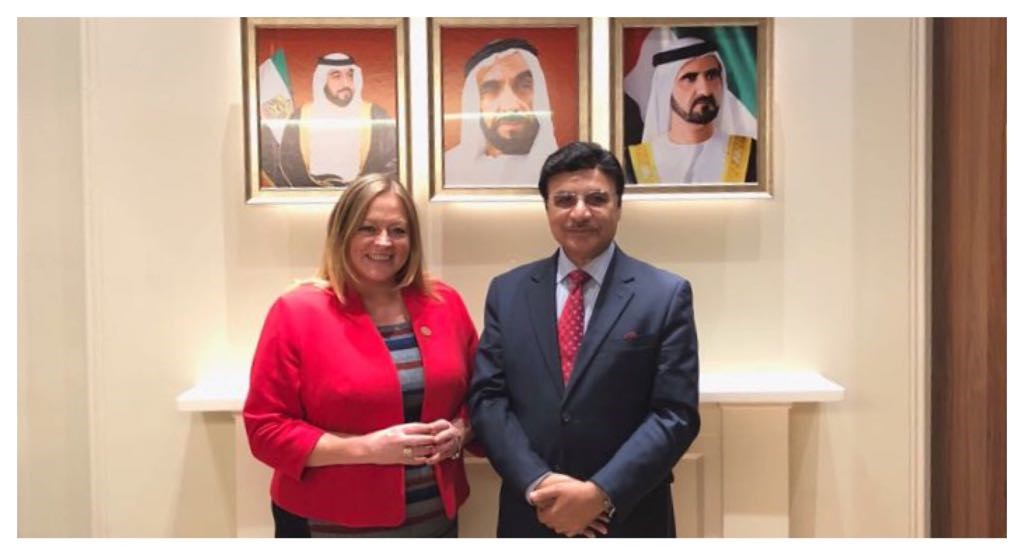 UK Commissioner and Project Director Dubai Expo 2020 Laura Faulkner OBE meets UAE Ambassador to the UK Sulaiman Hamid Almazroui to discuss the UK's participation in the Expo 2020 in Dubai from October 20, 2020 to April 10, 2021.
The UK pavilion will be one of the largest taking part in the Expo 2020.  The UK's Pavilion will be based on a global theme 'Innovating for a shared future'. It will showcase an innovative and creative design to promote the UK's international agenda and British innovation, creativity and leadership. Britain is exploring all the options and making tie up to shore up the economy in the post-Brexit era.
The Pavilion will offer visitors a unique experience, building on previous award-winning installations at Expo 2010 Shanghai (The Seed Cathedral) and Expo 2015 Milan (The Hive). It also provides a platform for a six month programme of business and cultural activity.
The UK will be one of 180 nations participating, alongside non-government organisations and sponsors. A panel has been constituted to finalise a design that will create an original, inspiring and memorable visitor experience.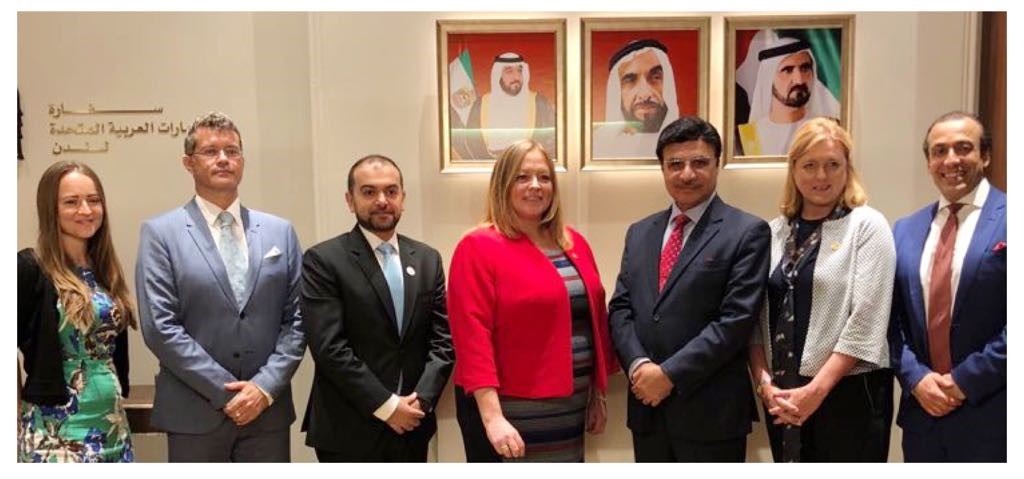 The theme of the UK Pavilion will be 'Innovating for a Shared Future' and will be built in the Opportunity District of the Expo site in Dubai. The winning design will be announced later in 2018. Led by the Department for International Trade (DIT), the UK Pavilion will host a business and cultural programme to promote the UK as a world-class destination for business, education and tourism.
The Expo 2020 site will be split into three districts: opportunity; mobility and sustainability. The UK Pavilion will be in the opportunity district.
World Expos aim to foster creativity, showcase innovation and promote collaboration on a global scale. Around 25 million visitors are expected over the course of the event, including global heads of government. This presents a significant opportunity to realise geopolitical and economic benefits for an outward-looking, Global Britain.
In addition to creating a stand out pavilion, UK businesses are winning a significant amount of Expo 2020 related contracts, exceeding £1.3 billion to date, playing a major part in helping deliver Expo 2020 Dubai.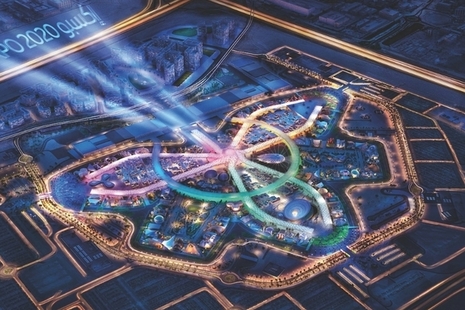 Expo 2020 Dubai is a great exhibition that will showcase the achievements of world's nations. A festival of human ingenuity, Expo 2020 aims to create opportunities for all, wherever they live, to reinforce and reenergise progress towards a sustainable future, to tackle the growing skills gap and help combat youth unemployment.
The Expo opens on 20 October 2020 for 172 days to 10 April 2021 and will host 200 participants including 180 nations, alongside NGOs and sponsors. It is expected to welcome 25 million visitors with 70 per cent of them coming from beyond the nation's borders – the largest proportion of international visitors in Expo history. It will provide an ideal platform to project the UK as a global force for prosperity, innovation, creativity and thought leadership and will enable the UK to achieve impact and build influence (in line with Gulf Strategy) not only in the UAE, but also in the broader Middle East and SE Asia.
The core theme of Expo 2020 Dubai is Connecting Minds, Creating the future. It signals the global need to work together to inspire future generations and to develop partnerships across sectors, organisations, and geographies to address the many needs of our fast changing world. With subthemes of Opportunity, Mobility and Sustainability (reflected in the three thematic zones of the Expo), Expo 2020 Dubai aims to encourage international partnerships to deliver sustainable solutions to global problems.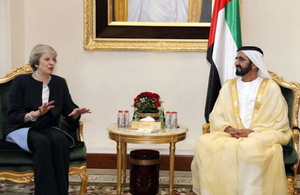 It is forecast to contribute EUR 17.7 billion in gross value added to the UAE economy over the period of development and operations, and to sustain up to 277,000 jobs.
The concept of a World Expo started in the UK with The Great Exhibition of the Works of Industry of All Nations in 1851. It was an event that started a legacy in the UK that continues to this day. Imperial College London, Natural History Museum, Royal Albert Hall, Royal College of Art and other world renowned educational and cultural institutions can trace their origins to this first World Expo.
Dubai has a vision to create its own enduring legacy from Expo 2020. The UK will play a role in assisting the UAE to realise this. British architects have designed two of the three themed pavilions, and British firms are involved in the building of key projects. Construction began on the site, which is located within the Dubai South district adjacent to Al Maktoum International Airport, in September 2016.
UK pavilions at recent World Expos have demonstrated the best of British creativity and flair. The award winning "Hive" pavilion in Milan was the UK's top paid for attraction in 2015 with 3.3 million visitors. It has now been re-erected in Kew Gardens, linked to hives at Kew and using the same technology (accelerometers) as in Milan, measuring the vibration and communication patterns of bees, which the public is able to listen to live. This is the first time a UK pavilion at a world Expo has been rebuilt in the UK enabling millions more visitors to experience it.
---