First ever  midlands trade delegation to visit India October 2018 … reports Asian Lite News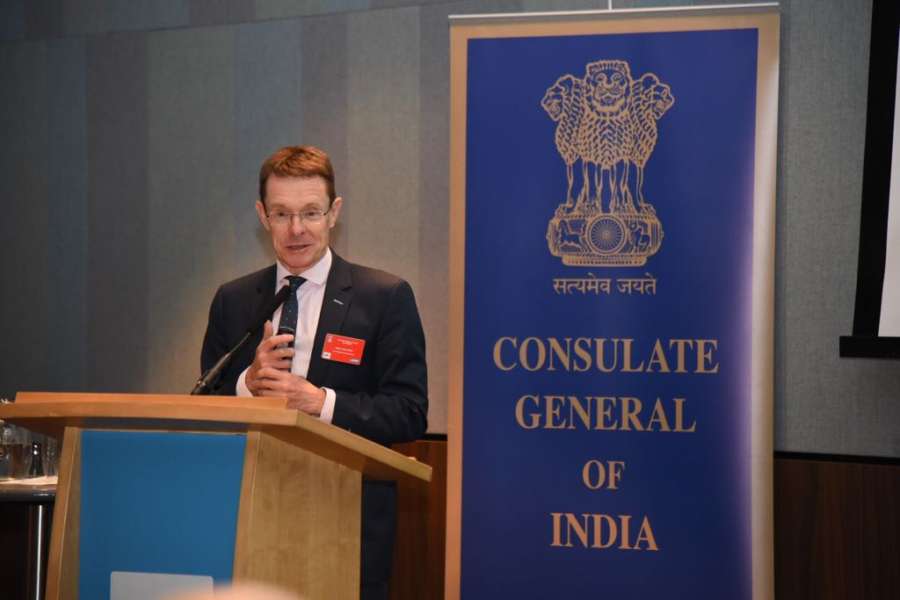 Given the uncertainty posed by post-Brexit scenario, the small and Medium Enterprises (SMEs) in the United Kingdom (UK) need to explore and exploit the market opportunities provided by the growing Indian market. This was overwhelming sense one got at the conference and networking event titled 'Accessing India Made Easier' organised at the International Convention Centre (ICC) on July 13th by the Consulate General of India in Birmingham.
The conference was aimed to increase awareness among the SMEs based in Midlands and North England about the business opportunities offered by Indian market and flagship schemes such as 'Make in India' and 'Access India Program' which are aimed to facilitate interested companies to study and enter the Indian market.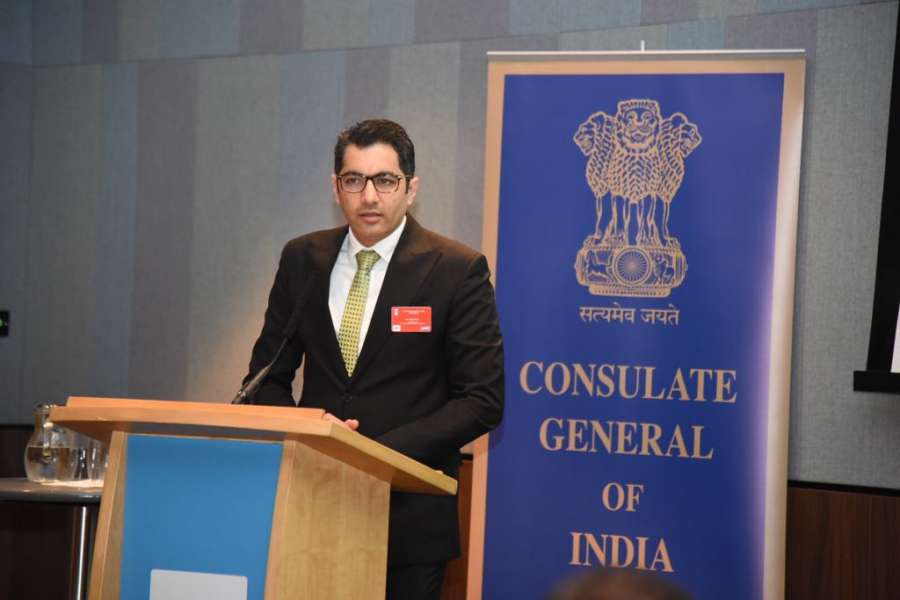 Mr. Andy Street, Mayor of West Midlands stated that both UK and India not only have a strong political and cultural relationship but also a very deep business relationship. Mr. Street informed that the SME sector in the West Midlands was very vibrant and observed that UK needs to improve its position from being the 14th ranked trading partner with India. To take a step further he informed that in October 2018, he would be co-leading the first ever trade mission of SMEs from Midlands to India along with the Chair of Midlands Engine, Government Minister and SME businesses. He remarked that to enable West Midlands to compete globally, the strategy adopted was to concentrate efforts on key sectors like advanced manufacturing, professional services, life sciences and creative sector and to deliver background services to facilitate them.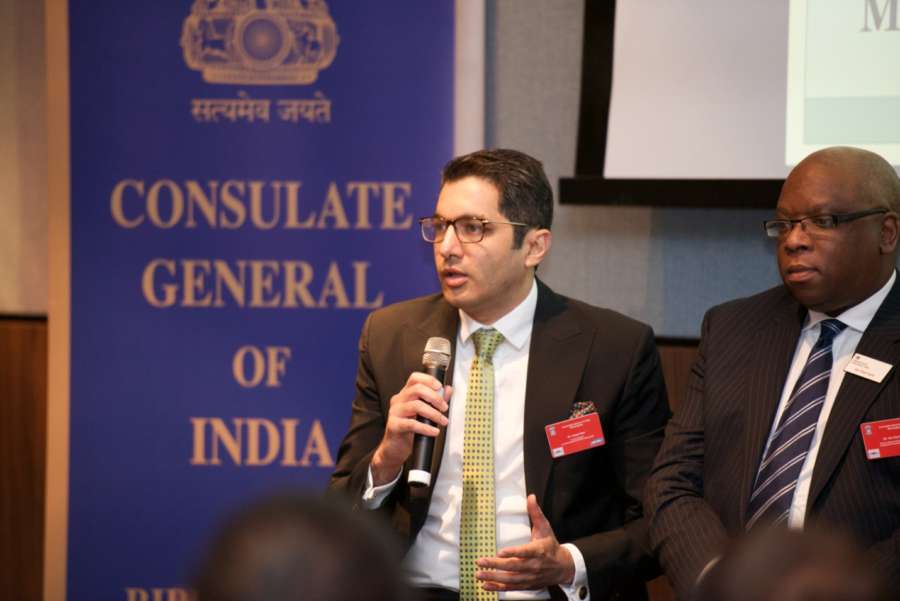 Consul General of India Dr. Aman Puri assured that the Consulate General of India in Birmingham will continue to bring the relevant stakeholders together and synergise their efforts to increase the trade and investment relationship between UK and India, especially with SMEs based in West Midlands and the North England region. He observed that despite the uncertainty posed by Brexit, Indian companies continue to repose their faith in the inherent strength of British economy, and were certain that Britain will be able to overcome the current challenges. He urged the UK Companies to further explore the Indian economic landscape through UK-India Tech summit which will be held towards the end of 2018.
Mr. Rishi Grover, Vice President informed that UTC Aerosystems, which is an US based global company, has several units in UK and two big manufacturing sites as well as some service and repair centres in Bangalore, India. Operations in India were a part of the company's strategy to improve its manufacture and operations. He informed that UTC Aerosystems was the first to receive an award in 2018 for 'Make in India' and was the first to send a Federal Aviation Administration (FAA) certified product out of India, which dispenses with the need for a separate quality inspection. Mr. Grover cited the advantages provided by India in terms of company capability, English language, ability to transfer products and ability to expand the local supply. He stated that the company has been able to develop a local ecosystem in India in the last twenty years by taking their global business partners to India to support manufacturing. He offered support that UTC Aerosystems can help the SMEs to be part of the ecosystem and as supply chain partner if they are ready to invest in India.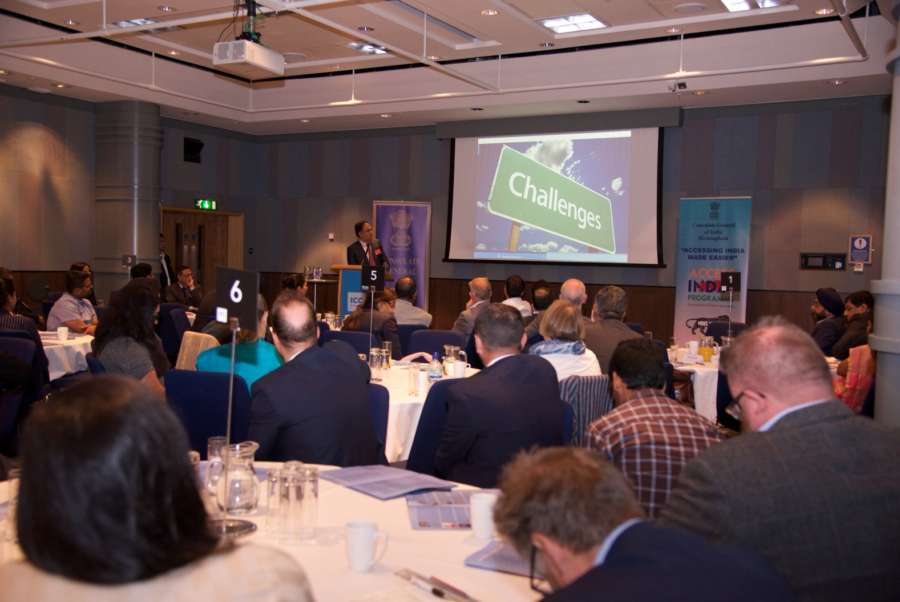 Dr. Shashi Baliyan, British citizen of Indian origin and Managing Director, Clearmedi Healthcare, informed that their company spotted a small opportunity in India and have been able to create multiple opportunities from there on. They are the leading oncology service provider in India and have their presence in more than 20 different locations in India. They now run four hospitals, have started a hospital linen management and laundry service called 'Shubhram', a company to manufacture health care linen and garments, a hospital kitchens company called 'Lifepillar' and a manpower training company called 'Dhai step'. He asked the companies to be innovative and capitalise on the opportunities provided by Indian market's demand as the scale of economies is very high in India. He also mentioned that the Ayushman Bharat Health Insurance scheme will create huge opportunities in the healthcare sector in India.
The other speakers who graced this occasion were Rt. Hon'ble Sandip Verma (Chairperson of Lords European External Affairs Committee), Mr. Paul Uppal (Small Business Commissioner), Mr. Ian Harrison (Director of Exports, Midlands Region, Department of International Trade), Mr. Keith Stokes-Smith (President Greater Birmingham Commonwealth Chamber of Commerce), Dr. Param Shah (Director of Federation of Indian Chambers of Commerce, UK) AND Mr. Saikat Sen Sharma, [Counsellor (Economic), High Commission of India, London]. Sir John Peace, Chairman of Midlands Engine, addressed the gathering via video message.  Dr. Param Shah, Director of FICCI UK informed that to support SMEs, and to complement the efforts of DIT, a Portal 'UKThat' will be launched in September 2018. This will create a marketplace and enable the UK SMEs to sell to India, test Indian market and then enter the Indian market.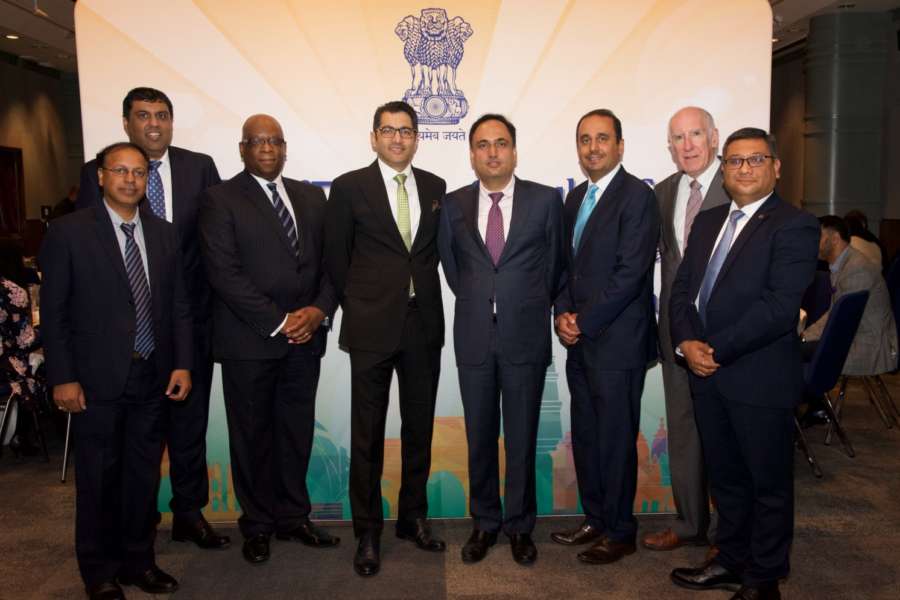 The conference was well attended by representatives of trade associations, chambers of commerce, representatives of banks such as Santander, SBI, BOI, HDFC, PNB and around 60-70 owners of SMEs. In addition there were representatives from the Universities of Birmingham, Aston, Leeds, Bedford, Leicester, Lincoln & Nottingham Trent. The participants interacted and cleared their queries with the panel of experts formed by Dr Aman Puri, Ian Harrison, Sidharth Mukhne (Regional Head of UK India Business Council) Shashi Baliyan, Rishi Grover, Saikat Sen Sharma.  This helped them to understand how they will benefit from the initiatives taken by the Government of India and exploit the opportunities provided by DIT and local government bodies.