Advertisement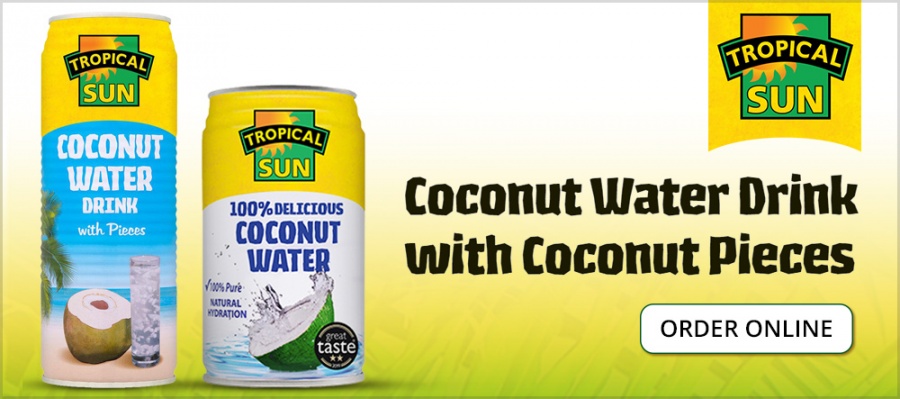 Indian Ladies in UK (ILUK) is all set to host the second edition of its annual cultural extravagansa 'India Bazaar' at the Camden Centre in the heart of London on 16th September 2017….reports Asian Lite News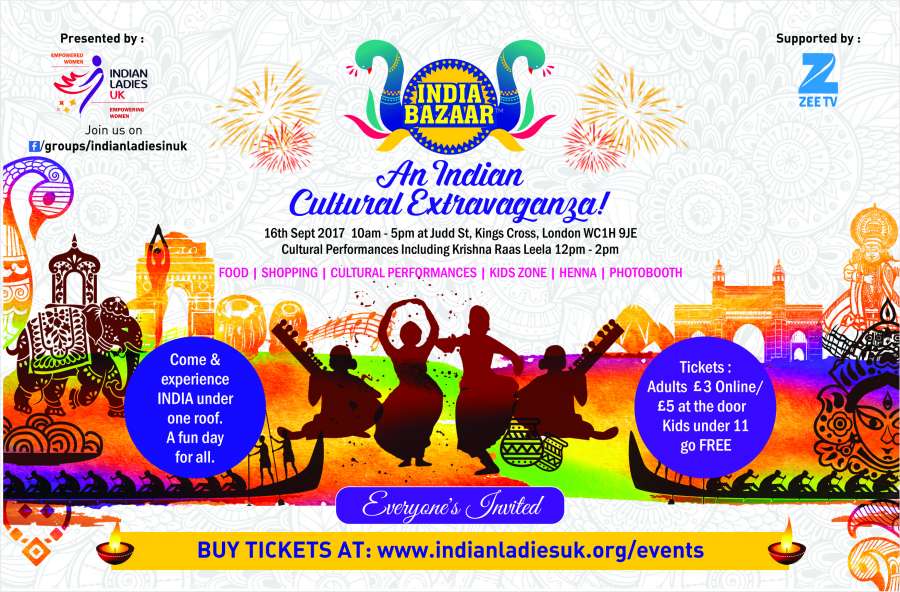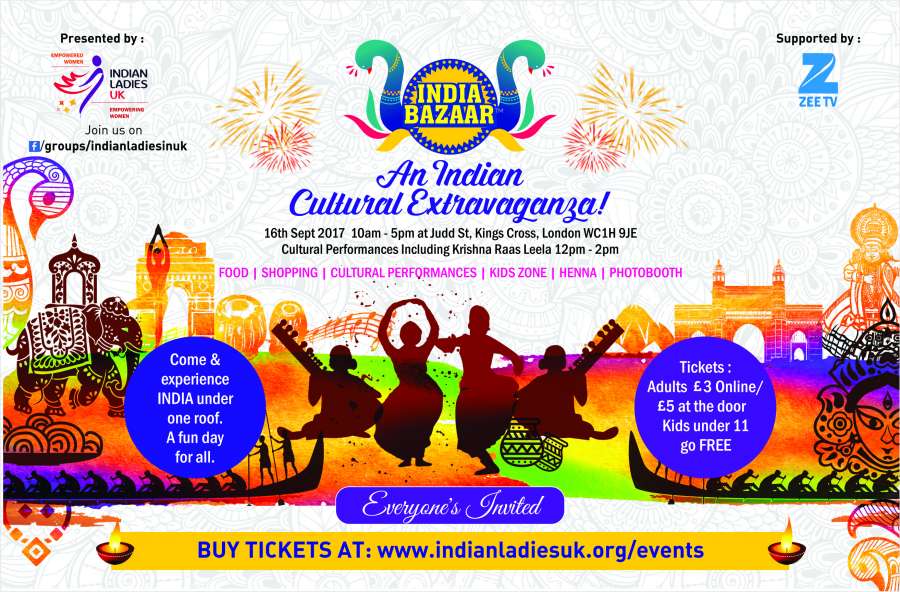 Indian Ladies in UK (ILUK) is all set to host the second edition of its annual cultural extravagansa 'India Bazaar' at the Camden Centre in the heart of London on 16th September 2017.
Following the unprecedented success of the inaugural edition in October 2016, this year's event is expected to draw thousands of visitors to a day-long programme of cultural extravaganzas aimed at promoting Indian culture in the UK. This year's 'India Bazaar' will provide visitors the opportunity to enjoy the myriad array of dance forms that originate from India – from folk to classical forms.
Members of Indian Ladies in UK will also stage a musical rendering of the Indian mythological epic 'Krishna Raas Leela', as well as a special performance centered around the empowerment of women.
The cultural side of the event has taken on greater significance for this year's event as it coincides with the UK India Year of Culture which aims to celebrate the longstanding social, cultural, economic and political ties between Great Britain and India.  In lieu of that, a number of professional dance companies, including the likes of BhagyaLakshmi Academy for Performing Arts, the Arunima Kumar Dance Company and Shivani Bhandari Sethia whose students will be performing at the event, all of which were also invited to perform for the Queen during the launch of the UK India Year of Culture earlier this year.
Entrepreneurship remains the key component of the event – empowering first generation migrants who find themselves as housewives or homemakers in an alien country to take control of their lives by infusing it with a purpose, in the process promoting their beloved home country.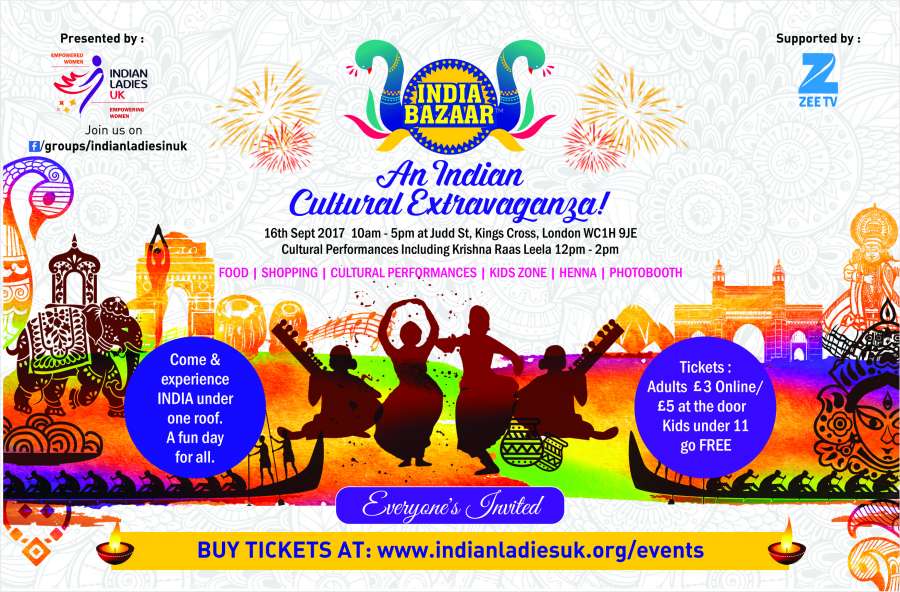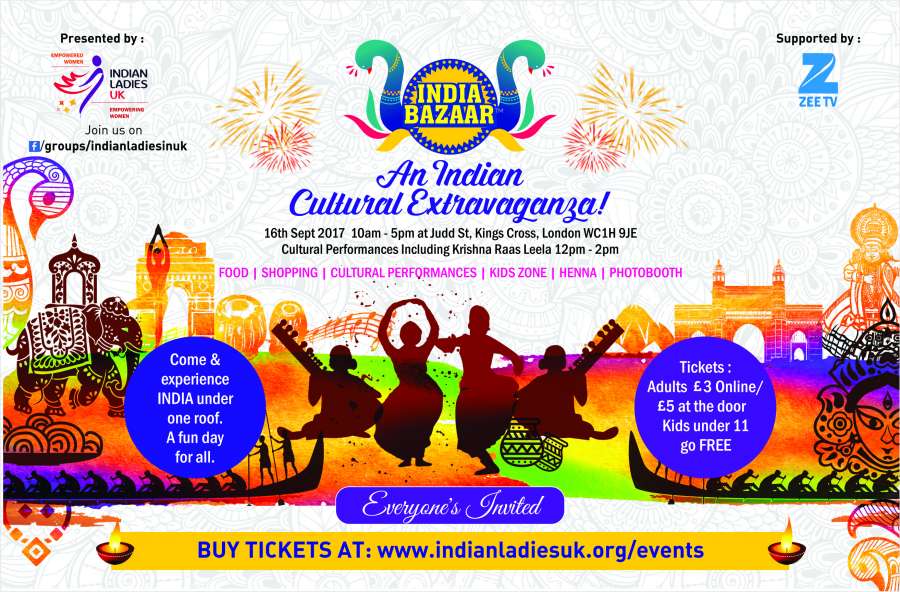 Stalls feature ethically sourced products – from handicrafts through handlooms to organic food and cosmetics – which also have the involvement of women in their creation.
The stalls are a means of encouraging entrepreneurship among first generation migrant women who have settled in the UK, often as spouses of working partners.
The women, who hail from all corners of India, are encouraged to promote their own unique culture through their stalls and to find their own standing in life in the UK by tapping into their entrepreneurial skills.
The diversity of the offerings and the entrepreneurship theme showcase the twin-fold aims of Indian Ladies in UK – Unity in Diversity and empowering women.
Poonam Joshi, founder of ILUK, said: "We had a tremendous and wholly unexpected response to India Bazaar in its first year.  This was organized as an event to showcase the entrepreneurial spirit of our members as well as a grand celebration of India as a whole.  Ladies from across India came together to showcase not just their own unique corners of India and cultures but all of India to people in Britain.  That was keeping with our ethos 'Unity in Diversity' and that was an ethos that was clearly attractive to hundreds of people, who turned up in overwhelming numbers.  We want to continue with that ethos and also make India Bazaar a true cultural extravaganza celebrating all things Indian in the UK.  And we hope that that is in evidence when you visit."
Founded in 2015, ILUK is a not-for-profit organization made up of more than 21,000 first generation Indian ladies in Britain.
Founded as a Social Media network, the group has since grown to become the largest such community organization in the UK. Its now a registered not for profit  organisation both in India and the UK.
The group was even personally felicitated by Indian Prime Minister Narendra Modi during his visit to the UK in 2015.
Members represent the entire socio-economic spectrum and include medical professionals, lawyers, accountants, bankers, IT professionals, activists, media professional and others representing every corner of India.
ILUK's primary focus is campaigning on behalf of victims of domestic violence, forced marriage, spousal abandonment and international child abduction.  The group has helped hundreds of women in a variety of ways, including providing accommodation and assistance to women who have been abused to spearheading cross-border efforts to reunite children – some as young as 2 – with their mothers.
In recent months, ILUK has also turned its attention to raising funds for farmers who have been hit by drought in India and leading a campaign against acid attacks.
All of the group's efforts are funded by its members as well as charity fundraising events such as 'India Bazaar'.  Members also provide their expertise and services – be it offering accommodation to domestic abuse victims unable to find help from local authorities to offering legal and financial advice.
Tickets can be purchased here: https://www.tickettailor.com/checkout/view-event/id/107351/chk/a80c