Advertisement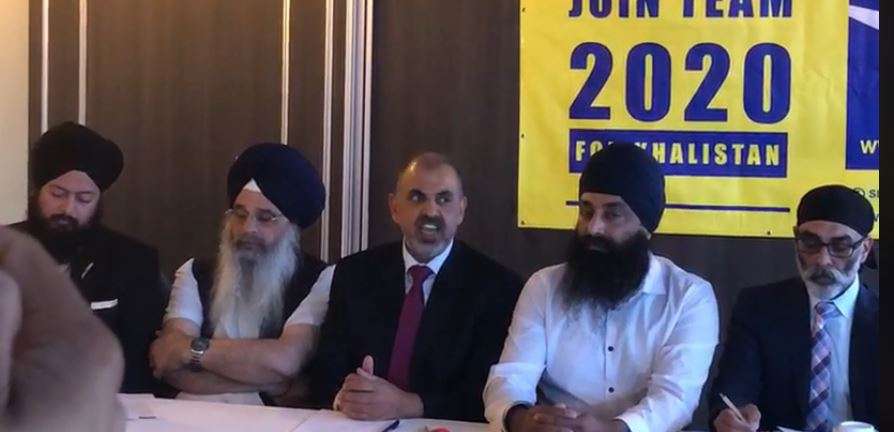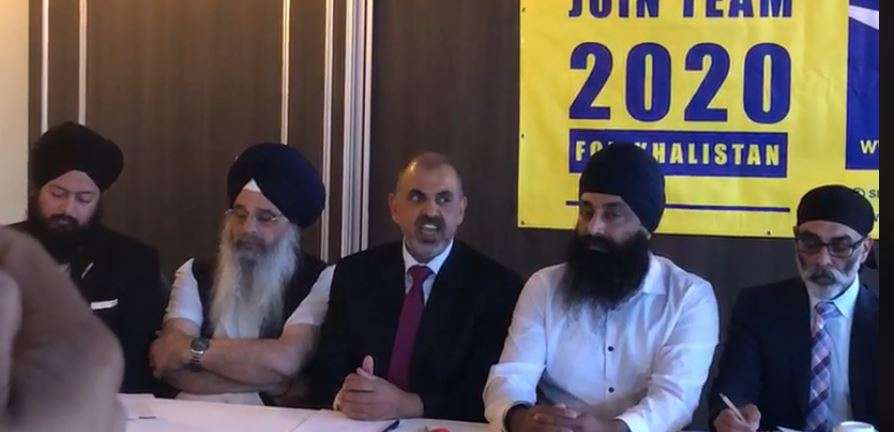 Prominent Khalistani supporters in Britain are planning to submit a memorandum to No 10 Downing Street seeking the release of Jagtar Singh Johal aka Jaggi who is in custody in Punjab over terror related charges.
Johal was arrested for his alleged involvement in the murders of retired Indian army officer Brigadier Jagdish Gagneja, RSS leader Ravinder Gosain and Pastor Sultan Masih, and for funding of Khalistan Liberation Force, a proscribed terrorist organisation by Government of India.
Khalistani elements in Britain are struggling to garner media attention by staging protests with the support of Pakistani funded organisations and prominent Pakistani leaders like Lord Nazir Ahmed. Khalistani supporters are helping Pakistani forums to stage rallies in London against India during Independence Day and Republic Day. The protest rally organised in London last week was a big disaster as less than 20 people arrive near Indian Embassy to protest.
The Khalistani leaders in Britain are organising coaches to ferry people from Smethwick, Leicester, Coventry, Derby, Southall, Slough and Watford to London.
Meanwhile, Indian officials rejected the Khalistani claim of alleged torture and illegal detention of Johal.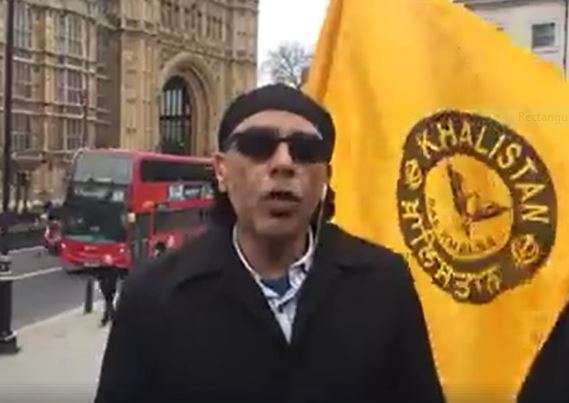 "Jagtar Singh Johal has been arrested on serious charges relating to terrorism," the Indian officials said in a statement. "It is untrue that he is being held without any charges. The Prosecuting agency, National Investigation Agency (NIA) has already filed chargesheet in the Court of Law and he is presently undergoing judicial proceedings as per the law of the land.
"It is absolutely untrue that he has been subjected to torture. He has been granted Consular Access several times to the UK High Commission in New Delhi. Further, institutional safeguards like the Human Rights Commission exists to investigate any such allegation.
"Unfortunately, Mr. Johal has been instrumentalised into terrorism by those who misguide the youth. These are the same elements who have instigated the march planned for 19 August 2020 to 10 Downing Street. The whole reason for the march is based on fabricated and misinformation campaign directed on the Sikh Community in UK by these vested elements.
The Indian officials rejected the claim that the Sikh community is supporting the Free Jaggi campaign. Prominent Indian community leaders like Lord Rami Ranger are criticising the Khalistani movement and their leaders for their attempts to divide India on religious grounds.
"The Sikh Community is a vibrant element of India's secular fabric. You all would have witnessed that way Government of India celebrated with grace and honour, in an unprecedented scale, the 550th Birth Anniversary of Shri Guru Nanak Dev Ji all over India and abroad, through the Indian Embassies/High Commission's last year. Government of India also inaugurated the Kartarpur Corridor in 2019 so as to enable the facilitation of Sikh Pilgrims to visit Gurdwara Darbar Sahib Kartarpur in Pakistan. Further, in UK a Sikh Studies Chair has been instituted in the University of Birmingham by Government of India. The High Commission in India has undertaken visits of British Sikh students to India as part of the Know your Roots programme. "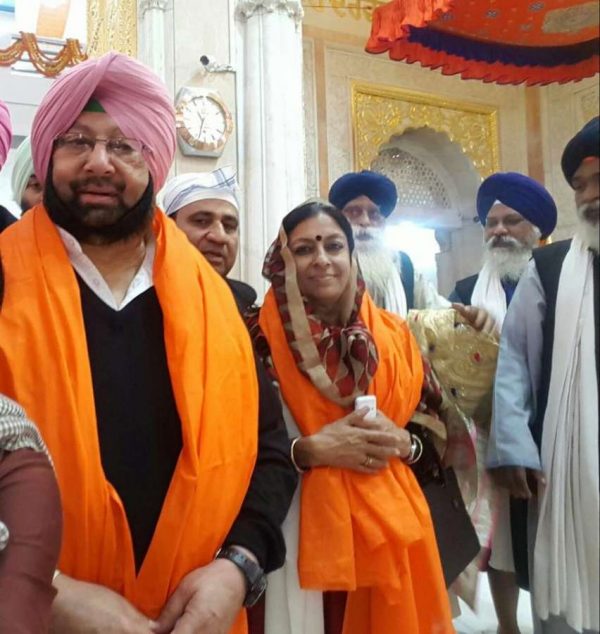 The Khalistani movement is getting support from Pakistan funded organisations and prominent Pakistani leaders like Lord Nazir, who is on bail over historical sex offences.
Earlier, Punjab Chief Minister Amarinder Singh Amarinder Singh rejected the torture of Johal at Punjab prison.
"These allegations are totally baseless, with not an iota of proof to support them," the Chief Minister said.
He also urged other democratic countries to stay away from encouraging separatists movements in their land.
"India has never interfered in other countries' policing and legal matters, even if an Indian citizen was involved, and expect the same respect and diplomatic propriety to be followed by other nations as well," he added.
"Radical elements based in Britain and other countries have orchestrated a false and slanderous media campaign against the Punjab government and state police," he said.
The chief minister said the police officers involved in the probe against Johal are getting threats.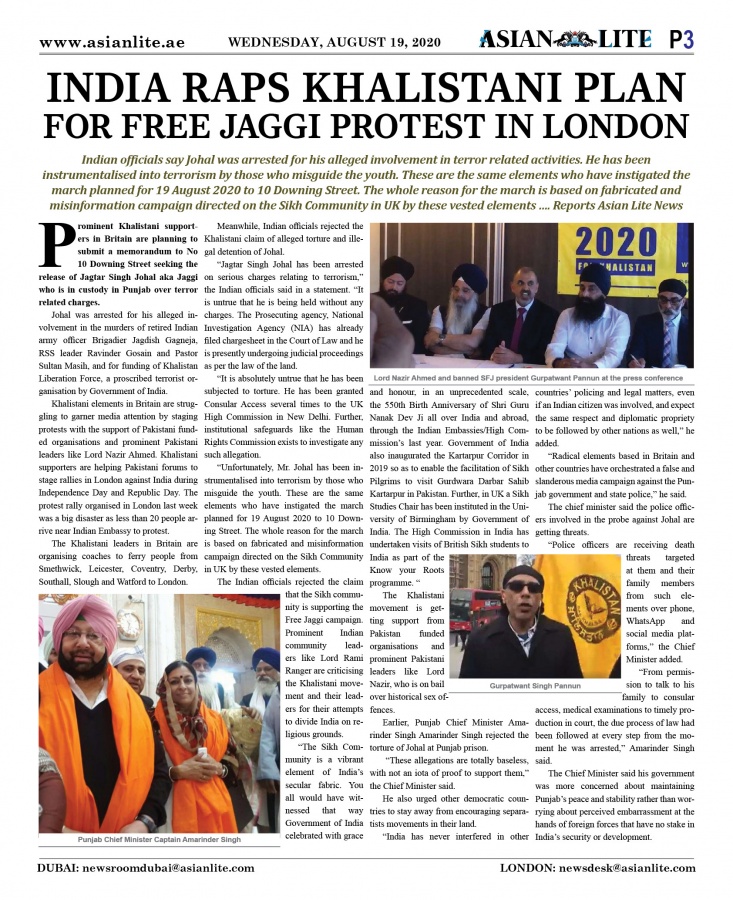 "Police officers are receiving death threats targeted at them and their family members from such elements over phone, WhatsApp and social media platforms," the Chief Minister added.
"From permission to talk to his family to consular access, medical examinations to timely production in court, the due process of law had been followed at every step from the moment he was arrested," Amarinder Singh said.
The Chief Minister said his government was more concerned about maintaining Punjab's peace and stability rather than worrying about perceived embarrassment at the hands of foreign forces that have no stake in India's security or development.
Advertisement