Advertisement

Over 5000 youth from more than 20 countries participate in this unconventional 24-hour festival. 
Youth from over 20 countries engaged in an immersive experience at the SRMD Global Youth Festival, organised by Shrimad Rajchandra Mission Dharampur and envisioned by founder Pujya Gurudevshri Rakeshbhai. The festival marked the dawn of a new world after the daunting COVID-19 pandemic, by channelising the power of youth productively and positively.
Pujya Gurudevshri Rakeshbhai, Founder, Shrimad Rajchandra Mission Dharampur, says: "Tremendous energy, enthusiasm, and power are the assets of today's youth. They have the drive but need the direction. They have the wings and if given the eyes they can soar high and far in the spiritual skies."
With an exceptional keynote address by Pujya Gurudevshri Rakeshbhai, the event marked the presence of revered saints such as Pujya Gyanvatsal Swami (BAPS) and Brahmakumari Sister Shivani who delivered stirring talks on self-inquiry, spiritual leadership, and inner growth.
Motivators like Dr Deepak Chopra, Mr. Ronnie Screwvala, Dean Idalene Kesner and Dr Aditi Govitrikar delivered inspiring sessions on self-development, determination, and stress management. Renowned music artists such as Kailash Kher, Kabir Café, Indira Naik, and Radhika Sood added to the cultural glory of the event.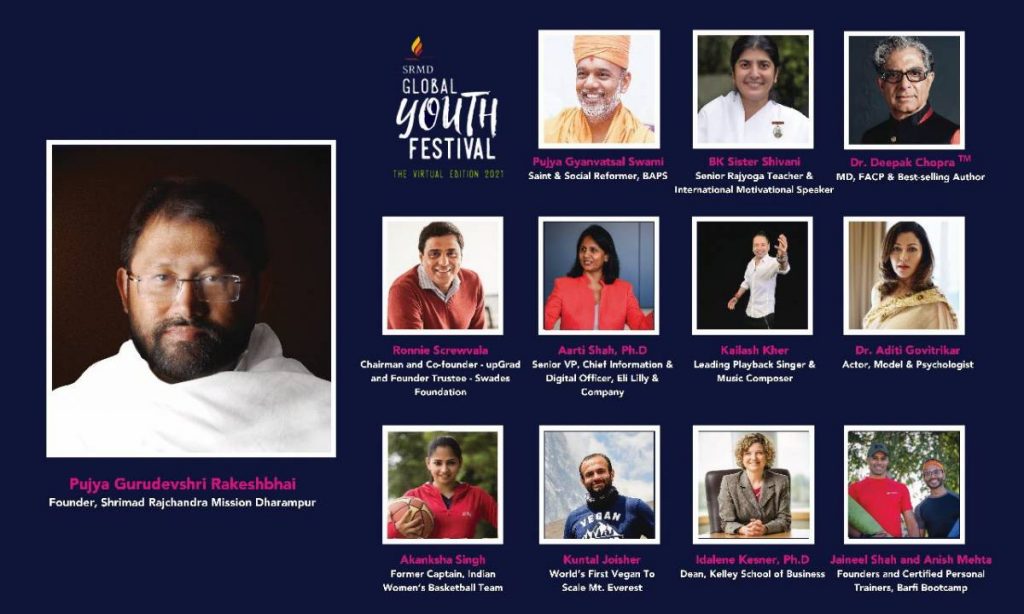 The 24-hour festival was built on the holistic 5S approach of Satsang (Spiritual Wisdom), Seva (Selfless Service), Sadhna (Wellness Inside-Out), Sanskruti (Celebrating Cultures) and Sports.
Through a cutting-edge platform called Airmeet, the participants entered a virtual auditorium with over 25 exclusive 'breakout workshops' curated for personal learning and one-on-one interaction with individuals globally.
With over 500 breakout sessions conducted across 24 hours, these included: personal development workshops, mindfulness masterclasses, themed meditation and yoga, fitness bootcamps, networking opportunities through Q&A roundtables, baking and cookery sessions, trivia, standup comedy and games
Moreover, the proceeds from SRMD Global Youth Festival 2021 contributed to uplifting underprivileged tribal women of South Gujarat, through Shrimad Rajchandra Mission Dharampur's Women Empowerment Initiatives.
The SRMD Global Youth Festival 2021 presented a powerful platform to converge global cultures and industries, to ignite a higher purpose, inspire new pathways, and invite a spirit of love, wisdom, and selfless service.