Advertisement

The group is led by a corona warrior, 62-year-old Bhanvar Dhabhai from Udaipur…reports Archana Sharma
Tribal 'doctors' have come to the rescue of people in urban Udaipur who are fighting the second wave of the Covid-19 pandemic.
This group of tribal people, who are well-versed with traditional herbs found in the jungles, are distributing decoction ('kadha') to scores of people free of cost with an aim to boost their immunity.
The group is led by a corona warrior, 62-year-old Bhanvar Dhabhai from Udaipur, who along with her tribal friends prepares 'kadha' and distributes it to the people free of cost.
"In these challenging times brought about by the deadly pandemic, immunity plays a big role in defeating Covid. If someone wants to win the battle against coronavirus, he/she needs to have a strong immunity. Stronger the immunity, quicker will be the recovery," Dhabhai said.
She added that during the first wave of the pandemic last year, she had served kadha to around 2 lakh people. She has resumed the process during the second wave with the help of her team which comprises around 35 people who stay in the tribal parts of the district.
Dhabai, who works as a social worker, had seen over a dozen kids die in Udaipur due to diphtheria in 1988, which left her shaken from inside.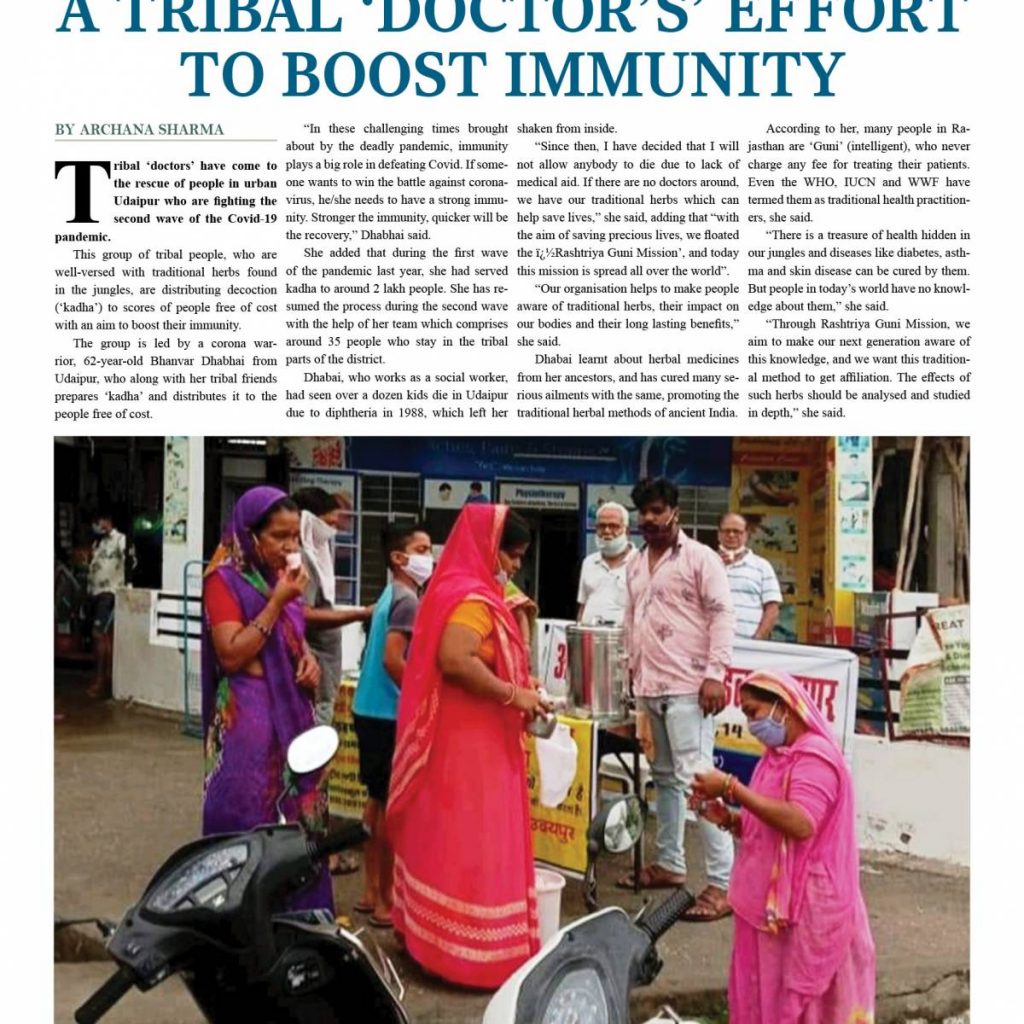 "Since then, I have decided that I will not allow anybody to die due to lack of medical aid. If there are no doctors around, we have our traditional herbs which can help save lives," she said, adding that "with the aim of saving precious lives, we floated the �Rashtriya Guni Mission', and today this mission is spread all over the world".
"Our organisation helps to make people aware of traditional herbs, their impact on our bodies and their long lasting benefits," she said.
Dhabai learnt about herbal medicines from her ancestors, and has cured many serious ailments with the same, promoting the traditional herbal methods of ancient India.
According to her, many people in Rajasthan are 'Guni' (intelligent), who never charge any fee for treating their patients. Even the WHO, IUCN and WWF have termed them as traditional health practitioners, she said.
"There is a treasure of health hidden in our jungles and diseases like diabetes, asthma and skin disease can be cured by them. But people in today's world have no knowledge about them," she said.
"Through Rashtriya Guni Mission, we aim to make our next generation aware of this knowledge, and we want this traditional method to get affiliation. The effects of such herbs should be analysed and studied in depth," she said.
ALSO READ: WHO likely to restudy Wuhan lab origin theory of Covid-19