Advertisement

Chief medical officers for England, Scotland, Northern Ireland and Wales on Monday recommended Britain's coronavirus alert level be downgraded from Four to Three as infections and deaths have fallen consistently, reports Asian Lite Newsdesk
The three nations of UK – England, Scotland and Northern Ireland have reported zero daily COVID-19 deaths on Monday, the first time in a 24-hour period since July last year.
According to UK Health officials, 2,357 new cases and 4 deaths were reported on May 10 across the United Kingdom. But England, along with Scotland and Northern Ireland reported zero fatality. However, Wales reported four coronavirus-related deaths.
The numbers come as Chief medical officers for England, Scotland, Northern Ireland and Wales on Monday recommended Britain's coronavirus alert level be downgraded from Four to Three as infections and deaths have fallen consistently.
This means that the virus is not "rising exponentially but is instead in "general circulation."
"Thanks to the efforts of the public and the vaccine programme, cases and deaths have fallen across the UK. The UK CMOs have recommended the COVID Alert Level move from 4 to 3. This steady progress relies on us remaining vigilant and careful as we unlock," said Professor Chris Whitty, England's Chief Medical Officer and the Department of Health and Social Care's Chief Scientific Adviser.
A joint statement from the UK Chief Medical Officers (CMOs) said that thanks to the efforts of the UK public in social distancing and the impact they are starting to see from the vaccination programme, case numbers, deaths and COVID hospital pressures have fallen consistently.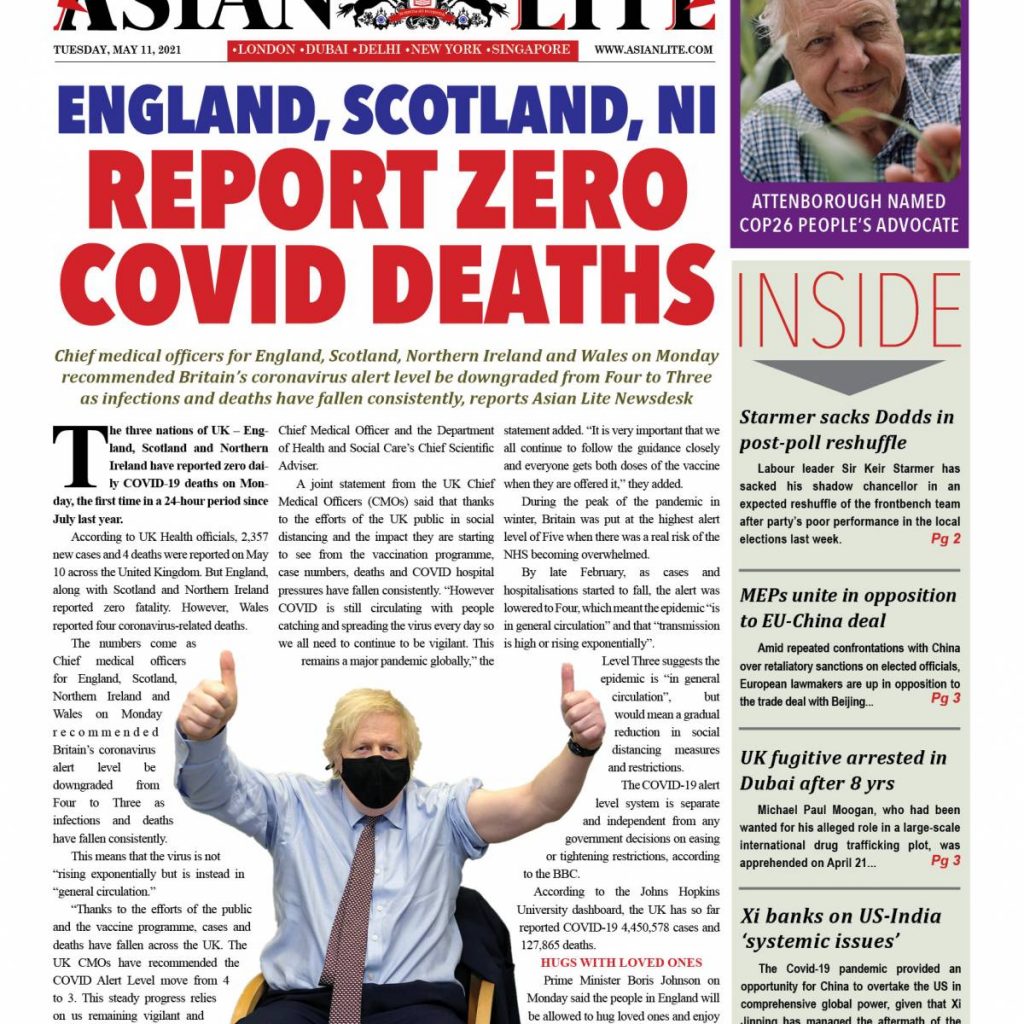 "However COVID is still circulating with people catching and spreading the virus every day so we all need to continue to be vigilant. This remains a major pandemic globally," the statement added.
"It is very important that we all continue to follow the guidance closely and everyone gets both doses of the vaccine when they are offered it," they added.

During the peak of the pandemic in winter, Britain was put at the highest alert level of Five when there was a real risk of the NHS becoming overwhelmed.

By late February, as cases and hospitalisations started to fall, the alert was lowered to Four, which meant the epidemic "is in general circulation" and that "transmission is high or rising exponentially".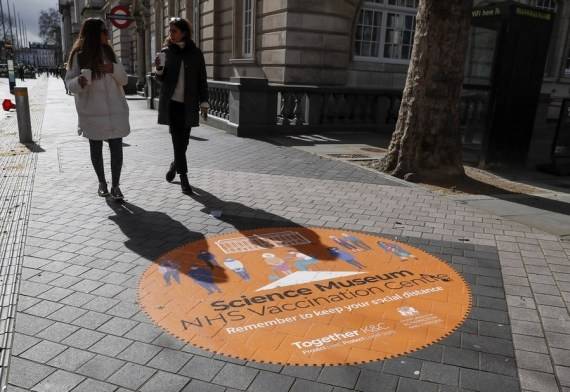 Level Three suggests the epidemic is "in general circulation", but would mean a gradual reduction in social distancing measures and restrictions.

The COVID-19 alert level system is separate and independent from any government decisions on easing or tightening restrictions, according to the BBC.
According to the Johns Hopkins University dashboard, the UK has so far reported COVID-19 4,450,578 cases and 127,865 deaths.
Hugs with loved ones
Prime Minister Boris Johnson on Monday said the people in England will be allowed to hug loved ones and enjoy indoor hospitality from next Monday, adding that people must "exercise caution and common sense".
Speaking at a Downing Street news conference, the prime minister said this was the "single biggest step" to unlocking society but that people should remain vigilant, the BBC reported.
Indoor mixing and overnight stays in groups of up to six people or two households will also resume. Leisure venues such as cinemas, museums and children's play areas will reopen.
Johnson said the further relaxation of England's lockdown would go ahead on 17 May as the government had met its four tests for easing restrictions.
These tests relied on the success of the vaccine rollout, evidence that the jabs were reducing serious illness and death, infection rates remaining under control and the risks from new Covid variants not changing, it was reported.
The British government on Friday announced a "green list" of countries from which travellers are not required to quarantine upon return to England.
Portugal, Israel, Singapore, Australia and New Zealand are among 12 countries and regions on the "green list" of travel destinations from May 17 for people in England.

Experts have warned that despite progress in vaccine rollout, Britain is "still not out of the woods" amid concerns over new variants, particularly those first emerged in South Africa, Brazil and India, and the third wave of pandemic on the European continent. (with inputs from ANI)
Also Read-World's largest cargo plane, carrying UK aid, lands at Delhi
Read More-Angela Rayner sacked as Labour party chair
Advertisement