Health Secretary Matt Hancock has said that up to 75 percent of new UK Covid cases could be of the variant first identified in India, reports Asian Lite Newsdesk
Prime Minister Boris Johnson has said "we may need to wait" for lifting of all lockdown measures in England, which is currently planned for 21 June, according to reports.
The final unlocking would see all legal limits on social contact removed, nightclubs would reopen, and restrictions on large events and performances would be lifted.
However, there is nothing "currently in the data" to suggest the government would have to delay unlocking, Johnson added, according to BBC report.
But Johnson warned that there were signs of an increase in the number of cases of the Covid variant first detected in India.
"I think the question people want to answer is to what extent is our vaccine shield now going to be enough to allow us to go ahead with 21 June with the unlocking," BBC quoted Johnson as saying during a hospital visit on Thursday morning.
"Now, as I've said many times, I don't see anything currently in the data to suggest we have to deviate from the roadmap but we may need to wait."
The prime minister said it was important to understand to what extent the vaccine programme "interrupts the link" between infection, hospitalisation, serious illness and death.
However, he reiterated that vaccines in use in the UK work against the variant first identified in India, particularly with two doses.
Health Secretary Matt Hancock has said that up to three quarters of new UK Covid cases could be of this variant.
But the ministers are still waiting for evidence over the infectiousness of the strain which has been detected in several parts of England as well as in Glasgow.
Meanwhile, another 3,542 coronavirus cases and 10 deaths were reported in the country on Thursday within 28 days of a positive test were reported.
Over the last seven days, cases are up 20.5% compared with the week before.
Public Health England data shows cases of the variant have risen by 3,535 to 6,959 since last week.
Hancock told a Downing Street briefing that the government had always expected cases to rise as restrictions were eased, BBC reported.
But he said it was "critical" to monitor the link between cases and hospitalisations.
 "The latest estimates are that more than half and potentially as many as three-quarters of all new cases are now of this variant," Hancock was quoted as saying. "As we set out our roadmap we always expected cases to rise – we must remain vigilant."
Meanwhile, UK Health Security Agency's Chief Executive Dr Jenny Harries advised people to follow the public health advice.
"With cases of the variant first identified in India continuing to rise in some areas, we are urging people to be very cautious and follow the guidance on hygiene, face coverings, social distancing and meeting outdoors. We now know that getting both vaccine doses gives a high degree of protection against this variant and we urge everyone to have the vaccine when the NHS invites you."
"Please follow the public health advice and make sure that you remain careful, work from home if you can, meet people outside where possible and remember 'hands, face, space, fresh air' at all times. This is the best way to protect yourself and your loved ones from this variant," he added.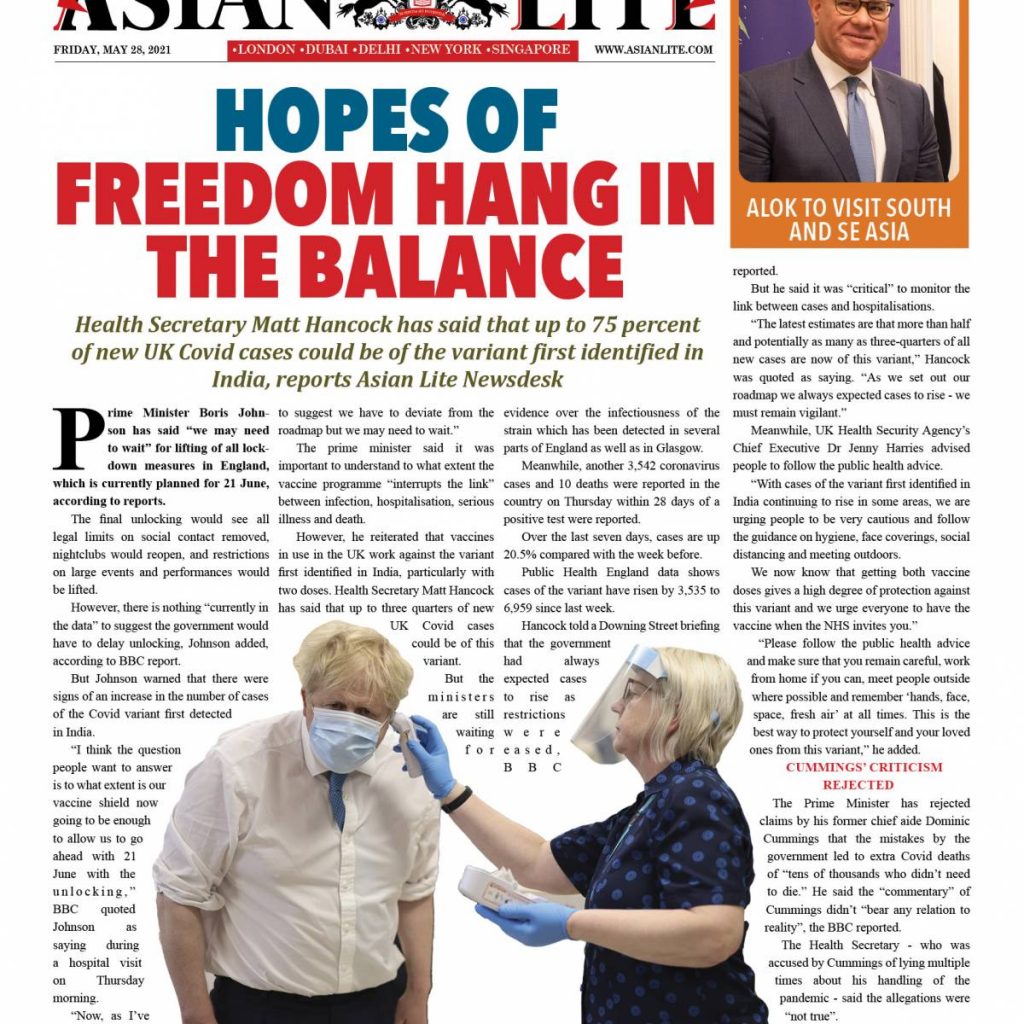 Cummings' criticism rejected
The Prime Minister has rejected claims by his former chief aide Dominic Cummings that the mistakes by the government led to extra Covid deaths of "tens of thousands who didn't need to die."
He said the "commentary" of Cummings didn't "bear any relation to reality", the BBC reported.
The Health Secretary – who was accused by Cummings of lying multiple times about his handling of the pandemic – said the allegations were "not true".
"I've been straight with people in public and in private throughout," Hancock said.
But Labour accused him of failing to answer "pressing questions" on testing, PPE and care home mistakes.
Labour has urged the government to bring forward the public inquiry into the Covid pandemic – due to start next year – but this idea was rejected, it was reported.
ALSO READ: Saudi, UK FMs discuss ties in Riyadh