Advertisement

The Foreign Secretary said that United Kingdom was "caught out" by the speed of the fall of Kabul, with intelligence expecting it to hold until the end of the year, reports Asian Lite Newsdesk
Days after the withdrawal of troops and evacuation of people from the war-torn Afghanistan, the UK Foreign Secretary Dominic Raab has said that government is not confident that it knows how many people eligible to come to the UK remain in Afghanistan.
Addressing MPs, the foreign secretary said he would be leaving for the region later for talks on those left behind, the BBC reported.
The UK has evacuated around 15,000 since the country fell to the Taliban on August 15.
Raab also said that the UK was "caught out" by the speed of the fall of Kabul, with intelligence expecting it to hold until the end of the year.
But the chairman of the Foreign Affairs Select Committee, Tom Tugendhat, said a Foreign Office risk report from 22 July predicted a "very real danger of cities collapsing" after US forces withdrew.
The Tory MP later told BBC Radio 5 Live that he was "a bit surprised" that Raab did not seem to know about the document. But the Foreign Office said it was a standard monthly report which did not contain intelligence assessments.
Raab, who was being grilled by the committee's MPs on a number of aspects of the UK's withdrawal from Afghanistan last month, has faced scrutiny over his handling of the Afghanistan situation since the Taliban took control of the country.
There were calls for him to resign from opposition MPs after it emerged he had been unavailable to make a phone call about evacuating interpreters from Afghanistan while he was on holiday in Crete.
Mr Raab later said that "with hindsight" he would not have gone away, but dismissed accusations that he was "lounging on the beach" as "nonsense", the BBC reported.
The committee asked him for more specific dates for his holiday, but he refused to answer, saying the line of questioning was a "fishing expedition", it was reported.
Afghanistan govt formation
The Taliban on Wednesday informed that supreme leader Haibatullah Akhunzada will be the Head of the new Afghan government.
Reports also indicate that there will also be a Prime Minister post in the next government, Tolo News reported.
"Mullah Hebatullah Akhundzada, the leader of the Taliban, will also be the leader of the new government," Anamullah Samangani, a member of the Taliban's cultural commission informed.
"The Islamic government that we will announce will be a model for the people. There is no doubt about the presence of the Commander of the Faithful (Akhunzada) in the government. He will be the leader of the government," he added.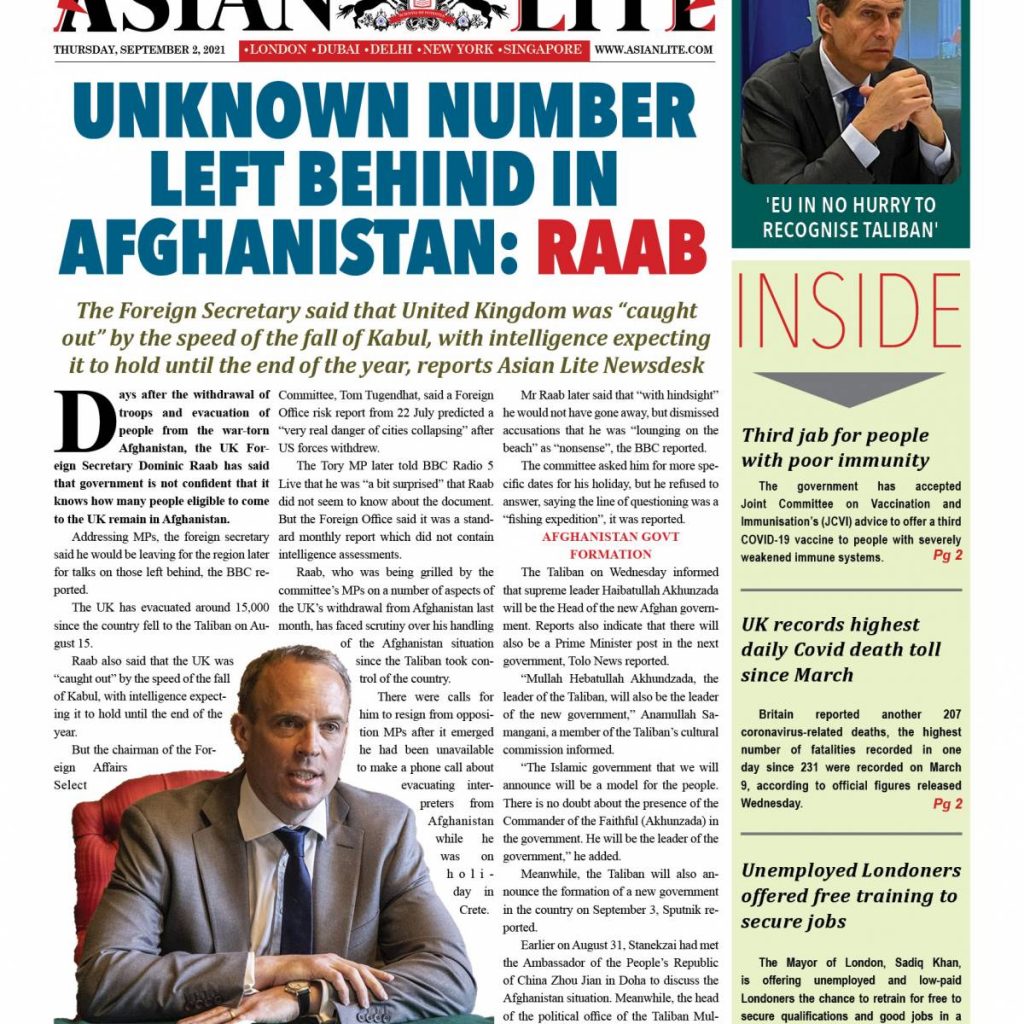 Meanwhile, the Taliban will also announce the formation of a new government in the country on September 3, Sputnik reported.
Earlier on August 31, Stanekzai had met the Ambassador of the People's Republic of China Zhou Jian in Doha to discuss the Afghanistan situation.
Meanwhile, the head of the political office of the Taliban Mullah Baradar has also been appointed as the Minister of Foreign Affairs of Afghanistan, local media informed.
Although the Taliban say consultations have been finalised on the formation of the new government but discussions have not been held over the system's name, the national flag or national anthem, reported Tolo News. (ANI)
ALSO READ-Taliban To Emulate Iran To Form Government
READ MORE-Biden vows to support to Afghan people through diplomacy, aid