Advertisement

Boris Johnson tells climate activists in Milan that they were paying the price for the "reckless actions of their elders", reports Asian Lite News
Boris Johnson says young people have every right to be angry about the state of climate change.
The prime minister told climate activists in Milan that they were paying the price for the "reckless actions of their elders".
The penitent mood here was underlined by Italian Prime Minister Mario Draghi, who said politicians needed to be "whipped into action."
Both agreed that urgent action to limit warming was now desperately needed.
For several days around 400 young activists have been working on proposals for tackling climate change here in Milan.
They've heard from a host of voices including Greta Thunberg who castigated politicians for dashing the hopes and dreams of young people.
She mocked their promises on climate as just more "blah, blah, blah".
Several senior politicians conceded that Thunberg was essentially correct in her analysis.
"Young people around the world are already paying the price for the reckless actions of their elders," said Johnson.
"Hundreds of millions of you are facing rising seas, failing crops, burning forests, and evermore ferocious storms, daily challenges that lead to lost opportunity. And your future is literally being stolen before your eyes."
Some young activists had interrupted a previous speech by Italian Prime Minister Draghi.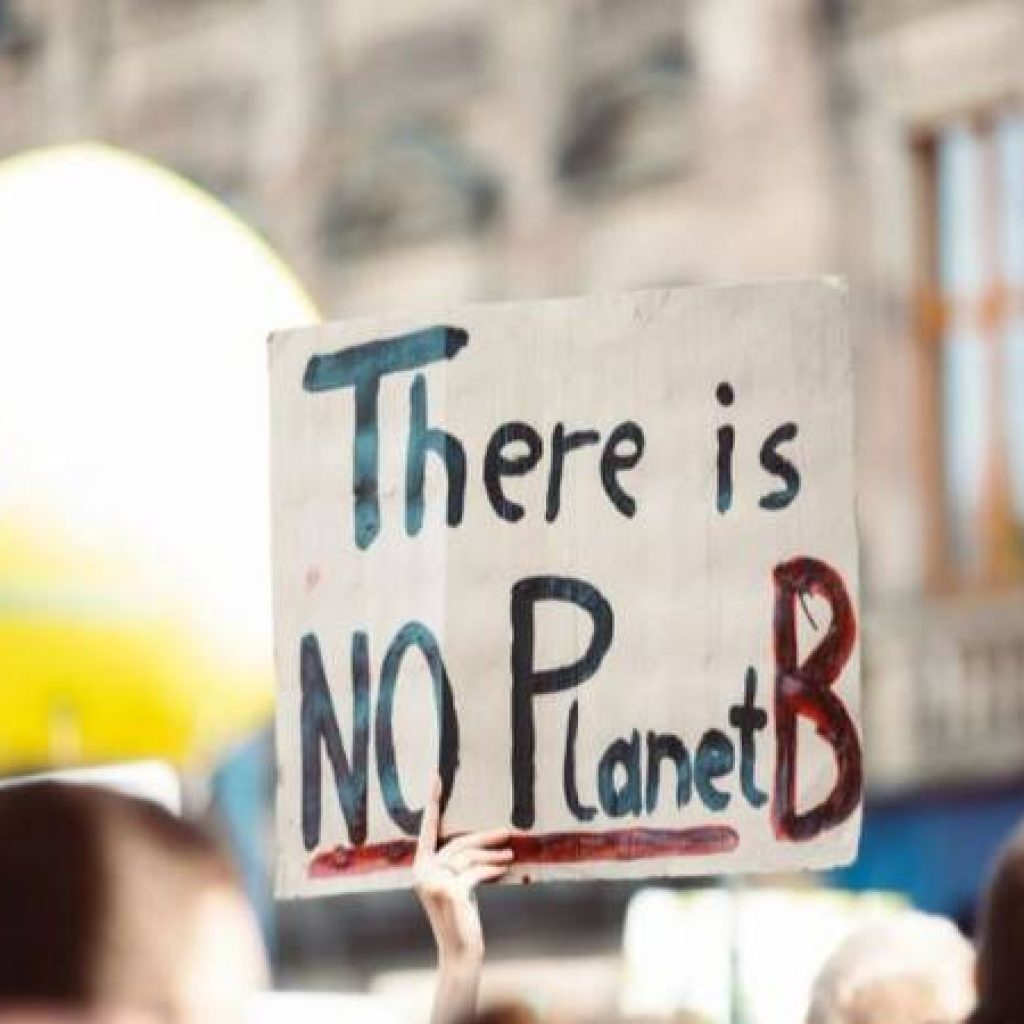 Johnson said he understood their actions.
"I saw the protesters earlier on. And frankly, you have every right to be angry with those who aren't doing enough to stop it."
All the senior politicians who've addressed this meeting say that lessons have been learned and that action on climate is now happening.
Johnson pointed to the COP26 meeting in Glasgow at the start of November as a pivotal moment in tackling the issue.
If significant changes could be agreed on some key areas, COP26 would mark "the beginning of the end of climate change."
To get there, Johnson said, would need major progress on phasing out coal, ending the use of petrol and diesel cars, and planting "trillions of trees".
A long-standing promise of cash for developing countries would have to be honoured, he said.
To signal that actions speak louder than words on climate, Johnson's government today announced that it would require businesses bidding for major government contracts to commit to achieving net zero emissions.
The UK is believed to be the first country in the world to put such a measure in place.
Steps like this might not be quite what youth activists are demanding.
Their proposals to leaders include giving young people "meaningful participation" in all decision making on climate change.
They are calling for the end of fossil fuels by 2030, as well as transparent climate finance systems and responsible and sustainable tourism.
"We are going completely in the wrong direction and unfortunately speeding into the wrong direction," Nisreen Elsaim from Sudan told the conference.
"I'm afraid that not only you, the old generation, but us will be the last generation to witness that planet as it is."
As the young people depart the stage here in Milan, environment ministers and key negotiators are arriving, hoping to see progress on some key issues.
The aim is to clear the decks so that the presidents and prime ministers who arrive in Glasgow in November will be able to concentrate on a few major political decisions.
While there is some sense of optimism, much more "blah" will be needed if Glasgow is going to be a success.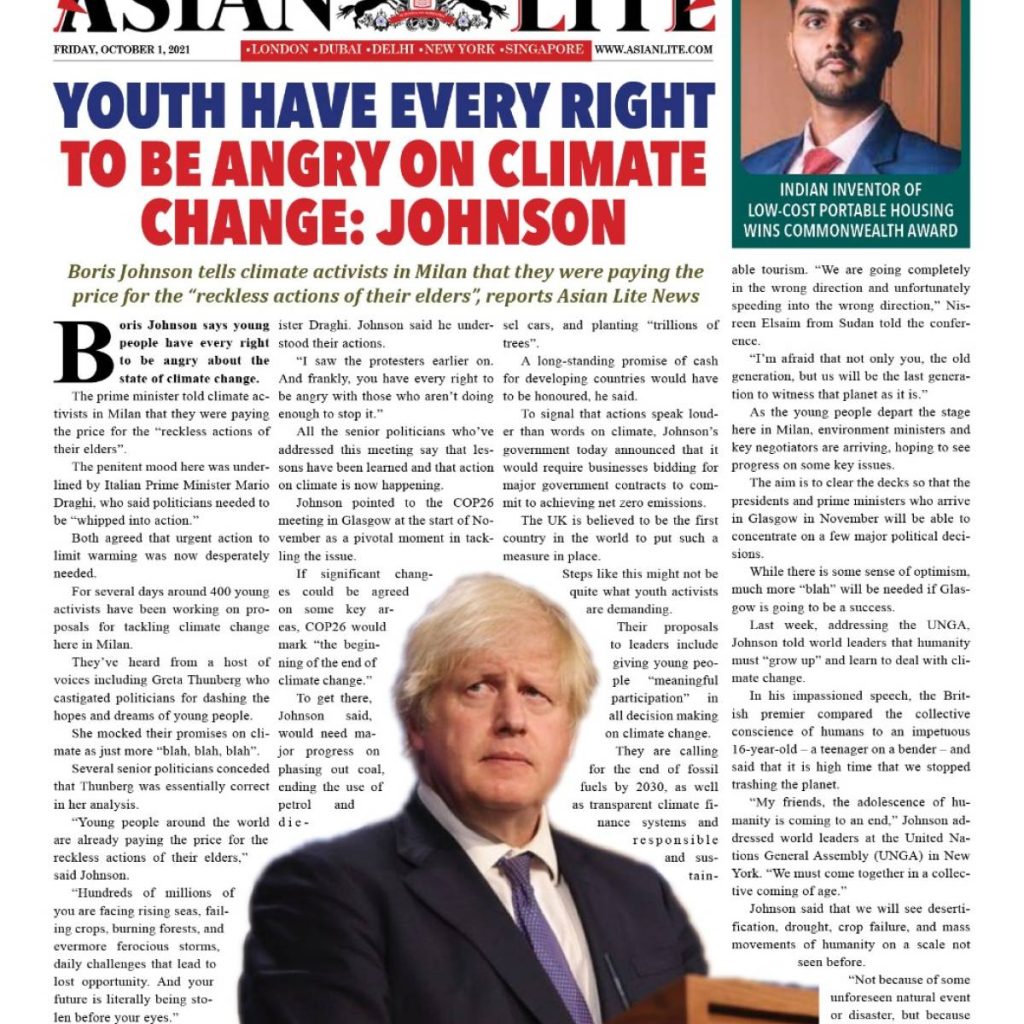 Last week, addressing the UNGA, Johnson told world leaders that humanity must "grow up" and learn to deal with climate change. In his impassioned speech, the British premier compared the collective conscience of humans to an impetuous 16-year-old – a teenager on a bender – and said that it is high time that we stopped trashing the planet. "My friends, the adolescence of humanity is coming to an end," Johnson addressed world leaders at the United Nations General Assembly (UNGA) in New York. "We must come together in a collective coming of age."
Johnson said that we will see desertification, drought, crop failure, and mass movements of humanity on a scale not seen before. "Not because of some unforeseen natural event or disaster, but because of us, because of what we are doing now," he said.
ALSO READ-UK, India to collaborate in climate research
READ MORE-UK furlough scheme comes to an end