Advertisement

The terror attack that took place on June 23, 1985 claimed 329 lives including 268 Canadian citizens, 27 British citizens and 24 Indian citizens…reports Asian Lite News
Kin of the victims of the 1985 mid-air bombing of Air India flight 182, named Kanishka, marked the 36th anniversary of the worst terror attack in Canada's history with visits to memorials and through online events on Wednesday.
On June 23, 1985, Air India's Boeing aircraft was heading from Montreal to London when it exploded at around 31,000 feet off the Irish coast as a bomb planted inside the plane by Khalistani terrorists went off. The terror attack claimed 329 lives including 268 Canadian citizens, 27 British citizens and 24 Indian citizens
The terror attack is recognised in Canada as a National Day of Remembrance for Victims of Terrorism. Canadian Prime Minister Justin Trudeau said the "despicable act of terror remains the deadliest terrorist attack in Canada's history. Sadly, it was not the last time Canada had to confront the malice of terrorism".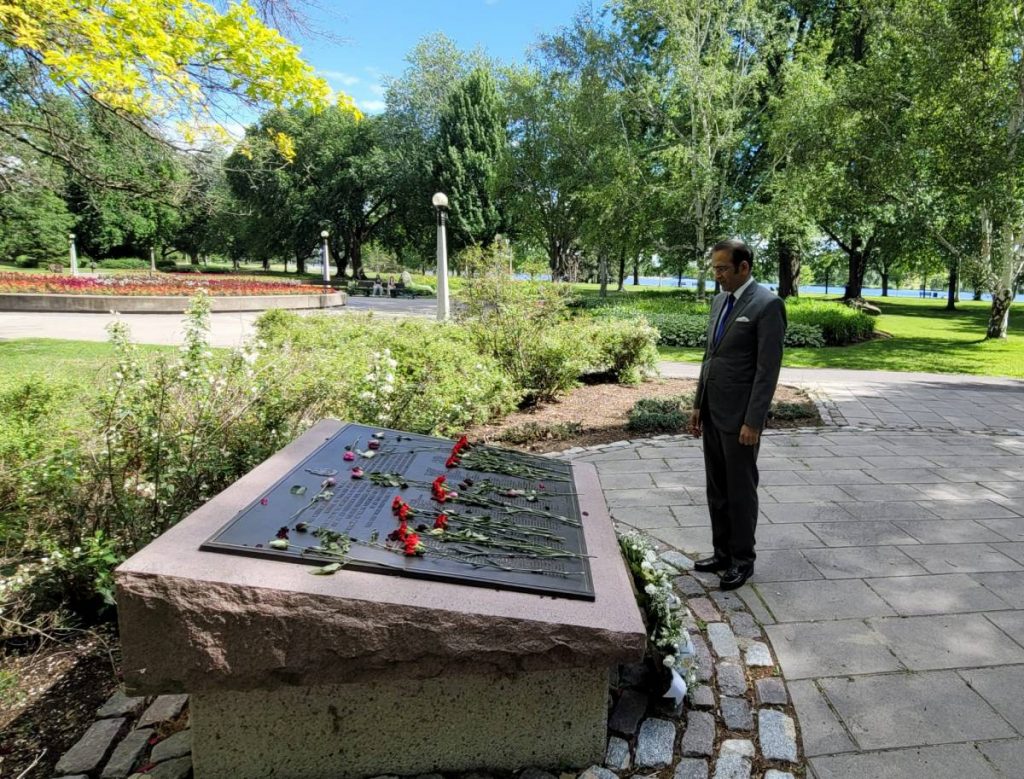 Indian High Commissioner to Canada, Ajay Bisaria pays homage to the victims of the terrorist bombing of Air India flight AI-182 'Kanishka' at the Kanishka Memorial, Ottawa. (Source: Twitter)
Meanwhile, Indian High Commissioner to Canada, Ajay Bisaria said, "This terrible incident revealed to the world the heavy cost that Khalistani terrorism could inflict on humanity. Today, I join the families of the victims and share their deep sorrow and pain as we pay homage to their memory. The terrorist bombing of the Air India flight remains the worst terrorist attack on Canada and the worst aviation disaster after 9/11. The majority of the victims were Canadians and the bombing was a result of a conspiracy conceived, planned and executed in Canada. This was principally a Canadian tragedy. But it was also a British tragedy an American tragedy and Indian tragedy… A global tragedy. No religion, faith or cause can justify such violence. Our most enduring tribute to the victims will be rededicating ourselves in fighting and eliminating terrorism and militancy with strong determination and joint action."

Indian officials laid wreathes at memorials, with India's high commissioner to Canada Ajay Bisaria doing so in Ottawa; consul generals in Toronto and Vancouver, Apoorva Srivastava and Manish, in their respective cities; and the representative of India to the International Civil Aviation Organisation, Shefali Juneja, visiting the site in Montreal.
Earlier in the day, Hardeep Singh Puri, India's Civil Aviation Minister tweeted, "This dastardly bombing on 23 June, 1985 remains one of the most reprehensible acts of aviation terror committed against India. Actions anchored in such extremism have no place in a sane and civilised world."
ALSO READ: Pope voices pain over Canada deaths, but doesn't apologise