Advertisement

The family expected him to come back home on June 22, but he did not return, and no notice has been received regarding an extension of his jail term…reports Asian Lite News
A person from the Uyghur minority community was not been released by the Chinese authorities even after the end of his 'sentence' and his family has no knowledge of his whereabouts.
Ilham Iminjan's release was scheduled for June 22 after serving fifteen years of imprisonment on unknown charges. He is the second-oldest male in a family of five sons, four of whom have been detained by authorities, Radio Free Asia.
"The family expected him to come back home on June 22, but he did not return, and no notice has been received regarding an extension of his jail term," a source told RFA.

Ilham was jailed when he was just 21. The entire golden period of his life was spent in prison and the family was planning his wedding as soon as he was released, the sources informed adding that Ilham is from China's Xinjiang region.
The Uyghurs are facing discrimination in the Xinjiang Uyghur Autonomous Region (XUAR) under Beijing's rule, and the Chinese authorities are also trying to assimilate the ethnic group by restricting religious practices and the use of the Uyghur language.
China has held up to 1.8 million Uyghurs and other Muslim minorities in a network of detention camps since 2017, RFA reported.
Beijing has been rebuked globally for cracking down on Uyghur Muslims in Xinjiang by sending them to mass detention camps, interfering in their religious activities, and subjecting them to abuse including forced labour.
Lockdown in Xinjiang's Ghulja city
Chinese authorities have imposed lockdown and other COVID-19 restrictions in Ghulja city as a response to the hike in the cases of deadly infection prompting 'bread and butter' difficulties for Uyghurs in the region.
People living in Ghulja, a city in far northern Xinjiang, took this to social media and expressed their concern about the COVID-19 measures inflicting more hardship on them given that many families have already been devastated by the impact of China's system of internment camps that have deprived them of their breadwinners, Radio Free Asia reported.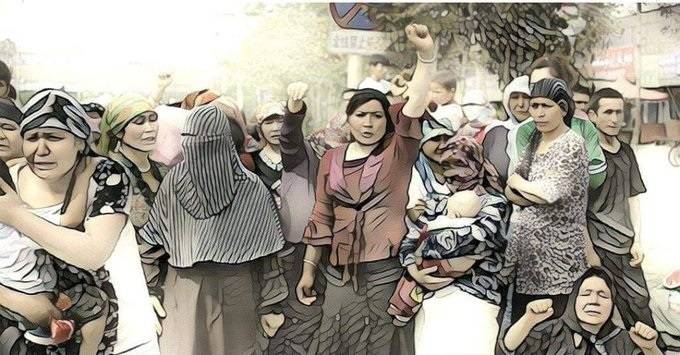 Residents in Ghulja also informed that their doors have been locked from the outside and they have been trapped in their homes for at least a week.
"The doors are locked, sealed, and we are sitting at home without leaving," a resident said.
Meanwhile, the sudden imposition of lockdown by the Chinese authorities has also made it difficult for people to go out and shop for food, Radio Free Asia reported.
"Be brave, my people of Ghulja, who have been trapped in their homes since October 3rd. … Especially the people who depend on daily income. Be patient, there is wisdom in everything," wrote a person from the Uyghur community on social media.
Weeks back, China's Fujian province had also reported over 150 cases of COVID-19 cases pushing authorities to shut down schools in multiple cities, in order to phase stricter epidemic prevention and control measures, reported Global Times. (ANI)