Advertisement

Trump alleged that only three per cent of all people who were taken out of Afghanistan on US evacuation flights were qualified to be taken to the United States….reports Asian Lite News
Former President Donald Trump has said US military equipment left behind in Afghanistan was not disabled and will now benefit other powers, including Russia and China.
"Russia and China already have samples of our great helicopters. We have the Apache helicopters … and they are now re-engineering the equipment, they are de-engineering. They are taking it apart, they are figuring it out and very soon they'll be building the best stuff for less money," Sputnik quoted Trump as saying at the "Save America" rally in Des Moines on Saturday.
Trump alleged that only three per cent of all people who were taken out of Afghanistan on US evacuation flights were qualified to be taken to the United States.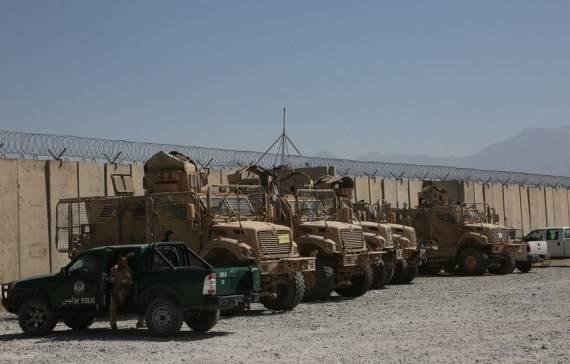 "They had no idea who was getting on those planes," Trump said.
According to a report in the Wall Street Journal, US troops destroyed or disabled nearly 100 combat vehicles and dozens of aircraft before leaving Kabul in August.
Trump said that contrary to some claims, the equipment left in Afghanistan was not disabled and "tremendous numbers" of US weaponry and equipment are now being sold on the black market.
In September, Trump told a crowd of supporters in Perry, Georgia that US President Joe Biden's handling of the troop withdrawal from Afghanistan was a major display of incompetence.
White House backs release of Trump records to panel
The White House has said that it will not assert executive privilege to hold former President Donald Trump-era documents from a House committee probing the January 6 Capitol riot.
"President (Joe) Biden has determined that an assertion of executive privilege is not in the best interests of the United States, and therefore is not justified as to any of the documents," White House counsel Dana Remus wrote to the National Archives on Friday, Xinhua news agency reported, citing NBC News.
"These are unique and extraordinary circumstances," Remus wrote, "The constitutional protections of executive privilege should not be used to shield, from Congress or the public, information that reflects a clear and apparent effort to subvert the Constitution itself."
White House Press Secretary Jen Psaki said on Friday that the tranche of documents released to the committee is only the first set and that White House "will evaluate claims of privilege on a case by case basis."
The House January 6 committee issued the first batch of subpoenas last month, asking four Trump's allies to appear for depositions.
The subpoenas were sent to former top White House adviser Steve Bannon, former White House Chief of Staff Mark Meadows, former White House Deputy Chief of Staff Dan Scavino, and former Pentagon Chief of Staff Kash Patel.
Republicans have claimed that the select committee, whose members are mostly Democrats, is nothing but a tool for Democrats to gain partisan interests.
Some 140 police officers were reportedly injured when confronting Trump's supporters who breached the Capitol on Jan. 6 in an attempt to stop Congress from certifying the results of the 2020 US presidential election, which Democrat Joe Biden won.