Advertisement

Udupi is a temple town located in close proximity to Mangalore and lies between the Western Ghats and the Arabian Sea, reports S Ravi
Udupi cuisine is taking Hong Kong by storm as Asian residents in the gleaming metropolis and beyond bite into India's spicy south Indian delicacies, which are extending India's soft-power across the globe.

In an article in South China Morning Post, Rakesh Raghunathan recalls the still intact taste of this cuisine said: "The most amazing dish that I have had at a Udupi restaurant is at the old Dasaprakash Hotel in Mysore, where they served haalbai, a halwa made with rice flour, jaggery, coconut milk and ghee. I can still remember that melt-in-the-mouth goodness years later."

It is not just Raghunathan but several others spread in different mega and metro cities of India, who have fond memories of this variety of food. For a very long time, food outlets like Woodlands and Dasaprakash with their trademark waiters donning white uniforms and caps served rice with a liberal helping of ghee to be relished with sambar, a tangy lentil stew and rasam and vegetables dishes with mango pickles and well fried papads on the side.

The emergence of Udupi style

Udupi is a temple town located in close proximity to Mangalore and lies between the Western Ghats and the Arabian Sea.

Explaining in the SCMP article, Raghunathan said that the Udupi cuisine began in the 13th Century, when Shivalli Brahmins made elaborate food in the Lord Krishna temple kitchens.

The food offered to Lord Krishna included no less than 14 different cooked delicacies each day. The same food was also served to the devotees who visited the temple in large numbers throughout the year.

The article quoting Raghunathan stated: "The food that was served here was essentially satvik (foods that are ripened and harvested according to nature, and promote harmony) and had to be cooked with many religious restrictions, which banned the use of onions and garlic, root vegetables like potatoes and even �English vegetables' like cauliflower and radish. Seasonality was key and there was a list of things that would not be eaten during the monsoon months."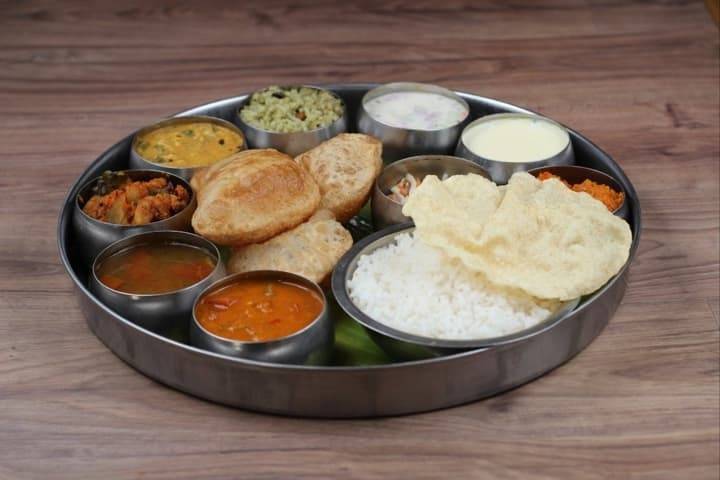 With passage of time, in the 1920s, a number of eating outlets came up in the town, all offering simple food. This included lentils, vegetables which were seasoned with spices freshly grounded with a pinch of jaggery added to sweeten the dishes.

The offerings featured whatever was locally produced like mattu gulla, a type of green-skinned brinjal, gourds, plantains, white pumpkin, and seasonal greens.
New additions
Technological advancements brought in new equipment for grinding and steaming thereby expanding the Udupi food to include tiffin which consisted of masala dosas, crisp lentil crepes stuffed with a spiced potato mixture, and moon-shaped idlis eaten with sambar and chutney.

Besides the usual fare, Udupi area boasted of some special dishes. These included kadubu idlis (lentil and rice batter steamed in conical moulds) and goli baje � deep fried fritters of flour and curd with a smattering of green chillies and ginger. Another speciality was thanbulis — cucumber or other greens cooked and then mixed with buttermilk and seasoned with mustard and curry leaves.

Dispersal to new areas and cities

In 1923 Udupi was struck with a massive flood that had a major effect on the region. A number of cooks moved to bigger cities like Mumbai and Chennai, starting Udupi restaurants that offered wholesome food at reasonable prices and hygienic environs.

In 1924, three brothers from the Maiya family left for Bangalore from Udupi to work as cooks and later they established a quiet restaurant. Called Brahmin Coffee House, it served idlis and filtered coffee.

Moving on, in 1950, they set up Mavalli Tiffin Rooms (MTR), which over the years has grown to become a mammoth organisation in the Udupi cuisine world. It has branches world over and sells a line of packaged foods.

Talking to SCMP, Vikram Maiya, a third-generation restaurateur hailing from the family that runs the MTR with his siblings said: "We have tried to be close to the original cuisine from Udupi but of course the food has evolved to include elements of Mysore kitchens and of North Karnataka. But the sambar and rasam that we serve is quintessentially Udupi style. We have franchises in Singapore, Malaysia and Dubai and have adapted our menus to local tastes. Ultimately a sensible brand adapts to consumer preference."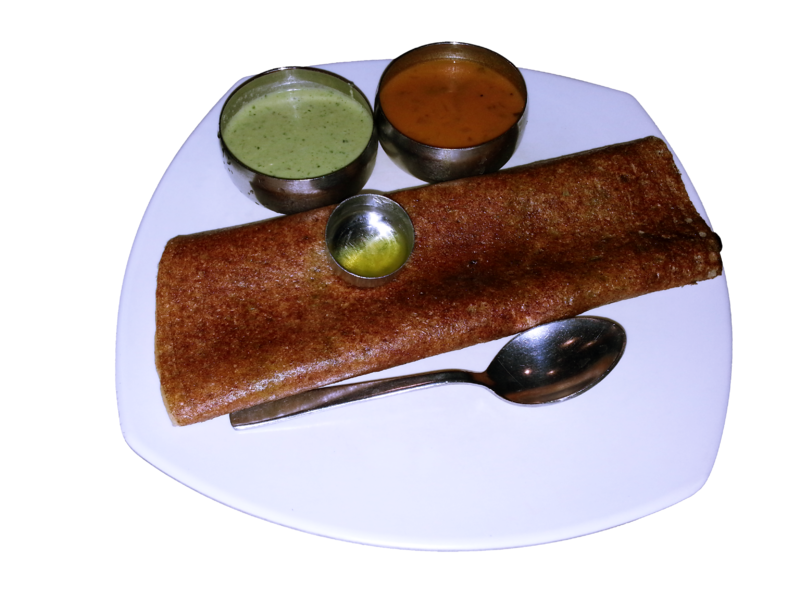 Many of the Udupi outlets today have adapted to the changing times and needs and now offer North Indian dishes and desserts though a number of them are family run, and old fashioned in their decor.

Located in Hong Kong's Tsim Sha Tsui neighbourhood is Woodlands Indian Vegetarian Restaurant. It was started in 1981 and it offers to its patrons everything from vegetarian thalis to dosas and idlis.

Elaborating on this outlet, Arun PE, who runs it told SCMP that was the only Udupi-style restaurant in the city, where ethnic minorities account for about 8 per cent of the population.
"Our chefs are from Udupi itself and have been with us for over 25 years," he said proudly.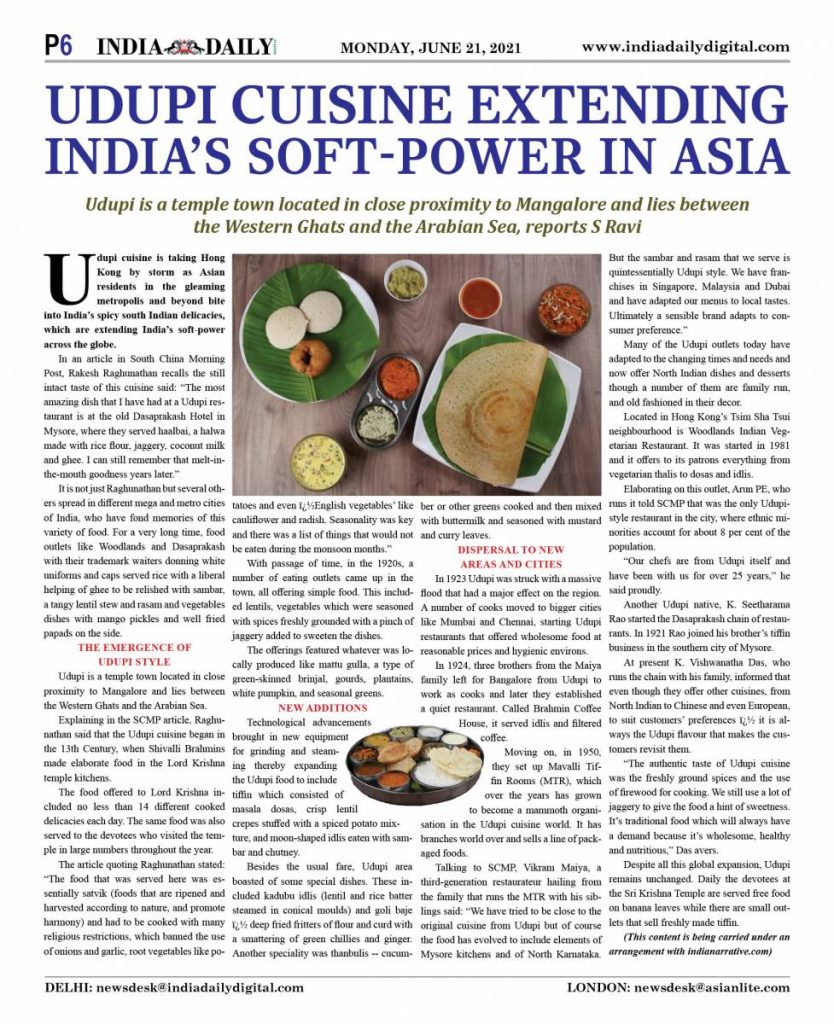 Another Udupi native, K. Seetharama Rao started the Dasaprakash chain of restaurants. In 1921 Rao joined his brother's tiffin business in the southern city of Mysore.

At present K. Vishwanatha Das, who runs the chain with his family, informed that even though they offer other cuisines, from North Indian to Chinese and even European, to suit customers' preferences � it is always the Udupi flavour that makes the customers revisit them.

"The authentic taste of Udupi cuisine was the freshly ground spices and the use of firewood for cooking. We still use a lot of jaggery to give the food a hint of sweetness. It's traditional food which will always have a demand because it's wholesome, healthy and nutritious," Das avers.

Despite all this global expansion, Udupi remains unchanged. Daily the devotees at the Sri Krishna Temple are served free food on banana leaves while there are small outlets that sell freshly made tiffin.

(This content is being carried under an arrangement with indianarrative.com)
ALSO READ: EU, India commit to free, open & inclusive Indo-Pacific