Advertisement

With a total of 661,537 Covid fatalities till date, the US is on track to soon top the estimated 675,000 deaths that the CDC has linked to the 1918-19 flu pandemic, reports Asian Lite News
The federal government is doubling down on Covid-19 inoculation efforts, including an ongoing plan for booster shots, while more unvaccinated people fell victims to the highly-transmissible Delta variant amid the latest resurgence.
A surge in Covid-19 deaths caused by the Delta variant is hitting working-age people hard while highlighting the risks for people who remain unvaccinated, according to The Wall Street Journal (WSJ).
Federal data revealed that Covid-19 deaths among people under 55 have roughly matched highs near 1,800 a week set during last winter's surge, said the report.
It also showed weekly tallies for overall Covid-19 deaths, meanwhile, remain well under half of the pandemic peak near 26,000 reached in January.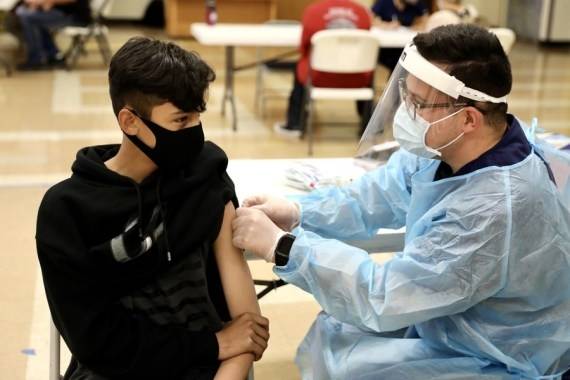 The seven-day average for newly reported deaths each day recently eclipsed 1,600, up from an average that briefly moved below 220 a day in early July.
With a total of 661,537 Covid fatalities till date, the US is on track to "soon top the estimated 675,000 deaths that the Centers for Disease Control and Prevention (CDC) has linked to the 1918-19 flu pandemic", The WSJ report added.
High vaccination rates among the elderly, who are more vulnerable to severe Covid-19 outcomes, are restraining the overall increase in deaths, and the change is shifting a larger share of deaths to younger populations with lower vaccination rates, underscoring the need to get more people inoculated to curb the pandemic, WSJ quoted experts as saying.
Deaths have been concentrated among the unvaccinated, federal data show.
The CDC released studies on September 10 showing that unvaccinated Americans were 4.6 times as likely to be infected, 10 times as likely to be hospitalised and 11 times as likely to die.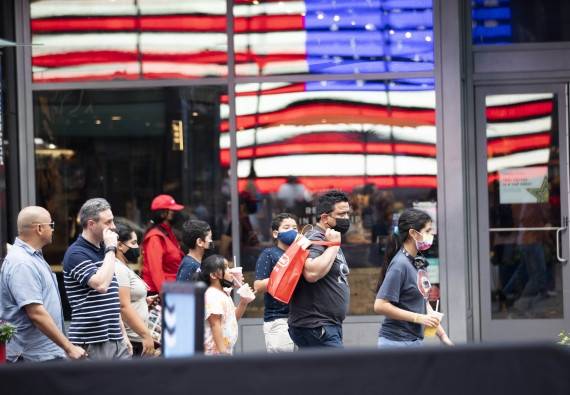 Another WSJ report on Monday quoting virologists and epidemiologists said that Covid-19 may become a routine illness like a common cold or the flu one day in the US.
But it will take a lot to get there, and the ferocious spread of the Delta variant that has filled hospitals again showed how challenging that path could be.
"While surges are easing in some states, cases are rising in others. Delta is moving the world toward immunity against the virus at huge cost.
"With every new infection it is raising the risk of incubating a variant that might spread even faster, sicken with greater ferocity or evade vaccines," said the report.
Scientists are trying to figure out whether SARS-CoV-2 will form deadlier or more contagious new variants, and how the pandemic might end. Their best-case scenario isn't anything as hopeful as eradication, it added.
"Instead, many expect Covid-19 will become a routine disease like a common cold or the flu, rather than a cause of mass hospitalisations and deaths."
In related development, Covid-19 vaccine boosters could begin to be available in a week to all fully vaccinated Americans, but exactly who will be eligible and when won't be decided until two key scientific advisory committees meet days before the US administration's September 20 start date, USA Today reported on Monday.
Initially, President Joe Biden said a third shot booster dose for people with healthy immune systems would be offered beginning September 20 to anyone who had gotten their second shot of either the Pfizer-BioNTech or Moderna vaccine at least eight months ago, pending authorisation from the Food and Drug Administration.
Of the eligible population in the US, which is currently limited to people 12 and older, 63 per cent are fully vaccinated, according to the CDC.
NYC schools reopen for in-person classes
Public schools in New York City have started a new school year with full in-person classes amid widespread calls for an online option as the country is witnessing a resurgence of Covid-19.
The public school system in New York City, the biggest in the US with about 1.1 million students, witnessed the return of most of its students with joy and anxiety on Monday, reports Xinhua news agency.
All students and staff members are required to wear masks at school and classrooms, and cafeterias will have air purifiers, with each classroom to be sanitised each night.
New York City Mayor Bill de Blasio welcomed students on Monday morning at Public School 25 in the Bronx.
"It's so good to see all our kids coming back to school in person where they can learn best," said de Blasio, adding that testing and tracing make schools in New York City the safest public school system in the US.
New York City mandated all staff members to get vaccinated by at least one shot by September 27.
"And as everyone knows, in the coming days every single adult in our schools is going to be vaccinated. Over two thirds of our kids, 12 to 17 years old, vaccinated," said de Blasio.
New York City Schools Chancellor Meisha Ross Porter urged people to get vaccinated, saying it was the key to recovery.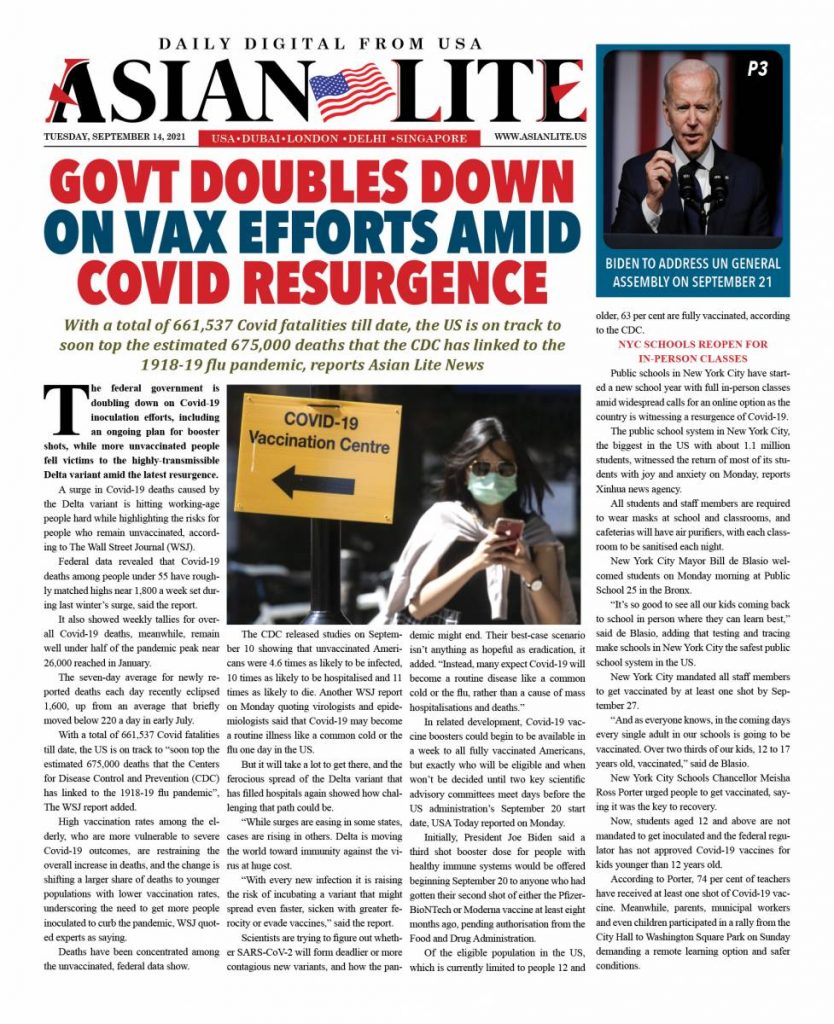 Now, students aged 12 and above are not mandated to get inoculated and the federal regulator has not approved Covid-19 vaccines for kids younger than 12 years old.
According to Porter, 74 per cent of teachers have received at least one shot of Covid-19 vaccine.
Meanwhile, parents, municipal workers and even children participated in a rally from the City Hall to Washington Square Park on Sunday demanding a remote learning option and safer conditions.
Another rally was held on September 10 at the building of the Department of Education in Lower Manhattan demanding for the same.
A number of parents of students from Public School 229 in Queens sent emails to or called schools asking for a remote learning option and some parents said they won't send their children to school on the first day or for a few weeks.
New York City has put into place rules on quarantine and even school closures in case of infections and Porter admitted that remote learning is a tool at hand.
As many as 87 school-based employees died of Covid-19 in New York City since March 2020, according to the Department of Education.