Advertisement

US State Department's Urdu spokesperson Zed Tarar said that the Biden administration is willing to take immediate action if any terrorist training camps were found in the future….reports Asian Lite News
The United States military would strike if terrorist camps were found in Afghanistan after military drawdown from the war-torn country, The News International reported citing a State Department spokesperson.
State Department's Urdu spokesperson Zed Tarar said that the Biden administration is willing to take immediate action if any terrorist training camps were found in the future.
In recent weeks, large-scale violence has gripped Afghanistan as the Taliban stepped up its offensive after foreign troops began withdrawing from the war-torn country. Over 24,000 Taliban have been killed and wounded in battles with the Afghan security forces over the past four months.
The Taliban launched 22,000 attacks in various parts of the country during the period running from April to July, Tolo News reported.
"The influx of more than 10,000 terrorists from outside Afghanistan in order to increase the violence shows that there are also foreign hands behind the war in Afghanistan," said Sayed Abdullah Hashemi, an official of the State Ministry for Peace Affairs.
Speaking over Pakistan's role in regional peace, State Department Zed spokesperson stated Afghan neighbours have a duty not to support "militants" for the sake of keeping peace in the region.
On US Secretary of State Antony Blinken's India visit, the spokesperson said both countries have a significant partnership in various fields.
He also said that partnership with India is also very important for peace in Afghanistan. "US was not only in contact with India but also with other neighbouring countries of Afghanistan for the betterment of the region."
Zed said the US and its allies would not allow Afghanistan to return to the status quo of 2001 while warning that the Taliban must stop human rights violations immediately.
Bloodiest day
Amid the ongoing violence in Afghanistan, the country witnessed the bloodiest day in a month as security forces repelled mass Taliban attacks on the capital cities of Herat, Helmand, Takhar, and Kandahar provinces, according to media reports.

Besides being the bloodiest, Friday was also one of the busiest days for the Afghan National Defense and Security Forces (ANDSF) in the past one month.

The media reports said the Taliban entered Herat province and launched attacks on Afghan government forces' outposts inside the namesake capital city.

The city's airport and the UN's main compound in the city came under attack by rocket-propelled grenades and gunfire

"So-called 'anti-Government elements' targeted entrances of the clearly marked UN facility with rocket-propelled grenades and gunfire just hours after Taliban fighters penetrated Herat city and clashed with Afghan security forces near UNAMA's provincial headquarters," the world body said.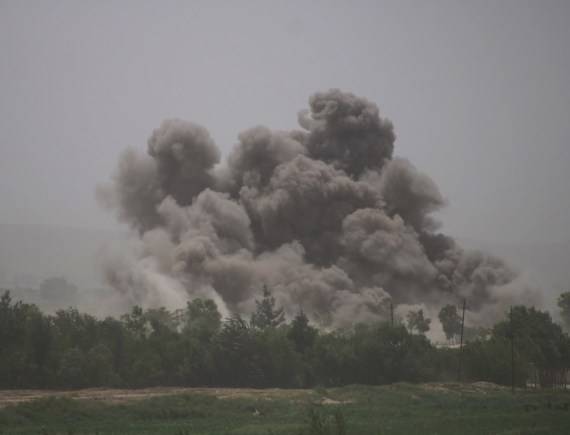 In this attack, an Afghan security guard was killed.

Meanwhile, the Interior Ministry said that the ANDSF launched operations during which the militans were pushed back and the district of Guzara recaptured.

The media reports also said that US Army also conducted airstrikes in support of the Afghan government forces in Herat.

On Friday, 226 Taliban insurgents were killed during the security operations.

The Ministry of Defence said the deaths were reported in Kunar, Paktia, Maidan Wardak, Kandahar, Herat, Jawzjan, Helmand, Baghlan and Kabul.

During the incidents, another 130 Taliban were wounded and a large number of their weapons were destroyed. (ANI/IANS)