Advertisement

According to FlightAware, a flight-tracking site, 880 flights within, in or out of the US were cancelled on December 25, reports Asian Lite News
The holiday season travel stress has only escalated in the US amid the surge of the Omicron variant of Covid-19, with several airlines reporting staff shortages from the spread of the coronavirus, leaving passengers with delayed or cancelled flights.
According to FlightAware, a flight-tracking site, 880 flights within, in or out of the US were cancelled on December 25, which were among the approximately 2,521 flights that have been cancelled so far this day worldwide, National Public Radio (NPR) said.
"US-based airlines such as Delta, United and JetBlue are also seeing high cancellation numbers," the report said.
Delta alone has cancelled 290, or 14 per cent, of its Christmas Day flights, and American Airlines (AAL) cancelled 88 flights on Saturday.
Their operations have been "running smoothly" but that Covid-related sick calls led them to pre-cancel some of their scheduled flights for the day, and affected customers were notified the previous day, AAL was quoted as saying in a statement.
"While airline travel was starting to pick back up before the Omicron variant emerged, the massive spike in positive Covid-19 cases seen in recent weeks has become a cause for concern to airlines in keeping airline staff and passengers safe," the NPR report said.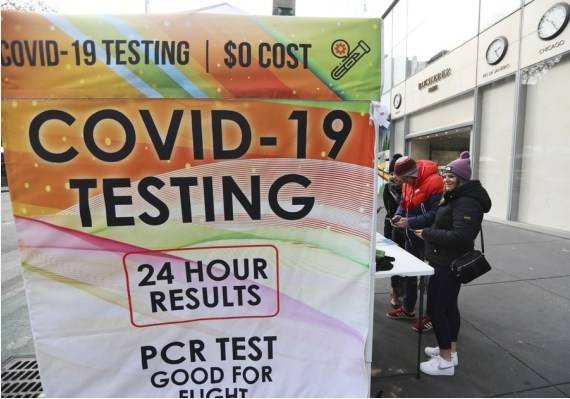 Lawmakers are calling on the Centers for Disease Control and Prevention (CDC) and the Federal Aviation Administration (FAA) to make a major change and require proof of vaccination or a negative Covid-19 test in order to travel on all domestic flights, it added.
"Ensuring the health and safety of air travellers and their destination communities is critical to mitigating the ongoing Covid-19 surge, especially as the virus continues to evolve," the lawmakers wrote in a letter to the CDC and FAA on Monday.
Vaccination protocols for international travellers coming into the US are already in place, according to the CDC.
Meanwhile, more than 6,000 flights have been cancelled worldwide over the long Christmas weekend and thousands more were delayed, a tracking website reported Saturday, as the highly infectious Omicron variant brings holiday hurt to millions.
Chinese airlines accounted for the highest number of cancellations, with China Eastern scrapping more than 1,000 flights, over 20 percent of its flight plan, on Friday and Saturday, and Air China also grounding about 20 percent of its scheduled departures over the period.
According to estimates from the American Automobile Association, more than 109 million Americans were scheduled to travel by plane, train or automobile between December 23 and January 2, a 34 percent increase over last year.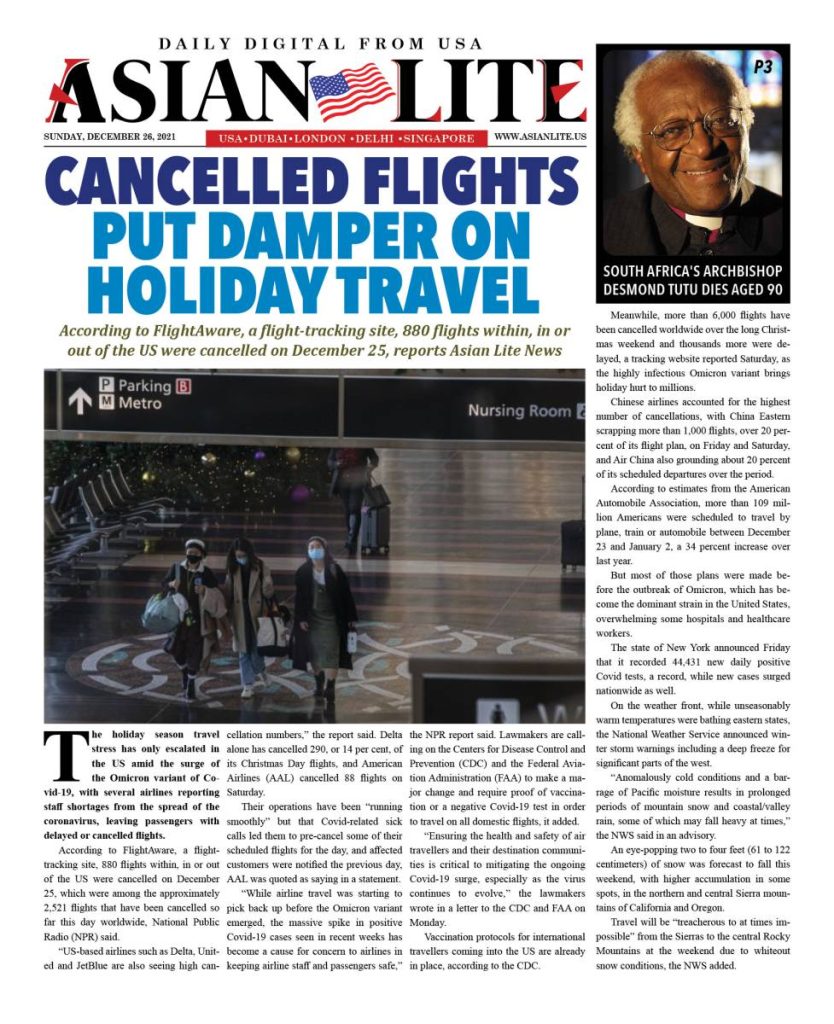 But most of those plans were made before the outbreak of Omicron, which has become the dominant strain in the United States, overwhelming some hospitals and healthcare workers.
The state of New York announced Friday that it recorded 44,431 new daily positive Covid tests, a record, while new cases surged nationwide as well.
On the weather front, while unseasonably warm temperatures were bathing eastern states, the National Weather Service announced winter storm warnings including a deep freeze for significant parts of the west.
"Anomalously cold conditions and a barrage of Pacific moisture results in prolonged periods of mountain snow and coastal/valley rain, some of which may fall heavy at times," the NWS said in an advisory.
An eye-popping two to four feet (61 to 122 centimeters) of snow was forecast to fall this weekend, with higher accumulation in some spots, in the northern and central Sierra mountains of California and Oregon.
Travel will be "treacherous to at times impossible" from the Sierras to the central Rocky Mountains at the weekend due to whiteout snow conditions, the NWS added.