Advertisement

The event is awarding three phenomenal ladies for their unique contributions either in arts, politics, for extraordinary journeys of life or glorious struggle against patriarchy, writes Kaysher Ahmed
The Gronthee, a South Asian literary platform in the UK in collaboration with Saudha society of poetry and Indian music, a leading promoter of Indian classical and global music as well as La Ninfa Eco, a British-Argentine literary magazines are celebrating International women's day virtually on Sunday March 7.
The celebration entails talks on re-interpreting Begum Rokeya, a leading feminist of Bengal of 20th century and other contemporary feminist issues, presentation of music, poetry as well as reading from Begum Rokeya's time-winning oeuvre.
The session will be streaming live from the Gronthee facebook and Saudha's youtube page.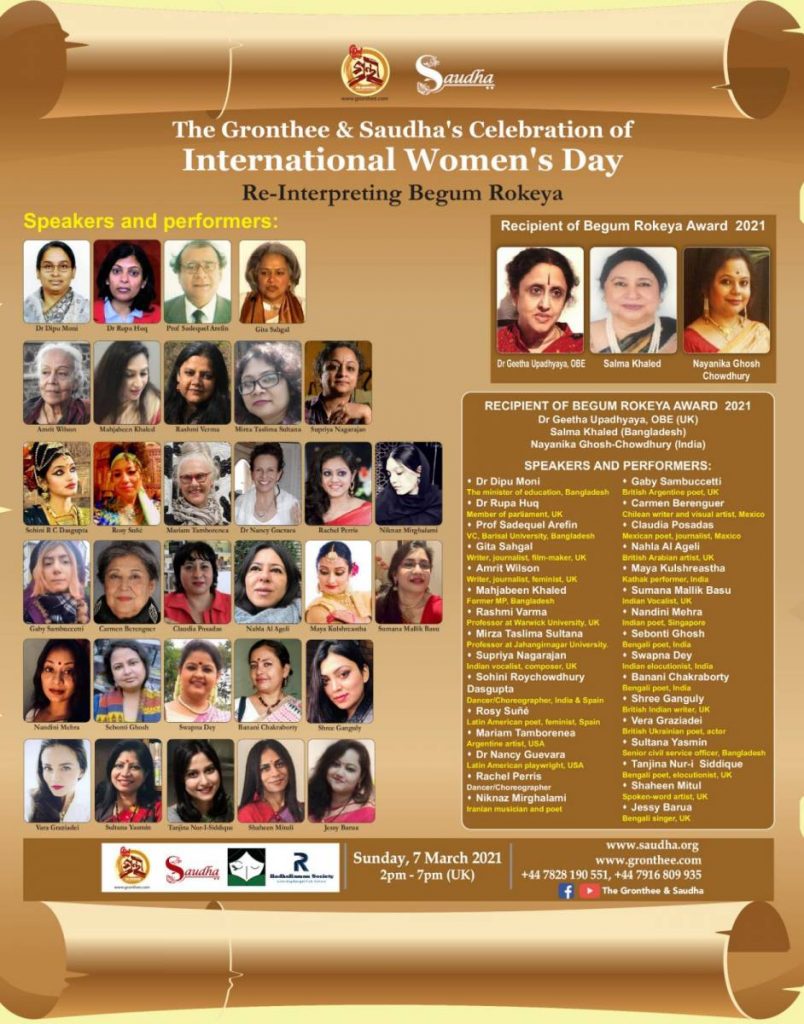 The event is awarding three phenomenal ladies for their unique contributions either in arts, politics, for extraordinary journeys of life or glorious struggle against patriarchy. Named as Begum Rokeya Award, this year's recipients are Dr Geetha Upadhyaya OBE, the co-founder of Kala Sangam for her epic role in preaching Indian arts in the UK , Kathak exponent from India Nayanika Ghosh Chowdhury for her indomitable journey in dance while fighting with cancer and Salma Khaled from Bangladesh, the wife of the most valiant military leader of the liberation war of Bangladesh Khaled Mosharraf Bir Uttom, for her unique struggle after the assassination of her husband.
About 31 speakers and performers are joining this virtual celebration and that include talks by the education minister of Bangladesh Dr Dipu Moni, vice-chancellor of Barisal university of Bangladesh Prof Sadequl Arefin, a prominent journalist and film-maker Gita Sahgal, writer and faminist Dr Amrita Wilson, the former member of parliament from Bangladesh Mahjabeen Khaled, Professor at Warwick University in UK Rashmi Varma, Professor at Jahangirnagar University in Bangladesh Mirza Taslima Sultana.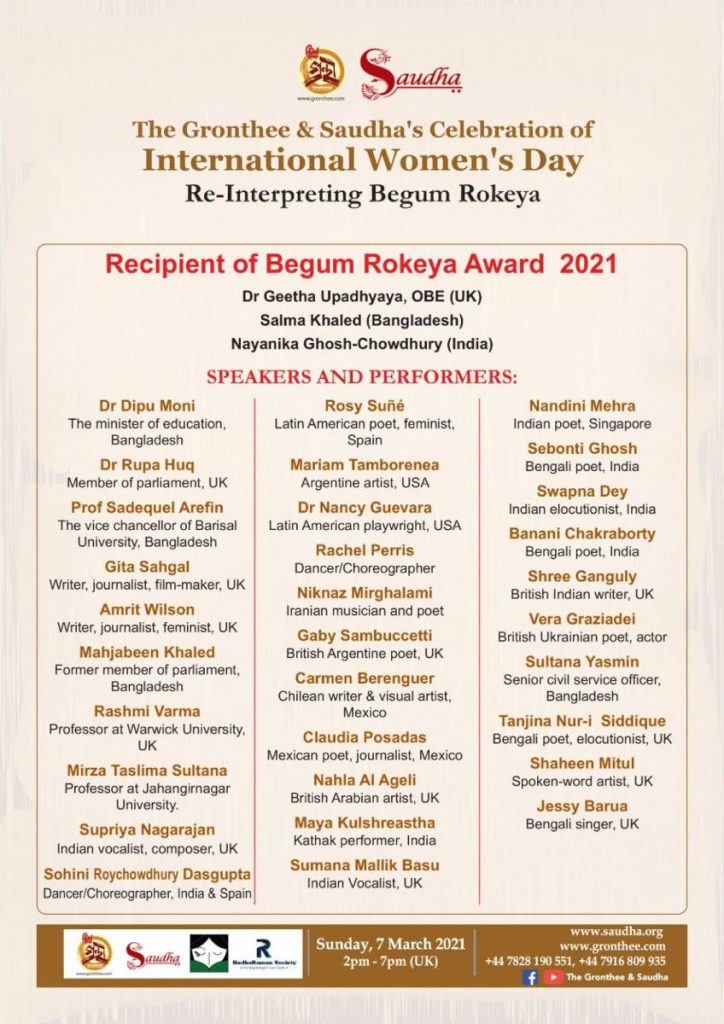 Anchored by the director of Saudha, poet T M Ahmed Kaysher and coordinated by the editor of the Gronthee poet Shamim Shahan, the session involves the presentation of spoken-word performances by a Spain-based Latin American poet and fenimist Rosy Sune, a USA based artist Mariam Tamborenea, a USA-based playwright Nancy Guevera, a British Argentine poet Gaby Sambuccetti, a Chilean writer Carmen Berenquer, a Mexican poet Claudia Posadas, a singapore-based Indian poet Nandini Mehra, a British-Ukranian poet and film maker Vera Graziadei, a British Indian writer Shree Ganguly, a Bengali poet Sebonti Ghosh, Banani Chakraborty a British Bengali poet Tanjina Nur E Siddique as well as elocutionists Swapna Dey from India, Sultana Yasmin from Bangladesh and Shaheen Mitul from the UK. .
Iranian musician Niknaz Mirghalami, a celebrated British-Indian vocalist, and composer Supriya Nagarajan, Hindustani semi-classical singer Sumana Mallik Basu and a talented Bengali singer Jessy Barua will sing while Kathak performer from India Maya Kulshreastha, Gaudiya Nritya performer from Bangladesh Rachel Perris, a Spain-based Indian choreographer and classical dancer Sohini Roychowdhury Dasgupta will join for dance performances.