Advertisement

When Anam took his first step in the world of rapping, she encountered death threats. The conservatives within the community did not like her work because of her being a girl…reports Dilshad Noor
Not only has peace now come in Kashmir, which was bearing the brunt of violence for the past several decades. The peace, rather, is also giving a chance to the youth to fulfill their dreams. The youth of the valley are also getting fame in music. One name among these youth is Anam Nasir, who has emerged as the most sought-after rapper in recent times.
18-year-old Anam is popularly known as Annie in the world of rapping. At the age of 7, she started getting fond of rap. She has been influenced by Pakistani rap musician Talha Anjum since childhood as his songs are related to the common people's life. Anam also wants the same connection with her songs.
When Anam took his first step in the world of rapping, she encountered death threats. The conservatives within the community did not like her work because of her being a girl.
"They wanted to scare me by giving threats. They wanted to break my spirits. But I am not afraid of anyone. I don't care about anyone. And no, I will not bow down to anyone," she said. While pursuing her graduation, Anam posts videos on her YouTube channel. Her songs cater to different topics and laced with different tunes. Her first video came under the name 'Last Ride', which was in memory of her friend, who had died in a road accident.
Anam says that she learned the techniques of rapping online. Because it was not easy for her to learn in Kashmir. When she uploaded her first video on Instagram, she had to hear many threats and abuses. Due to which she had to distance herself from social media as well.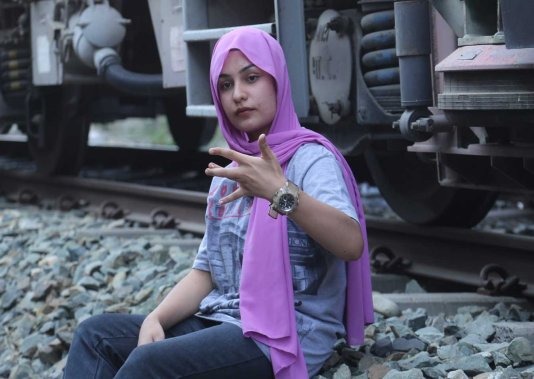 She says that "even after these threats, I got a lot of support from my mother. She supported me even after tolerating people's taunts. My relatives kept blaming my mother for spoiling me. They used to ask my mother to stop me from pursuing such things. But my mother always stood by me like a rock.
Anam has done many stage performances in the state. Anam now uploads videos showing her face regardless of the threats, where she is seen in Hijab. She says that "if your passion is insane, you will never back down." She further adds that "she wants to inspire other girls.
"Whatever you want to do, do without fear," Anam signs off.
ALSO READ-2022 REVIEW: Kashmir Back On Track