Advertisement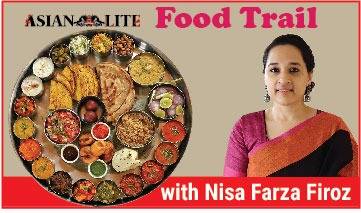 Papri chaat is a popular traditional fast food and street food from the Indian subcontinent, mainly in North India, Bangladesh and Pakistan. Many various additional dishes throughout India are also referred to as papri chat. It has gained popularity throughout the world over the years. Chaat's has always been one of my favourite crunchy snacks to eat, especially papri. Today I'll be preparing my papri chaat with a little twist. Well, you can say I'm bringing traditional and modern way of food into one in this recipe, I'll be making papri cone shots. Mixing in the way to make chaat, shots and ice cream cone in one. I did do a lot of thinking to make this recipe innovative and creative, so that anyone would get attracted to it at first sight. Not only looking and tasting good, papri chaat is mixed in with all the nutrients you need! This particular chaat consist of quinoa, moong bean sprouts and pomegranate. I can guarantee this will give a protein boost to your body. Papri chaat is also topped with chutney to give it an extra spice. I have given my at most best to this recipe so I really hope you do try and enjoy this as much as I did.
INGREDIENTS
For the dough
All purpose flour-1cup
Clarified butter or ghee-2tbsp
Ajwain-1/2tsp
Salt -1tsp
Water-4 to 5tbsp
For the filling
Moong beans sprouts-1cup
Boiled chick peas-1/2 cup
Quinoa- 1/2cup
Onion -1(finely chopped)
Tomato-1( finely chopped)
Green chillies-2chopped
Ginger -1/4tsp chopped
Red chilli powder-1/2tsp
Chat masala-1/2tsp
Red chilli powder-1/2 tsp
Roasted cumin powder-1/2tsp
Mango powder -1/2tsp
Lime juice-1/2tsp
Salt to taste
For the curd mixture
1.curd-3/4cup hung curd
2.sugar-1tsp
3.salt to taste
Other ingredients
Oil-For frying
Ingredients for assembling
1.cone
2.filling
3.tamrind chutney
3.green chutney
4.sev
5curd mixture
6.pomogranate
Method
For dough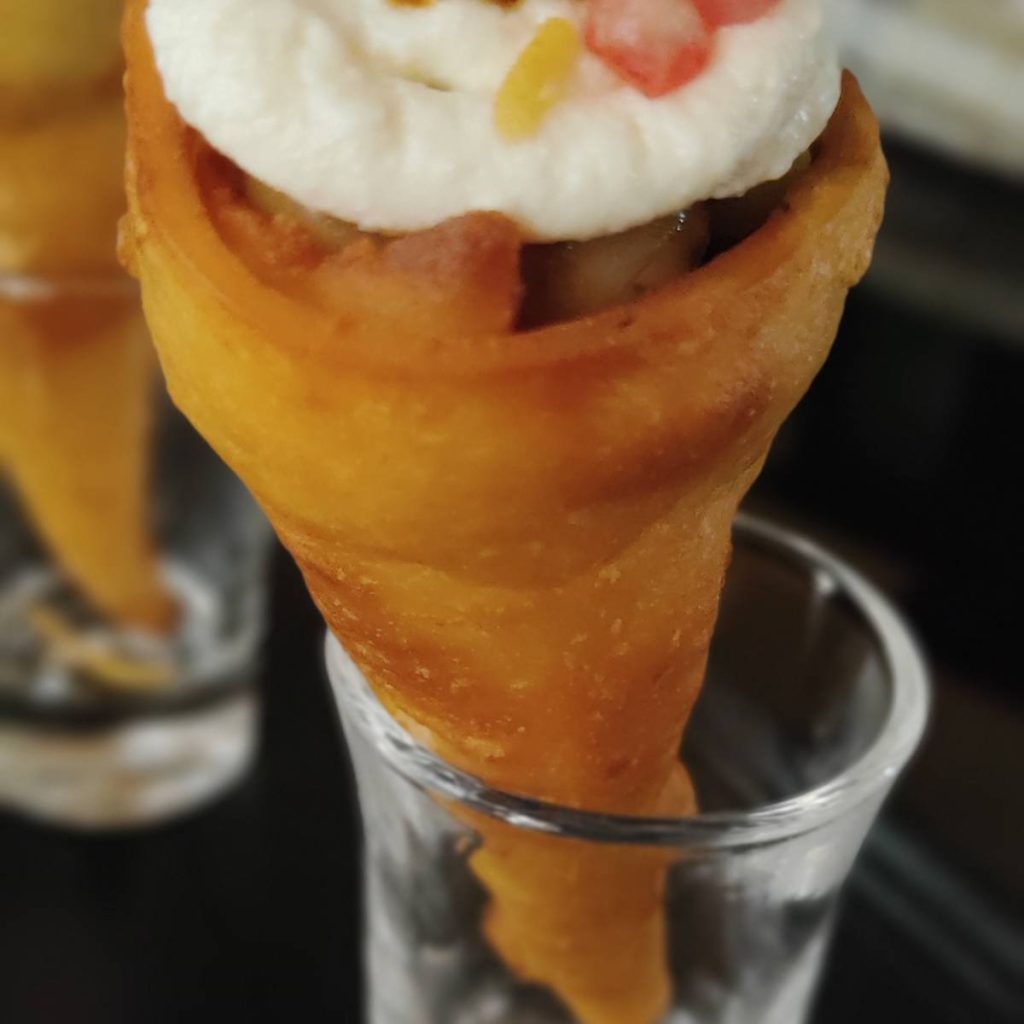 In a bowl add the plain flour, ajwain, salt, butter and water. Mix everything nicely and make a smooth dough. Let it rest for 5 to 10 minutes.

Divide the dough into two equal halves and roll each dough into a thin circle.

After rolling cook the roti on both sides each 30seconds

Cut the roti into four triangles and prick them.

Now fold each triangle into cone shape and seal the edges with help of a slurry.

Take a silver foil and make a ball out of it and fill in the cone with the foil so that it holds its shape. Do rest of the chapathi the same way.

Heat oil on medium flame and deep fry the cones until crisp and golden take it out and keep aside.

Once it's cooled take the silver foil from the cone.
For the filling
In a large bowl add the sprouted moong beans, cooked chick pea, quinoa, onion, tomato, dry mango powder, cumin powder, ginger ,green chillies, chat masala, red chilli powder, lime juice, salt .mix everything nicely keep aside
For making the curd
In a bowl add the hung curd, sugar, salt to taste mix it well and keep aside.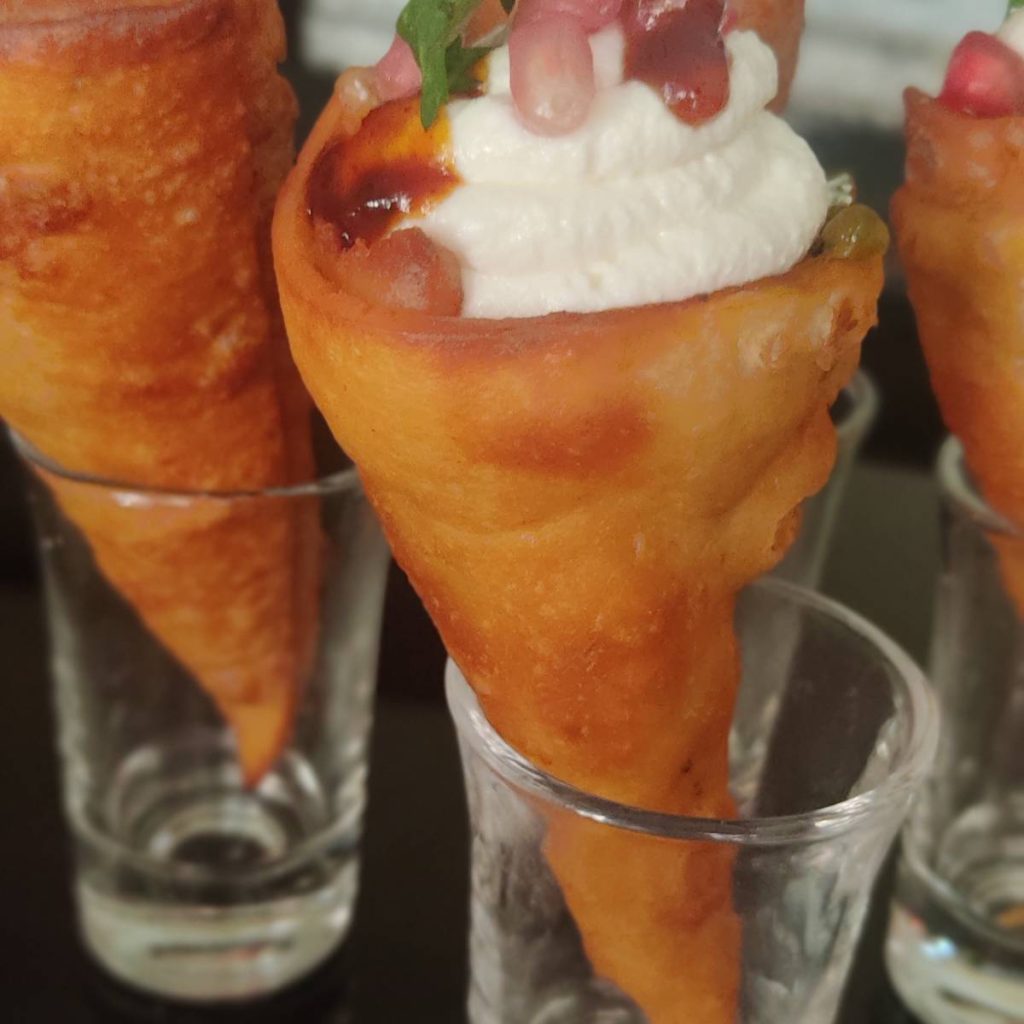 Assembling
Take a cone stuff the filling in to it
Drizzle some tamarind and green chutney in to it
Add some curd on it
Sprinkle some roasted cumin powder and Sev
Garnish it with pomegranate pearls and coriander leaves on it.
ALSO READ-Yummy recipes for festive season