Advertisement

Palestinian Prime Minister Mohammed Ishtaye on Tuesday discussed with his visiting Italian counterpart Mario Draghi the unilateral Israeli actions in the West Bank and East Jerusalem…reports Asian Lite News
"We discussed the daily Israeli violations at Al-Aqsa Mosque in Jerusalem, the expansion of Israeli settlements, the Israeli settlers' assaults on Palestinians," Ishtaye told a joint news conference in the West Bank city of Ramallah.
He noted that the Venice Declaration called for the acknowledgment of the Palestinians' right of self-determination.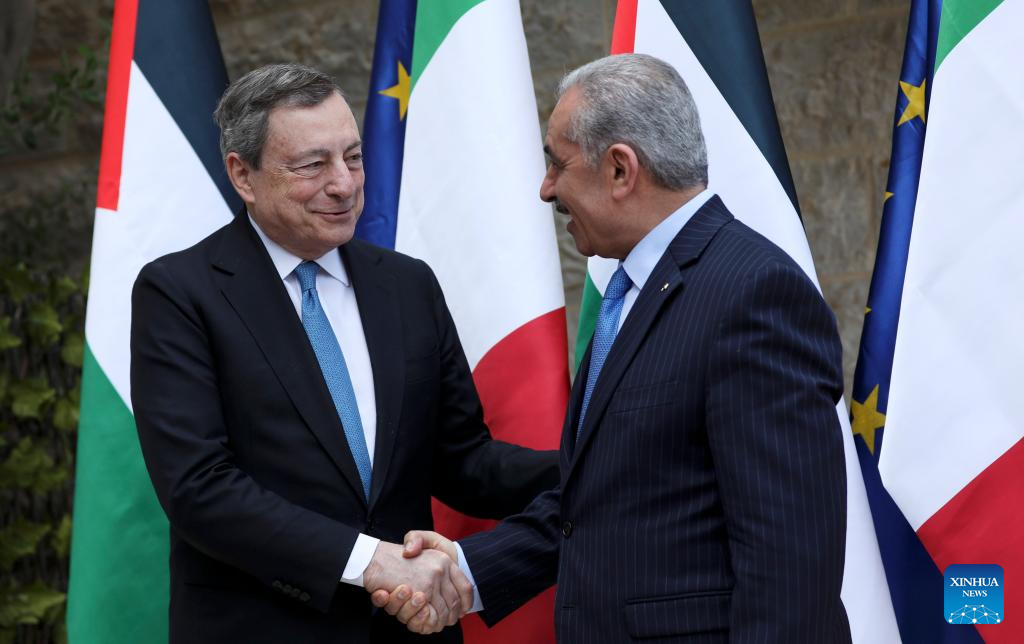 The Venice Declaration was an agreement issued by the European Economic Community, seen as the predecessor of the European Union, after its meeting with the Palestinian Liberation Organization in June 1980.
The Palestinian prime minister also called on Italy "to protect the two-state solution and save it from destruction by unilateral Israeli measures."
For his part, Draghi said his visit to Palestine shows "Italy is committed to the peace process" between Israelis and Palestinians.
ALSO READ:Italy backs Finland-Sweden NATO bid, Turkey says no
"Peace talks between Palestinians and Israelis must be resumed to restore confidence. There is a need to work to reduce tension at all levels," he noted.
The last round of peace talks between Israelis and Palestinians, brokered by the United States, collapsed in April 2014 because of continuing Israeli expansion of settlements in the Palestinian territories in the West Bank occupied by Israel in 1967.
Palestine and Italy also signed six development cooperation agreements worth 16.6 million euros to support health, tourism, employment, statistics, and the private sector in Palestine.